1999
[ 2001 IV | 2001 III | 2001 II | 2001 I | 2000 II | 2000 I | 1999 | 1998 | 1997 II | 1996 & 1997 I ]
Dec 14, 1999: Cavern Club Gig
Dec 11, 1999: Paul Live On "Wetten Dass..." + Cavern news
Dec 06, 1999: Paul McCartney to rock the Cavern + "Wetten Dass..."
Nov 13, 1999: McCartney News Update
Nov 03, 1999: New McCartney Interview on the Web
Oct 31, 1999: Routes of Rock; News Update
Oct 04, 1999: Run Devil Run Webcast
Sep 26, 1999: Run Devil Run Listening Parties
Aug 28, 1999: News update (Run Devil Run update, Buddy Holly Webcast, PETA Webcast, Yellow Submarine)
Aug 05, 1999: Radio Show Paul McCartney's Routes of Rock
Jul 31, 1999: Run Devil Run; Garland For Linda
Jul 07, 1999: New Songs
May 22, 1999: Miscellaneous News
May 17, 1999: A Garland For Linda
Apr 10, 1999: Paul performs 3 songs at Royal Albert Hall
Apr 03, 1999: Grandpa Paul
Mar 18, 1999: Concert For Linda
Mar 15, 1999: Rock And Roll Hall Of Fame Induction
Mar 07, 1999: Band On The Run Webcast
Feb 21, 1999: Band On The Run 25th Anniv. Edition
Jan 26, 1999: New Linda McCartney Single; misc. other news
Jan 19, 1999: Paintings; Charity Single
[ 2001 IV | 2001 III | 2001 II | 2001 I | 2000 II | 2000 I | 1999 | 1998 | 1997 II | 1996 & 1997 I ]
---


PLUGGED - the unofficial Paul McCartney homepage.
©1999 PLUGGED - the unofficial Paul McCartney Homepage. Created by Harald Gernhardt. Contact the webmaster
---
The concert was finished after 50 minutes. Paul and Band performed:

Honey Hush
Blue Jean Bop
Brown Eyed Handsome Man
Fabulous
What It Is
Lonesome Town
Twenty Flight Rock
No Other Baby
Try Not To Cry
Shake A Hand
All Shook Up
I Saw Her Standing There
(Let's Have A) Party

As expected, the internet transmission was not available for everyone. Those who where lucky to get hold of a feed actually got to hear and to see Paul quite well. Of course the "on demand" streams after the show work better (very excellent) - check with www.mcy.com (available until Sunday 19 December!) or www.msn.co.uk/cavern (probably no longer available).

As reported earlier, the concert was aired on BBC radio the same night, and it was broadcast on TV the following day.

We got to see a very energetic Paul rocking at his best. There were occasional problems with Paul hitting high notes, as well as one false-start, but overall Paul's performance was just great.

Here's some pictures from the event:

| | |
| --- | --- |
| Paul arrives - and shakes hands through the open car window | Paul talks to the media |
| The audience enters The Cavern Club | She said she's won these tickets on the internet |
| The party begins ... | |
| | |
| half Liverpool was outside watching on the huge video screen | |
Paul McCartney live on "Wetten, dass...?" - for the 3rd time - what an event. There isn't awfully much to report, except that the conversation with the host Thomas Gottschalk before the bet was a little strange, that the bet itself was embarrasing since it did not take place because of the weather conditions, and that Paul's "live" performance of "No Other Baby" was a little odd since it was mimed, and since the lead guitarrist was missing. Paul did not announce another world tour, if you've been waiting for that. No itchy nose either! ;-) He was on the show quite early since he had to leave immediately after his performance to be in Liverpool in time for his "Cavern Millenium Gig."
Here we have some video stills for you, with occasional annotations. Enjoy!
Cavern Club Gig
Matt Hurwitz tells us:

"Here are the current details regarding the broadcast and webcast of Paul's upcoming performance at The Cavern in Liverpool on Tuesday December 14, per MPL, The Cavern and EMI:

The show will begin around 8:00 or 8:30pm GMT. It will be broadcast live on the internet worldwide, and will air on British radio with a slight delay, and on British television the following evening.

[For those of us outside the UK, 8pm GMT (Greenwich Mean Time) = 3pm Eastern Time US = 12 noon Pacific Time US ]

Internet: http://www.msn.co.uk/cavern The webcast will begin at 8pm GMT, and continue live through til the end of the show (about 10:30pm GMT). 1/2 hour after the show has ended, EMI and MSN will make the program available for *ON DEMAND* viewing for the following 15 hours, after which it will no longer be available.

The webcast will offer both audio and video, and will be available live at 28.8 kbps and 56 kbps, while the On Demand feed will also be available at 80 kbps (handy for those with ISDN or a cable modem). It will be viewable using either RealPlayer or Windows MediaPlayer.

Anyone who has attempted to view live webcasts (particularly Paul's) has experienced the overload caused by the huge demand, often resulting in a "Net Congestion" message and not much else. While we all want to join Paul live to experience the event while it's happening, viewers might have a little better luck viewing the On Demand feed later in the day, if possible, since most of the world will be attempting to tune in live. That's up to the individual, of course.

Radio: The concert will be broadcast on Tuesday evening on BBC Radio 2 from 10:30pm to 12:00 midnight GMT. It will be hosted by Richard Allison

Television: The concert will be broadcast on BBC1 on Wednesday evening December 15 at 11:15pm

At present, there are no plans for broadcast outside the UK, either on radio or television.

Be sure and check Paul's official website, too, for any additional information as the show approaches: http://www.mplcommunications.com/mccartney "
Two Cavern Tickets available for auction
Reportedly, fans from all over the world have been offering $30,000 vacations, free sex and the like, just for a chance to get a ticket. But the 150 tickets are given away for free via the raffle, and they cannot be given away to other persons since IDs will be checked.

YOU CAN ACTUALLY STILL BUY ONE PAIR OF TICKETS!!!

These are official tickets - proceeds will go to charity.

Product Description

Two tickets to see Sir Paul McCartney at the Cavern Club on Tuesday 14th December 1999. The first time Sir Paul has played at the club since he was part of the Fab Four. All proceeds go to The Linda McCartney Centre at the Royal Liverpool Hospital. To make your night even more memorable we will collect you in a chaufferdriven Mercedes (providing that you live within 150 miles of Liverpool) and will take you for a champagne meal at the Formby Hall Golf Club prior to the concert. We will then transfer you to the concert and take you home after the event. Bidding is for the pair of tickets. Tickets must be collected from Liverpool. Many thanks for your support of the Linda McCartney Centre7

Shipping terms: Auction open to the world but winner must collect tickets in person in Liverpool

Item location: Liverpool

The auction is running on www.qxl.com
Paul Videos on the Web
Paul's new video for "Brown-Eyed Handsome Man" can be seen on the Web on Emimusic's site at www.emimusic.de. It had it's US TV premiere on VH1 on December 8.
If you haven't seen it yet, the video to "No Other Baby", as well as special interviews etc. are available on www.virginradio.com

Matt Hurwitz (of Good Day Sunshine magazine) describes the videos as follows:

"Brown-Eyed Handsome Man":
Features Paul leading a slowly growing mob of line-dancers. Starts off with a just four hip-looking folks, slowly joined by everyone from Rastafarians to California Highway Patrolmen! A pair of "dee-jays" run the show from the cab of a huge truck in the background. Paul plays guitar throughout, ending up with his venerable Hofner, and then leading the pack of dancers! Directed by David Leland

"No Other Baby":
Much more subdued - Paul is seen alone in a rowboat, with just his guitar, singing "No Other Baby." With each verse his day moves along: from just strumming his guitar by daylight, then later by lantern and by the moon, then shaving (and singing) in the morning, and treating us to the song's lead, which he plays with his bare feet dangling in the water - sharks surrounding his boat! He rows past huge icebergs before rowing himself through a terrible storm. The film closes with Paul once again at peace, quietly sleeping in his boat with his guitar. Directed by Pedro Ramhanyi
PAUL McCARTNEY TO ROCK THE CAVERN
Macca Returns To Root of Where It All Began

Paul McCartney is to rock out the end of the century with an historic one-off rock and roll show at Liverpool's famous Cavern Club.

Paul (who reveals the news on "Parkinson," on BBC1 on Dec. 3rd at 9:30pm) is to return to his roots to perform a night of rock and roll on Tuesday, December 14th. The concert comes 12,953 days since Paul last performed in the cellar of 10 Mathew Street.

The show - Paul's first at the tiny venue since The Beatles last played there on August 3rd, 1963 - will be his 281st show at The Cavern.

Paul is to rock The Cavern as a tribute to the rock and roll musical force that has so shaped the last part of the last century of the millenium.

Said Paul: "Rock and roll has shaped my life, and it changed the sound and the thinking of the century. Before The Beatles ever got big, we started out playing rock and roll at The Cavern. I'm going back, for just one night, as a nod to the music that has always, and will ever, thrill me.

"I can't think of a better way than to rock out the end of the century with a rock and roll party at The Cavern, singing the songs of my heroes."

Organizers are bracing themselves for a deluge of demand for tickets from all around the world. Due to space restrictions, it is expected that only 150-200 tickets will be available for this landmark show. The tickets will be free.

"Millions are going to want to be at this gig, and the fact that is that millions are going to be disappointed," said a spokesman. "However, there are plans for the show to be broadcast on television and radio around the world."

Paul and his band (Dave Gilmour and Mick Green on guitars, Ian Paice on drums and Pete Wingfield on keyboards) will be performing rock and roll from his album "Run Devil Run," playing songs by Elvis Presley, Little Richard, Chuck Berry and other of his influential heroes.

Paul McCartney first played at The Cavern on Friday, January 24th, 1958, with The Quarrymen. He first played there with The Beatles at a lunchtime show on Thursday, February 9, 1961. The band's fee was £5.

Since Paul last played at The Cavern, he has performed 587 live concerts with The Beatles, Wings and as a solo artists (252 with The Beatles, 142 with Wings, 193 as a solo artist).

Due to the expected demand for tickets, and in an attempt to be fair for all, tickets for Paul At The Cavern will be available through a national (UK) raffle. To apply, callers must fill in forms which will be available from Monday Decmeber 6th from HMV record stores in Liverpool, London, Birmingham, Newcastle and Glasgow.

NB: The occasionally-quoted "fact" that The Cavern Club no longer exists in Liverpool is an urban myth. The Cvaern Club is still at 10 Mathew Street, the same address as it was in The Sixties.

The actual facts are these: In 1973 The Cavern at 10 Mathew Street was bulldozed above ground level. The basement (the actual Cavern) was filled in with rubble, and the wasteland above it was used for casual car parking. Later that year, a "new" Cavern was established in a building opposite. This club failed and was renamed "Revolution," and then "Eric's."

Following the death of John Lennon in 1980, Liverpool decided to redevelop the *original* Cvaern as a lasting tribute to The Beatles. In 1982, the original Cavern basement was dug out, original bricks were either sold off for charity or used in the reconstruction. The Cavern was rebuilt - and enlarged, as two rooms, on the *exact* site of the Sixties original.

First opened in 1957 as a live music venue, The Cavern has played host to many rock and roll bands besides The Beatles. Among those who have played The Cavern are: The Rolling Stones, The Who, Queen, Elton John, David Bowie, Stevie Wonder, Joe Cocker, Rod Stewart, Gene Vincent, The Kinks, Howlin' Wolf, The Drifters, Thin Lizzy, Jimi Hendrix, Jimmy Page, Oasis, Status Quo, Andy Summers, Ginger Baker and Ben E. King.

Johnny Kidd & The Pirates - whose guitarist Mick Green will play alongside Paul on December 14th - played The Cavern 11 times.

Tickets are available for free via 5 HMV stores - each had 250 forms to give away (on the morning of 6 December) on a first come, first served basis, and there were Paui-related questions to be answered. The forms must be mailed to London by Thursday, and 75 winners will receive 2 tickets each.
Paul on German TV: "Wetten Dass...?" next Saturday
Paul will appear on Germany's biggest and most important live show this coming Saturday evening (11 December, from 20:15) - on "Wetten Dass...?"
According to the EMI Germany website, he will perform "No Other Baby." On this show, music acts are usually mimed - with only few notable exceptions: Phil Collins sang live, accompanying himself on the piano, his latest single from the "Tarzan" soundtrack - in German language.
Paul already was on Wetten Dass twice - to promote "Once Upon A Long Ago" and "Hope Of Deliverance." As a consequence, both songs were top-ten hits in Germany. Let's hope his upcoming appearance isn't too late, since "Run Devil Run" has already slipped off the top-100 album charts a couple of weeks ago. And "No Other Baby" is not too commercial anyway (by today's standards).
On "Wetten Dass", celebrites can appear in different modes, since that show is a mixed music/talk/game show. In 1987, he (plus Linda, Band & "Fritz") only performed his song and left. But in 1992, he and the "New World Tour" band performed "Hope of Deliverance," and Paul would stay and sit on the couch for the entire show, to talk with the host of the show, and also to host one of the games himself. Since Paul's currently very chatty, one would assume that he stayed on TV for more than 5 minutes this time.
This "Wetten Dass" show takes place in Böblingen, Germany, and these shows are always sold out by 6 months in advance. If anyone's willing to sell me a ticket, please write to ticket@gernhardt.com

"Wetten Dass...?" airs on the public channel "ZDF" which is freely available throughout Europe via the Astra satellite system (unscrambled PAL).
Working Classical Electronic Press Kit
The 10-minute film on the making of Paul's Working Classical can be watched at Angel Records' homepage at www.angelrecords.com (requires Windows Media Player).
Friday 3rd December will be Paul McCartney Day on VirginRadio.Com, with the site playing host to an exclusive interview with this century's most important popular songwriter, Paul McCartney. 'McCartney In Sound And Vision' will feature an online audio interview with Sir Paul and Virgin Radio DJs Pete Mitchell and Geoff Lloyd. Fans will also have access to full-length videos of recent single No Other Baby, as well as footage of McCartney and his band playing live in New York.

This exclusive 'McCartney In Sound And Vision' experience will give fans worldwide an irresistible insight into Sir Paul's thoughts on his latest work Run Devil Run. It will also offer a full breakdown of his album, discographies for The Beatles, Wings and his other solo albums.

Fans will also have the chance of winning McCartney collectors' items for a very limited time period. Up for grabs will be signed singles, signed albums, and lithographs of the Run Devil Run sleeve design for McCartney devotees. Visitors will be able to enter all three competitions.

The album page - featuring a 1960s jukebox - will offer a choice of unique and as yet, unseen, two-minute video clips of Sir Paul describing each song from his current album, Run Devil Run. Each clip covers the history of the song as described by McCartney himself and a 30-second sample of the track.

John Ousby, Director at Ginger Online says "The content going live online on Nov. 29 is an absolute fest for Beatles and McCartney followers everywhere. We wanted to reward Virgin Radio fans with something really amazing - visitors won't be disappointed".

Tune into the Paul McCartney experience, which goes live on Monday 29th November at http://www.virginradio.com
Paul on Parkinson, Dec. 3rd
Graham Calkin gcalkin@chelseafc.net reminds us:

"25 years ago, Paul McCartney and Michael Parkinson made a deal. Parkinson agreed to appear in a photo shoot for an album cover, and in return Paul agreed to appear on the "Parkinson" show. At the time the Parkinson show was England's foremost chat show, with Michael`s relaxed style guaranteed to attract all the top names, and that is still true today. The album was of course, "Band On The Run", and 25 years on the deal is sealed with Paul appearing on the Parkinson show, this Friday December 3rd on BBC1 at 9:30. The show is scheduled for 1 hour and five minutes, and there are no other guests listed. It will be Paul`s first major interview since the death of Linda. Paul will talk about the madness of Beatlemania, his life and career, as well as performing some of his classic songs. "
Heather Mills Charity Single
Heather Mills' charity single will become available in December. Paul McCartney was very much envolved in this recording, so you must check it out. The single can be previewd (with real audio!) at http://www.codarecords.com/index1.htm (click on releases!).
Report: Paul at Bond Premiere, Nov. 23
Graham Calkin gcalkin@chelseafc.net tells us:

"Yesterday (Tuesday 23rd) Paul appeared at London's Imax cinema, as he helped to launch the new charity Christmas Single credited to Heather Mills, with whom he has been romantically linked recently. Paul sings backing vocals on the song, called "Voice", which is out in England in December. The release is aimed to raise funds and awareness of Heather's disability charity, the "Heather Mills Health Trust" of which Paul has reportedly donated £150,000 to the charity. Heather, aged 31, who lost a leg when hit by a motorcycle policeman in 1993, fuelled rumours by commenting, "Paul is an attractive man and we're very close. He is interested in this project and in me."

Sir Paul also posed for the nation's press with Heather, but kept her sister Fiona and her friend Helen Smith (who lost an arm and both legs through meningitis) between them. "
Report: Paul on National Lottery Show, Nov. 13
Graham Calkin gcalkin@chelseafc.net tells us:

"Paul performed three numbers, again almost repeating his choice of tracks as performed on "Later with Jools" ... Brown-eyed Handsome Man, No Other Baby, and finally, Party. No Other Baby was performed without Lulu on backing vocals, she did join in on the others.
The sound quality was very poor though, with the BBC preferring to add the baying crowd's "hand-claps" to the output. Paul seems keen to get out and promote "Run Devil Run", and with the large audience figures involved with Britains "National Lottery" show, he was sure to get maximum coverage, but dare I say it, in my opinion Paul didnt look too happy with the occassion. "
Paul To Sing With Lulu On Lottery Show Today
Paul will sing a duet with Lulu. Lulu (known from the 1960s) will premiere her new series of BBC1 Lottery shows tonight. Since she admitted that she was nervous about this first episode of "Red Alert With The National Lottery", Paul agreed to help out.

Paul, who reportedly has always wanted to perform with Lulu, will be singing two songs from Run Devil Run. She will be singing backing vocals for his song Party, and the two will sing a duet on Brown Eyed Handsome Man. Paul was quoted: "I'm doing the show for Lulu because she's a mate from way back."

Lulu said: "We've done dozens of TV and radio shows but we've never sung together before. It's something we've always wished for but the dream finally comes true tonight."
More Paul on UK TV
Paul is scheduled to appear on "The Big Breakfast" on Tuesday, November 16th.

The date for the Parkinson interview is Friday, December 3rd at 9:30pm.
Paul was on London Radio
According to Richard Porter http://members.xoom.com/londonbeatle, Paul was interviewed by Gary Crowley on Radio London last Friday - with the actual interview being one hour long. Paul told how Run Devil Run was recorded - in much greater detail than on the Promo interview CD.
Paul to be on National Public Radio
Matt Hurwitz of Good Day Sunshine Magazine tells us:

Paul McCartney will soon be the featured guest on National Public Radio's (NPR) "Performance Today." Paul will discuss his new classical album, "Working Classical" (Billboard's No. 1 Classical Album for two weeks in a row), with host Lisa Simeone. Paul will also introduce recordings made at the October 16 live performance premiere of "Working Classical" in Liverpool, which he attended. THE EXACT BROADCAST DATE IS YET TO BE ANNOUNCED.

Cities which carry "Performance Today" can be found on NPR's website at: http://www.npr.org/programs/pt/whoweare/stations.html

Once you find a station on the list in your area, you can check the following page to see if that station has a website, on which you can find their broadcast schedule: http://www.npr.org/members/textlist.html

If you still need help, feel free to call National Public Radio's Audience Services at: (212) 414-3232
Review: Paul on "Later with Jools Holland"
Graham Calkin gcalkin@chelseafc.net tells us:

"Just a line giving some info on Paul`s appearance on the BBC2 TV show on Saturday night (6th Nov.). Paul was accompanied by all the members present on the album, as he launched into "Honey Hush", which was a rousing beginning to the show.

The format of the show includes the rotation of other guests, which on this edition included, Travis (very average Scottish band), Shola Ama (excellent soul performance), The flaming Lips (who I`ve never heard of, but they need a stronger vocalist !), and the excellent, Dan Penn and Spooner Oldham who performed a terrific version of a song they wrote for James and Bobby Purify called "I`m Your Puppet", superb.

During this rotation Paul joined Jools Holland (ex of Squeeze) at the piano where they chatted for 5 minutes, in the midst of which, a short clip of the Beatles playing "Hey Bulldog" in the studio was shown and the band members were introduced. Paul played "No Other Baby", the strongest track on the Album, and this sounded phenomenal. And finally Paul and the guys performed "Brown-eyed Handsome Man", followed by Jools joining the guys on piano in a punchy performance of "Party" which got the whole studio (and my lounge) rocking ! "
New girlfriend?
No comment, since

a) this is a gossip-free zone

b) we don't know anyway
Matt Hurwitz of Good Day Sunshine magazine tells us:
Austin, Texas-based KGSR-FM's Jody Denberg will be webcasting a new interview with Paul McCartney this coming Sunday night November 7. The interview will be part of the station's "Sunday Night News," a two-hour program which airs at 9pm EST. Jody tells me that Paul's interview - which, in raw form, ran for 25 minutes! - will likely be featured in the first hour.

Denberg, who also put together two terrific promotional interview CD's recently for Julian Lennon and for The John Lennon Anthology, covers the whole gammut with Paul. McCartney talks about "Run Devil Run" and "Working Classical," his two new albums, and also covers his feelings about remixing The Beatles music, as was done recently for "Yellow Submarine." And there are a few stories you won't have heard before - a nice one about Paul's "Goodbye," a song he wrote and produced for Apple artist Mary Hopkin in 1969.

You can access the station's broadcast from their website, through Webradio.com. Just go to their home page and look for the Webradio.com button: http://www.kgsr.com

They also have a transcript of the entire interview.
Routes of Rock
We've already reported this radio show on August 5 but readers may not be aware of the actual broadcast details.
Paul McCartney's Routes Of Rock radioshow is five parts at 30 minutes each. It's broadcast on Wednesdays and repeated on Thursdays. Paul not only plays tracks from his new album Run Devil Run, but plays songs that influenced him growing up as a young rock'n'roller. He also tells stories from his youth.

What?
Radioshow Paul McCartney's Routes Of Rock
When?
Wednesdays Oct. 20, 27; Nov. 3, 10, 17 at 09:20 GMT
Thursdays Oct. 21, 28; Nov. 4, 11, 18 at 22:30 GMT
Where?
BBC Worldservice
via www.broadcast.com/bbc (recommended)
via shortwave: various frequencies, see BBC page for details
What's GMT? Greenwich Mean Time - same as UTC (universal time code). You have to add your local time zone offset to the GMT time. E.g. you are GMT-5 (New York City), subtract 5 hours. How to find out your offset? In Windows 95/98, double-click the time in the system tray bottom right. Select the time zone tab and see.

So you've missed the first two parts? Mea culpa! But maybe I can help you. Here's the radio show without music, that is Paul's talk only:

Routes of Rock, part 1, speech only (first broadcast 20 Oct. 1999) MP3, 1195KB

Routes of Rock, part 2, speech only (first broadcast 27 Oct. 1999) MP3, 1281KB
Paul to perform live on UK TV
Paul is scheduled to appear on "Later With Jools Holland" on Saturday, November 6, on BBC2 in the UK. He will perform three songs from Run Devil Run, and he will be backed by Dave Gilmour and Ian Paice.
"Parky" interview
Paul will be guest on Michael Parkinson's chat show on BBC1. It will be a one-hour special for which he will be the only guest. Also, he will be performing songs from the Run Devil Run album. Paul has been asked by many famous presenters from both sides of the Atlantic but Paul chose Parkinson since he is pictured on the Band On The Run cover - and back then Parkinson would only pose on condition that Paul would appear on his show, which he now finally does, 25 years later!
Video shoot
On Friday October 22nd, it was reported that armed police came to arrest a gun-wielding gang in west London. Paul himself had to intervene to reassure officers that these men who were waving with weapons were in fact part of the video shoot for his forthcoming single.
Paul donates £150,000
Since Paul was so moved in this years Pride Of Britain Awards ceremony, he now donates pounds 150,000 for disabled mine victims - reported The Mirror on 23 October.
Paul makes Beatles Photo Film
According to some British tabloid newspaper, Paul has already begun with preparations for a new Photo Film on the Beatles - using thousands of Linda's photographs that were taken during the late ill-fated Beatles recording sessions.
October 1, 1999 - Capitol Records and The MediaX Corporation "Fire Up" Exclusive Online Listening Bash Which Features First Broadcast of McCartney Radio Interview And Promotional Video

It's been nearly three years since the multi-platinum release of Paul McCartney's "Flaming Pie", but now the waiting is over and "Run Devil Run" is here. On Tuesday, October 5th at noon E.S.T. the World Wide Web will play host to the first international airing of the hard-driving, loud new collection of the "devil's music" from Paul McCartney. As part of the online party produced by Media X and Capitol Records, fans will also be treated to the premiere broadcast of a brand new Paul McCartney interview and the broadcast of a 5-minute behind the scenes, making of "Run Devil Run" video.

Six tracks, including McCartney's "Run Devil Run" and "Try Not To Cry", "No Other Baby" (Bishop/Watson), Elvis Presley's "I Got Stung", Chuck Berry's "Brown Eyed Handsome Man" and "Lonesome Town" (Knight) will be streamed in their entirety at MediaX's site and Capitol Records' site. The tracks will be available simultaneously for the duration of the promotion, which will last through Monday, October 11th at Midnight. The Eddie Puma produced radio interview will air in daily segments throughout the week with the final installment slated for Sunday, October 10th and the promotional video will begin airing on Wednesday, October 6th.

Users are also invited to register online to win a special "Run Devil Run" prize package that will include authentic Run Devil Run oils, candles, their own copy of "Run Devil Run," a limited edition D-Pro, which includes songs from "Run Devil Run", and a "Run Devil Run" poster. Two winners will be chosen from each web site. In addition a "Run Devil Run" screensaver, only available at amuznet.com, will be given away to those who log on during the promotion

"Run Devil Run" hits stores worldwide on Tuesday, October 5th surrounded by massive critical and popular praise. Thousands lined the streets of Los Angeles, New York, Cologne, Germany and London, England the past two weeks just to hear the much-talked about new recording from McCartney. The 15-track recording returns McCartney to the rawness of his roots, reprising the energized spirit and attitude of his earliest days in the music business, wrote one journalist. "It's the most upbeat record of the year," beamed another.
netcast link
paul-capitol records link
Upcoming Events
September 28 - Köln/Germany, E-Werk


| | |
| --- | --- |
| Tickets were given out by e.g the Beatles Fan Club Wuppertal www.beatles-club.de, but you still have a slight chance to get your ticket (deadline Monday September 29): Go to www.emimusic.de, select Paul McCartney, then "Games". Answer the question ("why do you think it's you who should be invited to the listening party") and 30 of you with the most convincing arguments will get two tickets. | |

September 30 - London/England, Leicester Square
Apparently some tickets were still available not long ago. Maybe just ask your favourite fan club, ring MPL or EMI, or tune into your favourite radio, maybe they have some to spare.
Past Events
Wanted: If anyone wants to share her/his personal review of any of these events, please email me at lnews@gernhardt.com. Thank you very much!
September 22 - New York City, Hammerstein Ballroom
Run Devil Run Listening Party
As with the Listening Party in L.A., tickets were given out by fan magazines etc. John Fugelsang was announcer (remember him from the Bishopsgate event?). Paul again said how the album was recorded, then the album was played. Finally Paul came out again and answered questions to the fans - for about 20 minutes!
September 18 - Los Angeles, Paramount Studios
PETA Gala
The PETA Gala will be shown on VH-1 (USA - if anyone knows anything about VH-1 Germany or UK, please let me know!) in October. The webcast itself did not work out very well again. Distortions and choppy images most of the time - thanks to www.broadcastisland.com (they appear to have rebroadcasts). I wonder why last year's internet broadcasts worked so well - and now this. Anyway, Paul has performed 6 songs from his new album: Honey Hush, Brown Eyed Handsome Man, No Other Baby, Try Not To Cry, Lonesome Town and Run Devil Run. Only the latter 3 were broadcast on the net.
Entertainment Tonight and Access Hollywood had reports on Paul and the PETA Gala.
September 17 - Los Angeles, House of Blues
Run Devin Run Listening Party
Tickets for this party were given away for free, e.g. by Good Day Sunshine magazine or Beatlefest.
First, Paul got on the stage and introduced the album. Then a 10-minute video on the making of the album followed. Finally, the album was played, accompanied by slides on two video screens with quotes and drawings by Paul. The show was not over since Paul appeared on stage again. Capitol handed him an award for 60 million solo albums sold. Paul would then thank the audience for coming.
September 7 - New York City, Roseland Ballroom
The Buddy Holly Dance Party
Well, Paul came on stage last and performed "Rave On" with The Crickets - "unrehearsed" he said. The live internet broadcast was a shame, though. The reception was extremely poor, if it worked at all, and this was the case all over the world so we actually must blame www.liveonthenet.com for this! For us Europeans, it was certainly not worth spending the whole night on it ...
Listen To All 15 Run Devil Run Tracks
EMI Germany has Real Audio previews of each track. Go to www.emimusic.de, select Paul McCartney, select Discographie, and then Run Devil Run [the site is mostly in German]
Paul McCartney will be hosting two listening parties - one in Los Angeles and one in New York - to introduce his upcoming album, "Run Devil Run." And he's invited 50 Good Day Sunshine subscribers to come to each.

"Run Devil Run" is Paul's look back at the music of his roots - 12 classic tunes from the 50's and 60's, plus three brand new Macca-penned songs, including his new single, "Try Not To Cry." The album was recorded in 5 days at Abbey Road this past Spring, working "regular hours" - with one of the hottest bands he's put together in years: Pink Floyd's David Gilmour (guitar), Deep Purple's Ian Paice (drums), Mick Green of The Pirates (guitar) and Pete Wingfield on keyboards. "Run Devil Run" comes out on Capitol Records October 5th.

We've got 25 pairs of tickets to give away to two listening parties Paul's giving. In Los Angeles at the House of Blues on Friday September 17, and in New York at the Hammerstein Ballroom on Wednesday September 22. At both venues, Paul will be there to play the album for the winners. (Transportation is not included - just the tickets).

To win, you must:

Be a Good Day Sunshine subscriber
Provide a correct answer to the following: Give us the names of 5 non-album tracks from Paul's solo career. Any song Paul has released as a B-side to a single or as a bonus track on a single will do.

Be sure and include you PHONE NUMBER with your entry.

Please specify which city you wish to attend (L.A. or New York). Remember, we can only provide the tickets - you need to get yourself there!

If you're not a subscriber to Good Day Sunshine and would like to join and enter, please visit our website for more information: http://www.gooddaysunshine.net/subscription.htm

Just send your answers to the trivia question in along with your subscription. 25 winners for each city will be picked at random from the correct answers.

Contest ends WEDNESDAY SEPTEMBER 15, so enter now! Only ONE entry per person please.

Good luck! Hope to see you there.

Matt Hurwitz, Publisher Good Day Sunshine Magazine
Tel: (310) 391-0778 Fax: (310) 390-7475 E-mail: GDS1964@aol.com
Run Devil Run update
Paul's album Run Devil Run (out 4 October/Europe, 5 October/USA, see here for track details) will be released in various formats:
CD, LP, Cassette, Minidisc AND an official, limited 7" deluxe boxset - the entire album on 7" singles in 50's style!

| | |
| --- | --- |
| Advance Orders (CD): | $2.98 off |

Singles from Run Devil Run

No Other Baby will be the first single release - out on November 9.
Again there will be several UK-only formats:

limited edition 7" picture disc: No Other Baby/Brown-eyed Handsome Man

CD single - Part 1, limited to 15,000 copies. Mono versions of No Other Baby/Brown-eyed Handsome Man/Fabulous

CD single - Part 2, Stereo versions of No Other Baby/Brown-eyed Handsome Man/Fabulous

| | | |
| --- | --- | --- |
| Advance Orders: | CD Single Part #1 | CD Single Part #2 |
Buddy Holly Dance Party hosted by Paul McCartney; live webcast
(this is from LiveOnTheNet)
It's a Rock-N-Roller Dance Party and here's your chance to see it!

Buddy's music touched everyone, and it still does. Celebrate his life and music with a huge Rock 'n' Roller dance party hosted by Paul McCartney at New York's Roseland Ballroom on Sept. 7. Winners of dance contests across
the country will compete for prizes before an invitation-only crowd. See and hear Buddy's band, The Crickets, with special guests, Nanci Griffith, Bobby Vee and the Vees and Big Sandy and His Fly-Rite Boys.

Register for free t-shirts, posters, and tickets to this invitation-only event by going to www.buddyhollydance.com.

If you don't win tickets to the event you can still enjoy the show. LiveOnTheNet.com will be there webcasting the party LIVE from beginning to end. We'll have pre-show coverage beginning at 7PM ET from 52nd street
outside the ballroom. We'll also have a tribute to Buddy Holly, roving reporter coverage, special guest interviews and coverage from inside the ballroom till midnight.

Buddy Holly Dance Party hosted by Paul McCartney
September 7, 1999
7 PM ET/ 4 PM PT
http://www.buddyhollydance.com

Paul to perform at PETA's Millenium Party; live internet broadcast
(excerpt from USA Today)
"Paul is keeping Linda's issue alive: on Sept. 18, with People for the Ethical Treatment of Animals' Party of the Century and Humanitarian Awards at Paramount Studios in L.A.
Paul will perform several numbers from his Run Devil Run album, due in October. This is major news for fans, since he won't be touring.
Even better, the show and awards will be seen in October or November on VH1 in the USA; international distribution is planned. "It's the biggest thing we've ever done, our first TV special," says Dan Mathews of PETA, which Linda supported. He says the $350 tickets already are being scalped on line for $1,000 .
McCartney's album has songs that inspired The Beatles from legends including Elvis and Chuck Berry. McCartney's band for the PETA show will include Pink Floyd guitarist/singer David Gilmour and Foreigner founder Mick Jones.
At the event, Pamela Anderson Lee will get the Linda McCartney Memorial Award. Designer Stella McCartney, Paul and Linda's daughter, also is an honoree, as is a pack of animal lovers including Bill Maher, Steven Seagal, James Cromwell, Sheryl Lee and Richard Pryor.
Paul will intro a video tribute to Linda, with Sarah McLachlan doing a song from her new album. Hosts are Alec Baldwin, Jamie Lee Curtis, Woody Harrelson and Ellen DeGeneres.
The action includes a party on Paramount's New York set, a vegan dinner and street fair."

For all of us who cannot attend: The event is broadcast live in the internet! See http://www.peta-online.org/gala/index.html
Making of Yellow Submarine Special
In 1995, Paul became a DJ and hosted his 15-part "Oobu Joobu" radio series in the USA.

Soon he'll be in this role again: BBC Worldservice is to present his own radio series about the Rock'n'Roll records that inspired him! The shows will be recorded at his home in Sussex, and the recordings will be broadcast on BBC World Service from October 20.

It will be four half-hour shows. Paul will be playing songs from his new album Run Devil Run as well as songs that inspired him, looking at the lyrics and melodies. The show can be heard in the UK, overseas and also on the internet.
Run Devil Run - New Album
According to Billboard magazine (20 July), Paul's new ablum of rock'n'roll covers will be titled Run Devil Run. It is set for release on October 4 in Europe on Parlophone/EMI and on October 5 in the U.S. on Capitol. The 15 tracks have been recorded earlier this year at Abbey Road Studios and there are guest appearances by David Gilmour (Pink Floyd) and Ian Paice (Deep Purple). There also are three McCartney originals - one of them possibly being a first single.

"I Got Stung" - one of the album tracks was previewed on BBC Radio 2 earlier in July and the news agencies have since been reporting that this track was being "bootlegged" on various websites, and that some U.S. radio stations were airing the bootlegged track. Capitol and EMI were not amused - they fear people would be storming the shops and asking for a new McCartney single which does not exist.

The 20 July issue of ICE magazine had this track listing:

| | | |
| --- | --- | --- |
| No | Title | original artist |
| 1 | Bluejean Bop | Gene Vincent |
| 2 | She Said Yeah | The Animals and The Rolling Stones |
| 3 | All Shook Up | Elvis Presley |
| 4 | Run Devil Run | McCartney original |
| 5 | No Other Baby | Chad and Jeremy |
| 6 | Lonesome Town * | Ricky Nelson |
| 7 | Try Not To Cry | McCartney original |
| 8 | Movie Magg | Carl Perkins |
| 9 | Brown-Eyed Handsome Man | Cuck Berry, and Buddy Holly |
| 10 | What It Is | McCartney original |
| 11 | Coquette | Fats Domino |
| 12 | I Got Stung ** | Elvis Presley |
| 13 | Honey Hush | Joe Turner |
| 14 | Shake A Hand | Faye Adams |
| 15 | Let's Have A Party | Wanda Jackson |

* Paul also performed this song live at "Here There And Everywhere - A Concert For Linda"
** This song aired on BBC Radio 2 on July 5 in Joe Brown's show.
Garland For Linda
Time: Sunday 18th July 1999, 7:30 pm.
Location: Charterhouse Chapel, Charterhouse School, Godalming, Surrey, England.

a Garland for Linda
a Gala Charity Concert in aid of The Garland Appeal

Paul McCartney lined up with eight leading composers to create a tribute to his wife. This Sunday saw the world premieres of nine works by John Tavener, Judith Bingham, John Rutter, David Matthews, Roxanna Panufnik, Michael Berkeley, Giles Swayne, Sir Richard Rodney Bennet and Sir Paul McCartney, who contributed a new moving composition "Nova." The choral piece itself was acapella, with occasional flute and cello. All the composers attended, including Paul. According to an eye-witness, his brother Mike and wife, Mary and husband Alistair with son Arthur, Stella, James, Heather, some of Linda's family and Geoff Emerick were also spotted. However, no sight of Geoff Baker.

EMI Classics will record A Garland For Linda at the end of August, for a Christmas release (other sources say February/March next year). Within the next 3 years, up to 200 performances of the work are planned around the world.

Tijl Vanbrabant of Belgium attended the Garland For Linda and has some wonderful photos and stories to share. Check it out at http://titan.glo.be/~kg001310/indextijl.html
Paintings Exhibition is over
The exhibition of Paul McCartney's Paintings in Siegen, Germany, ended on July 25. It had 37,500 visitors, which greatly exceeded the expected number of 20,000. About 30% of the visitors had come from abroad.
Working Classical
Paul's album of short classical pieces (which was already talked about around the premiere of Standing Stone) is now also set for release in late October 1999. Working Classical (an obvious wordplay on "working class") will be the centerpiece of a musical extravaganca at the Royal Liverpool Philharmonic Hall. The piece will be performed by The London Symphony Orchestra on October 16 - and Sir Paul will attend.
Big Buddy Holly party
Paul McCartney will host an invitation-only Buddy Holly Rock 'n' Roller Dance Party on September 7, 1999 - Buddy's birthday. There will be Rock 'n' Roller Dance Contestes across the USA hosted by Infinity owned oldies radio stations, and the winners will go to New York to compete at the big Buddy Holly Rock 'n' Roller Dance Party and will get the chance to win $5000. Please see http://www.mplcommunications.com/buddy/index.htm for more details!
It's a Clean Machine
On the homepage of the Linda McCartney Pro Cycling Team (http://www.lindamccartney-pct.co.uk), exclusive music tracks by Paul McCartney titled "Clean Machine", mixed especially for the team at Abbey Road Studios in London on 28 May 1999, can be heard. It's a techno/disco stomp mix of "Penny Lane". When you enter that site, a small window will automatically pop up and the first track should start - Real Player and a recent web browser with Java Script required. There's also an extended mix available.
I Got Stung - song from the upcoming album
On Monday 5th July 1999, Joe Brown previewed one of Paul's songs from the new album on BBC Radio 2. The song was I Got Stung, and old Elvis number. And it really rocks. So Paul's upcoming album of rock'n'roll oldies should really be something to look forward to. Currently it is scheduled for release on 04 October 1999 (according to Maccazine).
Fans On The Run
Fans On The Run for "Band On The Run" - Live Radio Show Now Playing!

Paul McCartney, MPL Communications & amuZnet.com http://www.amuznet.com present "Fans On The Run" to celebrate the 25th Anniversary of the release of "Band On The Run".

Listen to rare out-takes, live-takes and interviews about the album with Paul, Linda, Denny Laine and the all-star gang featured on the recording's now famous cover art.

Enter the very special Fans On The Run Scavenger Hunt for your chance to win one-of-a-kind Band On The Run items. Click here to get a cool postcard for more details!
http://www.globalmusic.com/daps/BandOnTheRun.exe

Or go directly to the site to enter the scavenger hunt! http://www.amuznet.com

**(Note: before downloading the song, your system must meet the following minimum requirements): Windows 95 or Windows NT 3.51, 4.0 Pentium 100 or faster CPU Sound Card (16 bit or better). This is for PC only, for now.
IF YOU HAVE A MACINTOSH: Please do not download this file. We will have a
Mac version in the near future.
Pride of Britain Awards - Linda McCartney Award for animal welfare
(excerpted from The Mirror)
The audience fell silent as Sir Paul McCartney began to speak on his first official UK engagement since the death of his wife Linda. He was clearly moved by the many tales of bravery, determination and triumph against the odds that unfolded during the awards ceremony. And now he stood before the audience of celebrities, heroes, sportsmen, politicians and friends to present an award in honour of his late wife.

Sir Paul said: "It has been a very emotional occasion. I never expected it to be like this. What a day this has been. It has been such an inspiration. The point about these awards is that you don't usually see this side of people. You normally see the other side. I have been choked up.

"This shows how many good people there are in the world." And he told how Linda would have been "well-chuffed" with the award created in her name."I have been crying all year and now I come here," he joked.

"I just want to thank Mirror readers for creating this category and dedicating it to my lovely Linda. I know she would be proud." Sir Paul nominated the winner of the Linda McCartney award for animal welfare himself. Animal rights campaigner Juliet Gellatley, 35, is founder and director of the vegetarian charity Viva.Sir Paul said: "I chose Juliet because she deserves more publicity for her work. "The point is that a few years ago Juliet would not have been at an award ceremony like this, but vegetarianism is now the way of the future."

Juliet, 35, said: "At first when I heard I was nominated I was walking round the office asking everyone who they thought could be behind it. "The Mirror told me someone important had marked me out but it was not until two days ago that I realised it was Sir Paul. "I was absolutely gobsmacked. I'm incredibly honoured."

Juliet first met Linda when she was a guest speaker at the launch of National Vegetarian Week in 1992. Together they launched a campaign called SCREAM! which took the facts about factory farming into schools. Juliet said: "Linda was an incredible support to me and the torch bearer for the whole movement. She is badly missed."This is only the second time I have met Sir Paul but it is great that he wants to support an organisation that is not scared to bang the drum. "Linda has done what she dreamed of and saved the lives of animals. I wish she were here to see this."

Asked how he was coping with Linda's death from breast cancer,Sir Paul said: "I'm all right but I have been better." Smiling with pride, Paul poured out his deep joy at becoming a grandfather. Producing a set of five Polaroids from the breast pocket of his jacket, he said: "This is my grandchild at just eight-weeks-old," as the Blind Date star oohed and aahed. Looking relaxed Paul swapped a joke with Prime Minister Tony Blair as they met in the middle of the ballroom going in opposite directions. As Mr Blair left - passing McCartney on his way to his seat - Sir Paul laughed: "You're the morning shift. Now I'm here for the afternoon shift." He also spoke of how important it was to continue the vegetarian cause now that Linda had gone.

"Linda believed in this 100 per cent," he said. "It is a huge international revolution. Vegetarianism is the great new idea for the next century. "My son James has taken it once step further by becoming a vegan. Vegetarianism is not as hard as you think.

"It is not easy to work so hard because you don't get paid, it is long hours and the animals can't thank you. But there are lots of people out there in Britain who do this for a reason, they defend the animals, and I would like to thank each of them personally." Sir Paul said that he will continue Linda's campaign against cruelty in animal farming. "I have a great support network but we could not do a thing without Linda's attitude."
Paul in Nashville, TN
On 5/20/99, The Tennessean reported:
Maybe I'm amazed: Paul's comin' to town

By Brad Schmitt / Tennessean Staff Writer

Indeedy, Paul McCartney is coming to Dickson, Tenn., next month to cut a song with legendary rock band The Crickets.

Seems The Crickets are doing one of those tributes-to-ourselves albums, and they've got a cool list of folks cutting old Crickets tunes.

Paul will sing Rave On. Graham Nash of Crosby, Stills & Nash fame will do Think It Over and rocker Vince Neil of Motley Crue will sing I Fought the Law. (Wouldn't that be a better song for Tommy Lee?)

This robo-cool project also will include Nanci Griffith -- longtime Crickets pal -- singing Heartbeat, John Prine singing Oh Boy and Rodney Crowell singing That'll Be The Day. The Mavericks also are expected to contribute a song. The project is being recorded at the home studio of Crickets drummer J.I. Allison, who lives on a farm in Dickson. The whole thing also is being filmed for a possible documentary later.

No label yet for the project, being called The Crickets: Pickin' Under the Influence.
Paul's New Album
Well, there had been enough rumors, and an eyewitness saw Paul at Abbey Road Studios in late February this year. Apparently, he and Dave Gilmour were there recording some rock'n'roll oldies.

According to Billboard Magazine, Paul's next album will offer up to two new songs and 17 rock oldies. EMI and Capitol are said to have plans for a worldwise release in July (!). Songs included are Movie Mag (by Carl Perkins), Blue Jean Bop (Gene Vincent), Thumbin' A Ride (Leiber/Stoller) and Ready Teddy (Otis Blackwell).

The magazine reports that the album started as a jam session, unintended for commercial release, but that the recordings turned out so good that Paul basically said, "Hell, why not release it?" Finishing touches weren't completed until mid-May. Paul's next classical album (announced during around the premiere of Standing Stone) is also said to be expected for release in fall.
New Beatles Single
You've surely read about it. Yellow Submarine - the movie - has been thoroughly restored, lost scenes edited back in, and the entire soundtrack remixed (lots of surround effects). It will be released in September, together with an entirely remixed Yellow Submarine CD, which leaves off the George Martin instrumentals but includes all the songs that are played in the movie. Yes, this means we will get to hear reMIXed tracks from Sgt. Pepper as well! You've heard about a "new Beatles single", "lost song" and other Bakerisms. Apparently it's going to be "Hey Bulldog" - remixed but definitely not new ;-) (still exciting, it's a real gem, and we will get to see a proper video clip!). [latest word is that no single will be released at all]
BBC Year 2000 Gig?
Paul will not play at the New Year's Eve concert because he wants to spend time with his family.
A classical music tribute to Linda McCartney written by eight British composers, including her husband Sir Paul, will be premiered in July. A Garland for Linda will be heard alongside new choral arrangements for five Beatles songs. Linda McCartney died of cancer in April last year.

The plans follow last month's rock tribute which was led by Sir Paul and George Michael at London's Albert Hall.

A Garland for Linda is made up of eight songs written for an unaccompanied choir - with each composer contributing one song. Sir Paul has written his own composition - Nova. Other songs include A Good-Night by Sir Richard Rodney Bennett, The Doorway of the Dawn by David Matthews, and Prayer for the Healing of the Sick by John Tavener.

The tribute was the idea of Stephen Connock, the chairman of the Ralph Vaughan Williams Society. It was inspired by A Garland for the Queen, a 1953 tribute to the Coronation written by 10 British composers. Mr Connock said: "A Garland for Linda is an affectionate and deeply-moving work that will be an everlasting tribute to Linda McCartney. "The work is about maintaining hope and a zest for life, and these eight composers will, through their music, provide hope and comfort for us all."

The new Beatles choral arrangement features the songs Lady Madonna, Fixing A Hole, And I Love Her, Here, There And Everywhere and Let It Be.

A Garland for Linda will be performed by The Joyful Company of Singers at the chapel of Charterhouse public school in Surrey on July 18.

The charity concert will raise money for a new charity called The Garland Appeal. The appeal supports the healing power of music and works with two UK cancer charities, Breakthrough Breast Cancer and the Ark Facility at North Hampshire Hospital, Basingstoke.

"A Garland For Linda" wil have its U.S. premiere Dec. 4 at the Riverside Church in New York.

- This report has been moved to a separate page. Click here! -
Well, this site has really made it this year! Thank you very much to everyone who submitted their vote!

You all know the section for Beatles Fans at the Miningco? Robert Fontenot has been running this section for quite some time now, and he reviews everything Beatle he finds on the web - and updates at least once a week. So this is an invaluable and respected guide for Beatle fans.

Last year he started "The Laxton's Superb Web Site Awards" and my Beatles Site made the Top-10; at this time, solo sites did not qualify.

This year, The Laxton's Superb Web Site Awards have been established for 12 different categories of Beatledom. PLUGGED was nominated for Best Paul McCartney Site and the result is most astonishing - considering the wealth of McCartney sites that there are now on the web:

(excerpt from http://beatles.miningco.com:)

| | |
| --- | --- |
| Category: | The Best Paul McCartney Site |
| Winner: | Plugged -- The Unofficial Paul McCartney Home Page |
| Webmaster: | Harald Gernhardt |

Macca fans are serious -- this category had more votes than all other categories put together! Also meaning that Harald had the most votes of anyone in any category, with second and third place taking their respective honors as well. Harald took in 60% of the vote (amazing, considering the number of candidates and votes involved).
Thanks everyone! It really does mean a lot to me!

Well, I'm not finished yet! Although I did nothing to promote the poll for that category, my "other" site Harald Gernhardt's Beatles Pages was voted "The Best Bootleg/Collectors Site":

(excerpt from http://beatles.miningco.com:)
| | |
| --- | --- |
| Category: | The Best Bootleg/Collectors Site |
| Winner: | Harald Gernhardt's Beatle Page |
| Webmaster: | Harald Gernhardt |

An amazing feat: even with a site that requires paid membership (for a very good reason), Harald's managed to come out on top in the voting: he walked away with a big 42% of the vote, testament to the excellence of his site.
There were reports that Paul was at the Royal Albert Hall on Friday night - rehearsing All My Loving.

And indeed, he did appear on stage and perform three songs at the Linda Tribute Concert. Although his voice was shaky - remember when this concert was announced, Paul said that he was not sure he would be able to attend the show.

Paul and his family watched the show from their own private box.

The show was hosted by comedian Eddie Izzard who pointed out that proceeds from the event were going to animal charities.

Among the stars that appeared were George Michael, Elvis Costello, Tom Jones, Crissie Hynde and The Pretenders, Johnny Marr, Sinead O'Connor, Des'ree, Heather Small, Neil Finn and Marianne Faithfull.

Paul arrived on stage to tumultuous cheers from the audience, as a chorus of famous names joined him in a rendition of Let It Be. He also played one of the couple's favorite songs, Ricky Nelson's Lonesome Town, and his 1963 hit All My Loving.

His voice cracked with emotion as he told the audience: "She's with us, she's loving it." He said fans' expressions of support had convinced him to attend. "We could see there was a power," he said. Paul also thanked his family and officially spoke of his grandson.
The concert was filmed by Kevin Godley and will be shown on BBC One on Sunday 18th, and it will also be broadcast on BBC Radio 2 on 17 April at 1930 UK time.
According to German teletext services (apparently this went through some major newswire, although a British Sunday tabloid was the only known source for this), Paul McCartney is now a Grandfather!
His daughter Mary gave birth to a son on Saturday April 3rd. Last September, Mary married TV producer Alistair Donald at a church near her father's farmhouse in Peasmarsh. Rumors that she's pregnant were confirmed later.

Congratulations!
News report from Matt Hurwitz, Good Day Sunshine magazine:
It was just announced in England that a concert in tribute to Linda McCartney, titled "Here There and Everywhere - A Concert for Linda," will be held in London at the Royal Albert Hall on Saturday April 10, 1999. Proceeds from the sale of tickets will go to some of Linda's favorite animal charities. Tickets go on sale tomorrow.
The concert is being organized by Chrissie Hynde. She and the rest of The Pretenders will be the backing band for the all-star show, which will be hosted by Eddie Izzard. Signed on so far are: Elvis Costello, Heather Small of M People, Lynden David Hall, Des'ree, guitarist Johnny Marr, the legendary Tom Jones, Neil Finn, Marianne Faithfull, Sinead O'Connor, Ladysmith Black Mambazo and George Michael. The duke String Quartet will also perform and provide arrangements.
At present, Paul is not expected to perform, though he has, of course, given the show his blessing.
The concert will be filmed by Kevin Godley and will be aired on BBC1 on April 18, with a radio broadcast the day before, on April 17, the anniversary of Linda's death.
Tickets will go on sale tomorrow through the Albert Hall Box Office. For credit card purchases, call +44 (0870) 444-4000 (24 hour ticket line) or +44 (0171) 589-8212
"About f*cking time!" - said Stella's shirt. And it was. Watch this space for more information.
The newsletter of SEE Hollywood and Vine http://hollywoodandvine.com
BROADCAST.COM TO PREVIEW PREVIOUSLY UNRELEASED TRACKS FROM PAUL MCCARTNEY'S BAND ON THE RUN 25th ANNIVERSARY EDITION
ONE-DAY EXCLUSIVE ON-LINE "LISTENING PARTY" TO CELEBRATE MARCH 9TH RE-RELEASE
WHAT: Broadcast.com's exclusive 24-hour Paul McCartney Band On The Run 25th Anniversary Edition "pre-release party" celebrating the March 9th release of the classic Wings recording. The party will debut previously unreleased tracks from 12:00 Noon on Monday, March 8th, through Tuesday, March 9th. Fans are invited to enter the "listening party" at http://www.broadcast.com/bandontherun/ by clicking on or "catching the Band On The Run" - an animated Paul McCartney, taken from the legendary album artwork, which can be seen running across the screen on http://hollywoodandvine.com or http://capitolbroadcasts.com.
Also featured at www.broadcast.com/bandontherun/ will be a specially selected video montage celebrating McCartney's solo induction into the Rock and Roll Hall Of Fame. Fans will also be invited to pre-order the Capitol Records limited edition double-CD set through Amazon.com before it hits stores.
The Band On The Run 25th Anniversary Edition features 21 bonus tracks of previously unreleased acoustic versions of the classic tracks, rehearsals, sound checks live takes recorded during McCartney's world tours of 1975, 1989-1990 and 1993, interviews about the album with Paul and Linda and memories of Denny Laine.
WHERE: http://www.broadcast.com/bandontherun/
WHEN: 12:00 Noon on March 8,1999 through Tuesday, March 9th
HOW: Anyone with a multimedia personal computer and Internet access can listen to the CD on-demand. Users will need streaming media software, which can be downloaded free from the broadcast.com site.
VH1 Paul McCartney Special
Matt Hurwitz of GDS tells us:
Next week, VH1 will be premiering a new edition of a Paul McCartney "Fourplay" to celebrate the release of the "Band On the Run" 25th Anniversary Edition, and his induction into the Rock and Roll Hall of Fame. The half-hour show will feature four videos from Paul's career:

Maybe I'm Amazed

Coming Up

No More Lonely Nights

Band On the Run

The show will air:

Tuesday 3/9/99 at 11am ET/PT Tuesday 3/16/99 at 5pm ET/PT
Paintings Exhibition
And don't forget: The paintings website has been updated - check it out! http://www.siegen-wittgenstein.de/kultur/pmc/indexb.htm

The newsletter of SEE Hollywood and Vine http://hollywoodandvine.com
McCARTNEY TO RELEASE BAND ON THE RUN 25th ANNIVERSARY EDITION WITH 21 BONUS TRACKS INCLUDING PREVIOUSLY UNRELEASED WORK
Release To Coincide With Hall Of Fame Induction

Paul McCartney will mark one of his greatest post-Beatles achievements with the release of a special Silver Anniversary edition of Band On The Run, due in stores on Tuesday, March 9th. The Capitol Records limited edition double-CD set will feature the original Band On The Run, plus 21 bonus tracks of previously unreleased acoustic versions of the classic tracks together with rehearsal, soundcheck and live takes recorded during McCartney's world tours of 1975, 1989-1990 and 1993. The album's re-release is scheduled to coincide with McCartney's induction into the Rock and Roll Hall of Fame on March 16th.

The multi-platinum album that has sold in excess of eight million copies worldwide is widely regarded to be Wings' finest hour. Released in late 1973, Band On The Run topped the album charts on both sides of the Atlantic and went gold in the U.S. in less than two weeks. It also won two Grammy Awards.

The Band On The Run silver edition also includes out-takes, live-takes and interviews about the album with Paul and Linda, together with the memories of Denny Laine and of the all-star "gang" pictured on the original sleeve.

For all the latest on Paul McCartney visit http://hollywoodandvine.com/paulmccartney

----------------------------------------------------------------------------------------
New Linda McCartney Single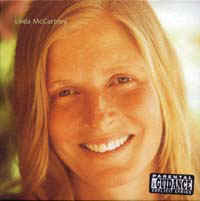 "The Light Comes From Within" is the title of Linda's latest single, out on Monday Jan 25th, 1999 in the UK. It's out on CD (Parlophone CDR6513) and on limited picture vinyl (Parlophone RPD6513). Of course there is a lot of contribution from Paul and son James. The single is backed with "I Got Up," and both songs are taken from the album Wide Prairie. However, there's been a lot of controversy on it in the media. The single carries a sticker "Parental Guidance - Explicit Lyrics."
"Parents, we need your guidance"
Paul McCartney placed advertisements Britain's national newspapers Monday to ridicule what he regards as the prudery that is infecting the record business.

The tongue-in-cheek adverts ask parents to give their "guidance on whether children will be morally corrupted" by a controversial line in a new single by his late wife, Linda.

The record, "The Light Comes From Within", from her posthumous solo album, Wide Prairie, includes the lyric: "you say I'm simple, you say I'm a hick - you're f***ing no-one, you stupid d***".

Former Beatle Sir Paul, who says the record has been universally banned, and given a parental guidance sticker because of its explicit lyrics, says in the advertisement:

"Your children need your guidance on this matter. It is your parental duty to listen to this record and to decide once and for all if you think your children will be morally corrupted...

"Should you decide that your children must not hear this record we would be grateful for your wisdom and good sense and will put our fingers in our ears whenever we hear it played.

"If, on the other hand, you feel that no harm will come to your children by being exposed to this song, give the guidance so sorely needed and tell them it's OK to do so."

The song has been banned from TV and radio in Britain and earned the parental guidance warning for Linda McCartney's posthumously released album, ''Wide Prairie.'' Paul McCartney criticized what he called the ''nannying and playsafe attitude that is infecting the record business.''

''After all, people do use the word on the telly and on the radio too,'' he said. ''In what age are we living? Is this the '90s or is it the '20s? Are children really going to be morally corrupted by one line in a song?''

The song was recorded in March, a month before Linda McCartney succumbed to breast cancer at age 56.

The ad tells parents that if ''you feel that no harm will come to your children by being exposed to this song, give the guidance so sorely needed and tell them it's OK to do so.''
(Webmaster's comment: I don't think that the influence of too much Bakerism does any good. After the "Hey Nude-," "Santa Barbara-," and "F-word" affairs, Paul's public image is changing ... Okay, it does give publicity.)
Band On The Run - Rerelease
(EMI Press Release)

PAUL McCARTNEY BAND ON THE RUN

C21X - 99176 Full Price CD Street date: 3/9/99

Paul McCartney will be honored on March 15, 1999 with an induction into the Rock and Roll Hall of Fame. In celebration, Capitol Records is releasing a 25th Anniversary remastered, limited edition reissue of Paul's all time best-selling album, BAND ON THE RUN. In addition to the remastered version of BAND ON THE RUN, this very special package will contain a bonus disc of previously unavailable material along with lyrics to all the songs and newly written liner notes.

With a running time of over 50 minutes, the bonus disc tells the story of how the album was made in the words of those involved through interviews with Paul and the band, and comments from Linda McCartney, Denny Laine, Geoff Emerick (engineer), Tony Visconti (arranger and orchestrator), Clive Arrowsmith (photographer), Al Coury (former Head of Promotions at Capitol Records), James Coburn, John Conteh, Kenny Lynch, Michael Parkinson, Christopher Lee, Clement Freud, and Dustin Hoffman. The bonus disc also contains outtakes from the original sessions, tour rehearsals, and one previously unreleased piece specifically recorded for BAND ON THE RUN. Tracks featured include an acoustic "Band On The Run", a soundcheck recording of "Jet", rehearsal recordings of "Let Me Roll It" and "Band On The Run", and an alternate mix of "Helen Wheels".

Following on the heels of Paul's Grammy-nominated and multi-platinum selling FLAMING PIE, and coinciding with the Rock and Roll Hall of Fame induction on 3/15, the BAND ON THE RUN reissue is sure to be one of the most anticipated and talked about releases of the new year.
Concerts?
(From the UK Sunday Times)

SIR Paul McCartney is organising two major charity concerts in London and New York in memory of his late wife, it emerged yesterday.

The two events, to be called A Garland for Linda, will run simultaneously. The money raised will be split between the Breakthrough Breast Cancer charity and the ARK medical education centre in Basingstoke, Hampshire.

Lady McCartney died from breast cancer in April last year aged 56 and it is believed that she would have wanted the money raised to go to the two charities.

Sir Paul is writing a piece for the event, which will be recorded. Sir Richard Rodney Bennett has written pieces for the concert; John Tavener, whose work was performed at the funeral of Diana, Princess of Wales, is also expected to contribute.

No date or venues have yet been fixed.
I've finally updated the Paul Over Germany section - it now contains important details on Paul's upcoming paintings exhibition in Germany.
I've also added details, scans and ordering information to the Collaborations section for Little Children, a charity single with contribution by Paul.
[ 2001 IV | 2001 III | 2001 II | 2001 I | 2000 II | 2000 I | 1999 | 1998 | 1997 II | 1996 & 1997 I ]
---


Home
---
©1999 PLUGGED - the unofficial Paul McCartney Homepage, by Harald Gernhardt. All Rights Reserved.