July - December 1997
[ 2001 IV | 2001 III | 2001 II | 2001 I | 2000 II | 2000 I | 1999 | 1998 | 1997 II | 1996 & 1997 I ]
Dec 22, 1997: Standing Stone on U.K. TV
Dec 15, 1997: Beautiful Night Out Now
Dec 07, 1997: Miscellaneous
Nov 24, 1997: Paul on The Oprah Winfrey Show today
Nov 13, 1997: Standing Stone Live Webcast from Carnegie Hall
Nov 06, 1997: Beautiful Night - FULL details
Nov 04, 1997: Beautiful Night single - details
Nov 02, 1997: Miscellaneous
Oct 28, 1997: Miscellaneous; 3rd Single
Oct 20, 1997: Many Years From Now - biography available now
Oct 16, 1997: HMV signing - 2,000 fans were waiting
Oct 15, 1997: Stella McCartney fashion presentation in Paris
Oct 14, 1997: Standing Stone World Premiere at the Royal Albert Hall
Oct 11, 1997: Paul to sign albums
Oct 09, 1997: Miscellaneous
Sep 29, 1997: Paul in the news; first Montserrat bootleg
Sep 23, 1997: Standing Stone CD released
Sep 15, 1997: Montserrat Concert
Sep 14, 1997: Paul, Mick Jagger and Drugs ...
Sep 09, 1997: Diana Benefit Album for Christmas / Derek Taylor dead
Sep 03, 1997: Standing Stone + Montserrat updates
Aug 23, 1997: Standing Stone Tickets
Jul 30, 1997: Paul to perform at Montserrat Aid Gig
Jul 17, 1997: Confusion about 2nd single
Jul 13, 1997: Miscellaneous
Jul 08, 1997: TV update - NBC 'Today'
Jul 06, 1997: 2nd European single; TV update
[ 2001 IV | 2001 III | 2001 II | 2001 I | 2000 II | 2000 I | 1999 | 1998 | 1997 II | 1996 & 1997 I ]
---
©1996,97 PLUGGED - the unofficial Paul McCartney Homepage. A tribute by Harald Gernhardt. Contact me
---
Dec. 22: Standing Stone on U.K. TV
Just to remind the readers from the United Kingdom: (this information according to Good Day Sunshine Magazine)
"EMI Classics has announced the broadcast dates for the "Standing Stone" concert and documentary broadcasts. The Royal Albert Hall concert program from 10/14 will appear on Christmas Day 12/25/97 at 10:30am on Britain's Channel 5. The documentary, "The Making of Standing Stone," will appear the following day, "Boxing Day," 12/26/97 at 12:10pm on the BBC.
The concert video has been released (in PAL format), on 11/24/97.
It will be released on VHS and Laserdisc in Japan on 1/21/98."
Dec. 15: Beautiful Night Single out now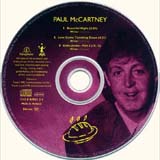 Single Beautiful Night Out Now!

In the United Kingdom, there's also a 2nd version. The vinyl picture disc was not available yet but will probably be next week.
Beautiful Night is not released in the United States.

Dec. 07: Miscellaneous
Hey Prude? - full frontal nudity in Beatiful Night video
There's a lot of discussion on the video to Paul's next single "Beautiful Night.", to be released on December 15 (not in the USA, it seems). It premiered at the Oprah Winfrey show on November 24. The UK premiere was Saturday December 6 on the Chart Show. So far - so good!
Towards the end, the video contains a scene of a nude couple, swimming in the River Mersey. According to reports, it contains "full frontal nudity" which had to be edited out in part for broadcast on the Oprah Winfrey show.
TV stations all said they will not air this video unedited, so Paul decided to edit it himself (before others do it).
The December 1997 Beatles Monthly Book (official Beatles Fan Club in England) reports:
"The video for the Beautiful Night single was filmed by Absolute Beginners director Julien Temple and, according to MPL, is the most lavish Paul has made in recent years. The original version of the video contains a love scene between a young couple swimming naked in the River Mersey. This will stay in the video to sustain the plot, said a McCartney spokesman, but other scenes might have to be edited to meet broadcast regulations.


"Unfortunately, some of the full-frontal sequences in Beautiful Night will have to be cut out, or the video will never be seen, unless it's on the Playboy channel," quipped the spokesman. "The actress, Emma Moore, is a beautiful sight, but we'd have a beautiful fight getting these scenes onto MTV."

The 5 minute video was filmed in Liverpool and London, and included a day's performance at the Nightingale Estate in Hackney, during which Paul played Beautiful Night with Spud, and Ealing-based band of 16 year olds, currently studying for their A levels at Drayton Manor High School. In the video, Paul stands in the forecourt of a tower block as 40 TV sets are thrown from windows on the 18th floor and crash land with spectacular results around him. "We had to be very careful this bombing run," added the spokesman. "Fortunately Paul was unscarred. The Beautiful Knight was unharmed!".

Despit the fact that nudity and rock'n'roll type destruction are untypical of a McCartney video, the spokesman stressed that Beautiful Night is indeed a Christmas single. "The video depicts one of Paul's unwavering themes," he said "Basically, the message is to turn off the telly and turn on to love this Christmas".
Q Magazine
The current edition of the UK Q Magazine (which is sold in the US, too, for example at Borders) had the Q&A session to which internet users could submit their questions. Members of the internet newsgroups and mailing lists will certainly recognise several familar names! This magazine also includes photos of Paul at the Q Awards (November 4th). Paul received the title "Composer of the Year" but left the event early in protest, because Phil Spector received a life-time award. It was Phil Spector who ruined the Let It Be album with his production.
Paul on TV - summary
Standing Stone (Royal Albert Hall) was shown on A&E at 10pm and 1am ET on Nov. 23rd. At 9am the same day The Making of Standing Stone was aired
Paul was on Oprah on Nov. 24, and it included the world premiere of the "Beautiful Night" video. There will be be a repeat on December 19, but "Little Willow" will be shown instead.
Paul McCartney's Town Hall Meeting was repeated on VH1 (USA) on November 25, 10pm ET, and there will again be aired on Sunday December 14th, 4:30pm ET.
Paul was on November 26's edition of Hard Copy. This was in reference to the RADD (Recording Artists, Actors and Athletes Against Drunk Driving) video he's made using "Drive My Car." Paul was featured in a 30-second spot he's done for RADD saying "You can't drive my car or anyone else's if you've been drinking." The week before at Carnegie Hall, RADD chairman David Niven Jr. and president Erin Meluso presented Paul with 1997's Founder's Award. Niven commented McCartney for his appearance and helping arrange for RADD to use "Drive My Car" for non-profit use as RADD's anthem.
VH1 (USA) had a very Beatle-y programming on Thanksgiving (27 November). Notable is the first-ever US broadcast of the unedited The Making of Sgt. Pepper - previously, the segment discussing drugs was cut out. They also showed Magical Mystery Tour and George Harrison & Ravi Shankar - Yin and Yang.
PBS premiered the David Frost Show, interviewing Paul McCartney, on Friday November 28. However, the actual broadcasting date is different throughout the States, and some are still waiting to see it or it is not yet determined if it will be shown there at all. For instance, the Chicago area "might get to see it in January or February", according to a PBS spokesman. In the meanwhile, this interview was also shown in the U.K. Taping of this interview took place in MPL's London office some time ago, and it took two hours.
Nov. 24: Paul on Oprah Winfrey Show today
Paul McCartney will be guest on the Oprah Winfrey show this Monday. It was pre-taped in New York last week (20th November). The entire show will be devoted to Paul, and he will perform two songs, as well as present his two latest videos "Beautiful Night" (upcoming single) and "Little Willow" (on upcoming Diana tribute album). DON'T MISS IT!
The video of "Beautiful Night" was described at "raunchy, and the best he's ever done" by Geoff Baker, McCartney's publicist. Indeed, we've read from fellow Macca-L members who attended the taping in the audience, only 10 feet from Paul: The video is reported to be totally different from anything he's ever done, and extremely well done. "Little Willow", however, is very touching, and brought tears into most of the audience's eyes.
European readers: German women's channel "TM3" airs the Oprah Winfrey Show every night. At this moment, I don't know how far we're behind in the schedule. TM3 can be freely received throughout Europe via the ASTRA satellite system (19.2 deg. east).
Sunday 23 Nov.:
A&E - Making of Standing Stone + Standing Stone (Royal Albert Hall premiere)
Monday 24 Nov.:
Paul on the Oprah Winfrey Show
Friday 28 Nov.:
re-broadcast of "Music for Montserrat" on Showtime
PBS: Paul will be on "Talking with David Frost"
Nov. 13: Standing Stone Live Webcast from Carnegie Hall
PAUL McCARTNEY ENTERTAINS WEB USERS AND RADIO LISTENERS DURING LIVE WEBCAST OF THE LARGEST SINGLE CLASSICAL MUSIC EVENT IN HISTORY

PAUL McCARTNEY'S "STANDING STONE" LIVE WEBCAST FROM CARNEGIE HALL

Live Global McCartney Webcast Draws Fans To MultiMedia Interactive Event

Wednesday evening, November 19th, live from Carnegie Hall, New York, Sir Paul McCartney's newest classical work entitled STANDING STONE will be performed. STANDING STONE is a 75-minute symphonic poem inspired by Celtic monoliths. Proceeds from the concert are being donated to "Save the Music" foundation and the "Liverpool Institute for the Performing Arts". STANDING STONE has been #1 on the Billboard Classical charts in America and abroad for several weeks.

The live Webcast will feature an interview with Sir Paul McCartney from questions submitted by fans on the Internet. National Public Radio (NPR) will broadcast the interview and concert on over 350 radio stations. This event is a multi-media presentation including radio and Internet audio broadcast across the World Wide Web. As expected, there is a Web Site for this event, using cutting edge technology. Fans are encouraged to visit the Official Webcast site prior to the event for behind-the-scenes coverage with RealAudio, RealVideo, and the new RealFlash technology.

The URL is http://www.standingstone97.com

The website will feature streaming audio and exclusive video for several weeks and remain on the Web for the following year. On November 23rd, watch for a TV special of Sir Paul McCartney's STANDING STONE concert on A & E.
Nov. 6: Beautiful Night - FULL details
Again, this valuable information is from the Dutch Paul McCartney Fanclub (Simon van der Peet), who got their information from EMI Holland directly.
        LABEL COPY

        INTERNATIONAL 3 TRACK CD 7243 8 84921 3 6


1.      BEAUTIFUL NIGHT (McCartney)
        Produced By:            Paul McCartney/Jeff Lynne   (5.03)
        Published By:           MPL Communications Ltd

>From the album "Flaming Pie"


2.      LOVE COME TUMBLING DOWN (McCartney)                (4.21)
        Produced By:            Paul McCartney/Phil Ramone
        Published By:           MPL Communications Ltd


3.      OOBU JOOBU PART 5                                                  (10.15))
        (1) AND NOW (00.10)
        (2) OOBU JOOBU MAIN THEME (01.14)
        (3) BEAUTIFUL NIGHT CHAT (00.09)
        (4) PAUL McCARTNEY AND RINGO STARR CHAT ABOUT BEAUTIFUL NIGHT (02.06)
        (5) RINGO STARR CHAT (00.09)
        (6) BEAUTIFUL NIGHT (FLAMING PIE MIX)        (01.31)
        (7) BEAUTIFUL NIGHT (ORIGINAL VERSION)* (4.02)
        (8) GOODBYES (00.17)
                OOBU JOOBU MAIN THEME (00.37)


        Composed By:            Paul McCartney
        Produced By:            Paul McCartney & Eddy Pumer except
                                        *Paul McCartney & Phil Ramone
        Published By:           MPL Communications Ltd

(P) 1997 The copyright in these sound recordings is owned by MPL
Communications Ltd and MPL Communications Inc under exclusive licence to
EMI Records Ltd.

(C) 1997 MPL Communications Ltd and MPL Communications Inc under exclusive
licence to EMI Records Ltd.

MPL LOGO


        INTERNATIONAL 2 TRACK CD 7243 8 84920 2 7

1.      BEAUTIFUL NIGHT (McCartney)                             (5.03)
        Produced By:            Paul McCartney/Jeff Lynne
        Published By:           MPL Communications Ltd/Inc

        From the album "Flaming Pie"

2.      LOVE COME TUMBLING DOWN (McCartney)          (4.21)
        Produced By:            Paul McCartney/Phil Ramone
        Published By:           MPL Communications Ltd

(P) 1997 The copyright in these sound recordings is owned by
    MPL Communications Ltd and MPL Communications Inc under
    exclusive licence to EMI Records Ltd.

(C) 1997 MPL Communications Ltd and MPL Communications Inc under
    exclusive licence to EMI Records Ltd.
MPL LOGO


     1. Beautiful Night (McCartney)     (5.03)
     Produced By Paul McCartney/Jeff Lynne
     Published by MPL Communications Ltd/Inc.
     From the album "Flaming Pie"

     2.  Same Love (McCartney)           (3.53)
     Produced by Paul McCartney
     Published By MPL Communications Ltd


     3. Oobu Joobu Part 6       (8.33)
     (1) This One (jingle)(00.08)
     (2) Oobu Joobu Main Theme (00.33)
     (3) Oobu Joobu We Love You
     (4) Paul McCartney Chats About Abbey Road    (00.43)
     (5) Strawberry Fields Forever (Paul solo) (00.14)
     (6) Paul McCartney Chats About Abbey Road (01.31)
     (7) Come On Baby (00.54)
     (8) Paul McCartney Chats About Abbey Road (00.18)
     (9) Come On Baby  (continued) (00.33)
    (10) End Chat Abbey Road (00.22)
    (11) Okay Are You Ready (Jingle) (00.10)
    (12) Love Mix (3.07)
    (13) Wide Screen Radio (jingle) (00.05)
    (14) Goodbye (00.18)
    (15) Oobu Joobu (Main Theme)  (00.48)

     (McCartney) except (5) Lennon/McCartney
     Produced by Paul McCartney & Eddy Pumer
     (12) Produced by Paul McCartney & Phil Ramone

     Published by MPL Communications Ltd
     Except (5) Northern Songs

     (P) 1997 The copyright in these sound recordings is owned by MPL
     Communications Ltd and MPl Communications Inc. under exclusive licence
     to EMI Records Ltd.
     (C) 1997 MPL Communications Ltd and MPL Communications Inc under
     exclusive licence to EMI Records Ltd.

     MPL Logo
Nov. 4: Beautiful Night single - details
Here's the latest information from Matt Hurwitz of GDS:
Paul's 3rd British single from "Flaming Pie" will be "Beautiful Night," to be released in England on December 15. As yet, Capitol has not scheduled any release for the disc in the U.S.
As with the previous two singles, Paul is releasing a pair of discs, each with a different set of bonus tracks, and each including a new "Oobu Joobu" segment (each with its own bonus track). The focus for the whole set of outtakes seems to be from the original 1987 Phil Ramone sessions, which produced the original version of "Beautiful Night," which, until now, has never been issued, producer Eddie Pumer tells me.
The track listing is as follows:


1
Beautiful Night
2
Love Come Tumbling Down
(likely from 1987 Ramone sessions)
3
Oobu Joobu Part 5:
Beautiful Night - 1987 Phil Ramone-produced version
Paul and Ringo chat about Beautiful Night

1
Beautiful Night
2
Same Love
3
Oobu Joobu Part 6:
Love Mix (full version)
Chat: Paul messing about on the mellotron, as seen in the documentary but with additional material not featured previously
Matt Hurwitz
Publisher Good Day Sunshine Magazine
Nov. 2: Miscellaneous
Paul to answer your questions:
The December 1997 issue of "Q" says:
"Sir Paul McCartney has gallantly undertaken to answer whatever questions you'd like to point in his direction in next month's edition of Q. That's any question at all - about anyone, anywhere, anything. The Hard Day's Knight has foolishly agreed to tell the truth, the whole truth and nothing but. Speed your queries to Q by mail, fax or e-mail by November 5 and the sharpest, funniest, most colourful and incisive will be put to The Big Man in person."

Enter your question here: http://www.erack.com/qweb/_HEADLINERS/mccartney.htm
Diana tribute album
This double CD is set for release on December 1st. Paul's contribution is "Little Willow." Reportedly, a video has been made for Little Willow.
Paul to sing with Luciano Pavarotti
At the annual Gramophone classical music awards in London, Paul said "I would be very happy to calloborate with him if I got the chance." Luciano Pavarotti asked Paul to sing with him to raise money for a musical center for the war children of Bosnia in Mostar. Paul even burt into a few bars of opera when they appeared for a photo call. The were also teasing each other about soccer. Pail also said "I've got the music for an animated children's cartoon and then I've got some smaller pieces from my 'Standing Stone' concert and I think we will be putting those out as a record next year possibly."
Oct. 28: Miscellaneous
Paul will be on Oprah on November 24 +++ He will perform 4 songs +++ Show will be taped in New York on November 20+++ Standing Stone also went to the No. 1 spot in the U.K., is still No.1 in the USA+++3rd Single "Beautiful Night to be released December 01+++Will contain Oobu Joobu Part 5, solely devoted to Beautiful Night+++comes with the 1987 version of Beautiful Night+++Love Come Tumbling Down will be B-side+++Both are from 1987 Phil Ramone-produced sessions and were circulating on tape+++

(Many thanks to the Dutch Paul McCartney Fanclub for the information on the single)
Oct. 20: Many Years From Now

"I'll give you it as I remember it... a sequence of things that did all happen within a period. So, it's my recollection of then . . .

Along the way I'd like to register the fact that John was great, he was absolutely wonderful and I did love him, lest it be seen that I'm trying now to do my own kind of revisionism. He was fabulous, but really all I'm saying is that I have my side of the affair as well, which sometimes gets ignored, hence my agreeing to be a part of this book." - Paul McCartney

"Based on hundreds of hours of exclusive interviews undertaken over a period of five years by Barry Miles, and on complete access to McCartney's own archives, this is Paul McCartney in his own words.
It is a history from the inside of one of the greatest song-writing partnerships of the century. It is the private life of a man made public property - a Beatle - by the age of twenty-one. It is the trajectory of the most popular pop group in history, from beginnings to break-up. It is the story of the sixties by the man at the centre of the storm. It is music, drugs, women, money, madness, the Maharishi, art, love, peace and bitterness, from beginning to end. It is the story as never told before.
At its centre, of course, is Paul McCartney's relationship with John Lennon - as friend, collaborator, as part of 'Lennon/McCartney' - two young guys from Liverpool who went on to change the world - and finally as bitter rivals in a struggle for the soul and the business control of the Beatles. McCartney recalls the genesis of every song he and Lennon wrote together and talks in fascinating detail about how they worked and who was responsible for which line, which melody.
There have been countless worrds written - and more than a few sung - about Paul McCartney. Many Years From Now is the book that, at last, sets the record straight." (notes from the book)
Oct. 16: HMV signing - 2,000 fans were waiting
| | | |
| --- | --- | --- |
| Paul arriving | Paul and Geoff Baker | Jacko'd be jealous |
| More signing | tons of people waiting... | "Hurray" |
| Paul is pressing the special button ... | ...that opened the curtain to reveal... | ...the HMV dog |
Oct. 15: Stella Mac's first fashion presentation at Chloe's, Paris
| | | |
| --- | --- | --- |
| Paul & Linda | Stella McCartney | Ringo & Barbara |
| Linda, interviewed by RTL | more interviews | Stella at work |
| Ringo was very interested | ... and so were James, Paul & Linda | Mary, James, Paul, Linda & Ringo |
| Ringo | Paul&Linda singing in the rain | |
Oct. 14: Standing Stone World Premiere at the Royal Albert Hall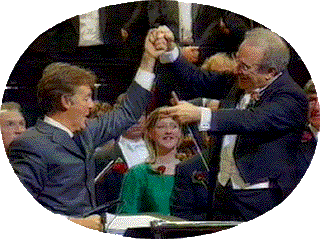 What a beautiful night! And it was a huge success. And we got to see Linda's first public appearance since you know when. And thanks to Classic FM, we could hear the premiere on Real Audio, preceeded by excerpts from the Liverpool Oratorio, A Leaf and a special Paul interview. The Real Audio broadcast actually worked quite well.
The BBC videotaped the whole performance. It will be aired in U.S. A&E channel sometime in November.
There was a lot of footage on various TV magazines, and most papers had something today.
| | | |
| --- | --- | --- |
| RAH | Conductor Foster | very special confetti |
| more confetti | Standing Stones | Paul at press conference |
| Two Macs at work ;-) | the composing software | Linda, James and Mary leave RAH |
| more Linda | more Linda | |
Oct. 11: Paul to sign albums
DIE-HARD FOREIGN FANS EXTEND VISIT TO MEET SIR PAUL

(this article was posted to Macca-L by Richard Porter of the London Beatles Fan Club)

Dozens of foreigners are forking out thousands of pounds for the chance
to meet their hero Sir Paul McCartney face to face.
Twenty Japanese businessmen and a party of 68 Americans who flew into
Britain for the premiere of Sir Paul's orchestral work Standing Stone next
Tuesday have extended their visit after being told that he was signing
albums in a record store next Thursday.
Sir Paul's in-store appearance will be his first in Britain for 34
years.
London businessman Simon Prentiss said his 20 Japanese visitors had
changed flights and booked longer stays at their hotels to be at the London
signing.
"It will cost them a fortune," he said.
Beatles Walks organiser Richard Porter, looking after the Americans,
said: "They have completely changed all their plans because of this chance
to meet Paul at the album signing.
"They are prepared to have to camp out overnight to try to make sure
they meet him."
Bill Heckle of Liverpool-based travel company Cavern City Tours added:
"The word here is that a big number of fans will be making the trip down to
London for this signing. This is a big opportunity for the die-hard
followers."
Sir Paul is repaying a 35-year-old favour with his visit to HMV at 150
Oxford Street.
It was at the company's other Oxford Street store in 1962 that the
Beatles were introduced to producer George Martin, who saw the potential of
their sound and set them on the path to success.
Sir Paul will be signing copies of his solo album Flaming Pie and his
orchestral work Standing Stone, which receives its charity world premiere
at the Royal Albert Hall on Tuesday.
Oct. 09: Miscellaneous
Standing Stone big success
In the U.S.A., Standing Stone entered the Classic Charts at #1, and remains in the No.1 spot in its second week.
Standing Stone TV broadcast
The BBC will record the premiere, and it will be shown in the USA on the A&E cable channel in November. A "Making of Standing Stone" documentary is also to be shown.
Biography Many Years From Now postponed in the U.S.A
This excellent biography has been released in the United Kingdom this Monday, however apart from a handful of promotional copies, it has not gone on sale in the U.S.A. yet. According to Steve Marinucci, the release has been postponed to November, there. However, in the week starting on October 20th, it actually went on sale throughout the USA. (thanks, Steve!)
Montserrat Concert airs on German Radio
German public radio station "WDR2" will air the concert this coming Sunday at 8 p.m., German time. WDR2 can be received over the ASTRA satellites throughout Europe.
Teletext updates
In case you've missed it - 35 teletext articles were added to Maccatext News 6, and 16 articles have been added to Beatletext News 10. As usual, the English translations will be added as soon as I manage.
Flaming Pie Singles
Although promos were sent to US radio stations, and the video got some airplay, Young Boy was not released as a single in the USA.
According to Beatles Monthly Book, Beautiful Night will be the next (European, USA?) single and is scheduled for release in time for Christmas.
Sept 29: Excerpt from forthcoming biography reveals Paul was close to a nervous breakdown after the Beatles had split.
Sept 25: Paul, Cannabis and misquotes
Reuters reported that Paul "called for the legalisation of cannabis."
In fact, Paul said to the New Statesman magazine: "I support the decriminalisation (of cannabis). People are smoking pot anyway and to make them criminal is wrong." In his opinion, it was pointless to fill jails with people who smoke cannabis because this would very likely turn them into criminals.
Paul was arrested for 9 days for possessing marijuana in Japan in 1980 - and he said that he learned nothing from it. "When I was jailed in Japan for having pot there was no attempt at rehabilitation. They just stuck me in a box for nine days. Decriminalisation would take the sting out of the issue."
Paul's comments were not very well received. Paul's forthcoming biography, "Many Years From Now", will probably report about this 1980 incident in great detail.
In the same interview, Paul criticised Oasis as "being derivative, and too full of themselves". Publicist Baker later issued a statement saying reports that McCartney had attacked Oasis were incorrect. "Paul McCartney also made it plain that he saw no rivalry between the Beatles and Oasis, and there was room for them all."
Sept. 23: First Montserrat bootleg CD
It was only broadcast on Pay Per View last Saturday (Sept. 20), and today this CD was already seen in some U.S. CD store:

Paul McCartney/Friends: Montserrat '97 (available for members only!)

Movement   I  After heavy light years (16.33)
              1.  Fire/rain.  Allegro energico
              2.  Cell growth.  Semplice
	      3.  'Human' theme.  Maestoso

Movement  II  He awoke startled  (16.14)
              4.  Meditation.  Contemplativo
              5.  Crystal ship.  Con moto scherzando
              6.  Sea voyage.  Pulsating, with cool jazz feel
              7.  Lost at sea.  Sognando
              8.  Release.  Allegro con spirito

Movement III  Subtle colours merged soft contours  (22.56)
              9.  Safe haven/standing stone.  Pastorale con moto
             10.  Peaceful moment.  Andante tranquillo
             11.  Messenger.  Energico
             12.  Lament.  Lamentoso
             13.  Trance.  Misterioso
             14.  Eclipse.  Eroico

Movement IV   Strings pluck, horn blow, drums beat  (19.08)
             15.  Glory tales. Trionfale
             16.  Fugal celebration.  L'istesso tempo.  Fresco
             17.  Rustic dance.  Rustico
             18.  Love duet.  Andante intimo
             19.  Celebration.  Andante
The disc comes in a slip case, along with a great 48-page booklet, with photos by Linda McCartney, photos from the recording session at Abbey Road and paintings by Paul.
Apparently, this CD was released on September 23rd in the USA, and on September 29 elsewhere.
(Thanks to Matt Hurwitz for the scan, and to Simon v.d.Peet for the track listing)
Well, most of us haven't seen anything or too much of it yet.
Lots of famous artists, all of them had recorded in George Martin's Montserrat studios, were performing at this concert: Arrow, Carl Perkins, Jimmy Buffet, Phil Collins, Sting, Elton John, Eric Clapton, Mark Knopfler, Midge Ure, The London Gospel Choir - and of course Sir Paul McCartney (who seemed to have yet another new, short haircut). Robbie McIntosh and Wix (from Paul's 1989/1993 band) were playing in the band. No sign of Linda (not even in the audience).
After George Martin had introduced him, Paul performed Yesterday alone with his guitar.
Then the last part of the "Abbey Road Medley" was played - from Golden Slumbers, Carry That Weight to The End. Paul started on piano but changed to guitar later. The triple-guitar solo of "The End" was performed by Eric Clapton, Robbie McIntosh and Mark Knopfler. Then Paul left stage and returned to play Hey Jude. Then it seemed to be over but the audience screamed like mad and Paul came back to sing Kansas City. This seemed like it was not intended in the programme. Paul didn't play any instrument during this song.
CNN showed portions of "Kansas City". They have some nice coverage incl. video at their website http://www.cnn.com/SHOWBIZ.
USA Today has an article on the Montserrat concert at http://usatoday.com/life/music/lmds033.htm.
http://www.rockontv.com confirms that the Montserrat Pay Per View concert will be aired this Saturday, Sept. 20 at 8:00 PM
Macca-Central http://macca.inter-pc.com has lots of stills and videos (Real Video format) so check it out!
There are many revelations in the ex-Beatle's new authorized biography, Paul McCartney: Many Years From Now, written by Barry Miles. The56-year-old musician reminisces about how he was "turned on to pot" by Bob Dylan in a New York hotel room in 1964. Two years later in London, he gave Rolling Stone Mick Jagger his first joint. "Funny," said McCartney, who was once known as the "cute" Beatle, "because everyone would have thought it would have been the other way 'round." The book will be out in October.
Here's the announcement by publisher Matt Hurwitz:
"Good Day Sunshine Issue #81 is in the mail! I just wanted to say thanks and a big apology for keeping you all waiting so long. A number of you were understandably miffed, rightly so, but hopefully we'll have things back on track."

| | |
| --- | --- |
| | The new issue is a 112-page "Flaming Pie" Special Edition containing over 30 pages of coverage on Paul's latest, including many rare, unseen Linda McCartney photos. |

Features include:

30 pages of Beatle news:

"Flaming Pie" news
Paul's "Standing Stone" and other classical McCartney in the works
Ringo recording news
Details behind George Harrison's new CD for Ravi Shankar, "Chants of India"
John & Yoko Rykodisc reissue series
Details behind Carl Perkins' "Go Cat Go!" CD, featuring all four Beatles, and the "Go Cat Go!" video, featuring rare video footage of Carl and Paul

Feature articles:

10-page feature by Matt Hurwitz about "Flaming Pie," including a behind-the-scenes look at the genesis of the album and its making
"Flaming Pie - Song by Song by PAUL MCCARTNEY" - Complete notes on the album - by Paul himself!
5-page interview with Paul, discussing the album with publicist Geoff Baker
Behind-the-scenes at VH-1's "Paul McCartney's Town Hall Meeting"
COMPLETE transcript of Paul's live internet chat from the "Town Hall Meeting." Only a portion of the chat was available previously from VH-1. (courtesy London Beatles Fan Club)
McCartney knighthood tribute
Exclusive interview with Ravi Shankar, discussing "Chants of India"
Our usual, detailed columns on record collecting, memorabilia collecting, Beatles in Cyberspace, and a whole lot more!

Thanks. Enjoy!

Matt Hurwitz Publisher Good Day Sunshine Magazine Tel: (310) 391-0778 E-mail: GDS1964@aol.com - How To Subscribe
---
In honor of Princess Diana, ten world-famous rock stars will record an album for Christmas.
According to British millionaire Richard Branson (boss of Virgin Records), Paul McCartney, Phil Collins, Annie Lennox, Peter Gabriel and Eric Clapton will record for this album. It will also contain the new version of Elton John's hit "Candle In The Wind." Luciano Pavarotti and Sting have not confirmed yet.
All proceeds of the album, estimated to be 10 million Pounds by Branson, will go to the Diana Memorial Fund. "The artists are trying to create the most moving album ever - an album of which the whole music industry can be proud" said Branson. He had contacted the musicians immediately after the death of the Princess and found spontaneous approval.
For next year, simultaneous benefit concerts are planned in London, Paris and New York, and the stars from the Diana album will perform their works, there.
Derek Taylor Dead
Here is the press release by Apple
DEREK TAYLOR, The Beatles' friend and Press Officer across a span of 30 years, has died at his home in Suffolk after a long illness. He was 65.

Derek Taylor was born in Liverpool on May 7, 1932. He was educated in the city and became a journliast for "The Hoylake and West Kirby Advertiser" before joining "The Liverpool Daily Post & Echo." In 1962, he became the showbusiness correspondent for the northern edition of "The Daily Express," based in Manchester.

In 1958 he married Joan Doughty in Bebington, The Wirral.

On May 30th, 1963, Derek covered The Beatles' concert at The Manchester Odeon. In his review in "the Daily Express" the next day he wrote: "The Liverpool Sound came to Manchester last night, and I thought it was magnificent. . . The spectable of these fresh, cheeky, sharp, young entertainers in apposition to the shiny-eyed teenage idolaters is as good as a rejuvenating drug for the jaded adult."

Following a number of subsequent exclusive interviews and reports on The Beatles, Derek developed a close relationship with the group, ghosting a weekly column by George for the "Express," and then ghosting Brian Epstein's biography, "A Cellarful Of Noise."

In April 1964, Derek became Brian Epstein's personal assistant and scriptwriter and The Beatles' Press Officer. He traveled with The Beatles on their world tour of 1964, and then resigned and moved to California, where - as a publicist - he represented The Byrds, The Beach Boys, Captain Beefheart, Paul Revere and The Raiders and co-founded the Monterey International Pop Music Festival of 1967.

In 1968, with the institution of Apple Corps, Derek returned to England with his wife Joan and their children to become The Beatles' Press Officer, casually establishing his legendary press "salon" at the Apple building in Saville Row, from where he befriended all comers and addressed the world until the break-up of The Beatles in 1970.

Derek then joined Warner, Elektra and Atlantic Records, rising to vice president at Warner Brothers in America by 1977. During this period, he produced albums by George Melly, John Le Mesurier and Harry Nilsson.

In 1978, he left Warner Bros to become a writer. Derek wrote and consulted on numerous books, among them George Harrison's biography, "I, Me, Mine" and Michelle Phillips' "California Dreamin'," and his own works, including "As Time Goes By," "Fifty Years Adrift" and "It Was Twenty Years Ago Today."

In the mid-80's, Derek returned to Apple Corps, from where he orchestrated and controlled the massively-successful launches of "The Beatles Live at the BBC" and, perhaps rock and roll's greatest multi-meida success of all time, "The Beatles Anthology."

Derek Taylor leaves a wife, Joan, and children Timothy, Dominic, Gerard, Abigail, Vanessa and Annabel - and thousands of friends.

Sir Paul McCartney paid tribute to Derek today. He said: "He was a beautiful man. It's a time for tears. Words may come later."

Paul McCartney's publicist and Derek Taylor's "Anthology" press assistant Geoff Baker commented today: "Derek leaves a thousand friends. Derek was not only the World's Greatest Press Officer, eh was also one of the funniest, kindest and most decent men you could have met. All who did meet him, loved him. IN 1969, The Beatles sang "and in the end, the love you take is equal to the love you make" - Derek Taylor was the proof of that equation."

Rupert Perry, Chairman of the EMI Records Group, UK & Ireland, said today: "The untimely death of Derek Taylor is a sad loss for our industry and especially for those of us at EMI privileged to have known him.

"During his years holding the outside world together during the crazy days of Apple at 3 Savile Row, and more recently as the constant voice of sanity and reason amidst the furore of The Beatles' 'new' recordings and reunions, Derek's calmness and infinite charm and wisdom cooled many a hot head. Despite his illness, Derek continued to provide support to The Beatles, Apple and EMI, and we will remember him with great affection and gratitude."

David Hughes, head of communications at EMI, said: "I felt I knew Derek Taylor before I actually did. While working on "Disc & Music Echo" in the Sixties, Derek's wild weekly column from Los Angeles became the most eagerly-anticipated words of any music writer of the time. When in recent years, I came to actually know him, it was as if we had been friends for all those 30 years. I will not see his like again."

A private funeral for Derek Taylor will be held in Suffolk on Friday.
US Premiere: Carnegie Hall.
Macca's Standing Stone will be performed on November 19th. Tickets go on sale at 11:00am on September 19th. No word on whether Macca himself will perform or not.
Standing Stone album
A www CD store announces Standing Stone CD Album and LP Vinyl to be released 26 September 97.
Details of Standing Stone can be found at the MPL site: http://www.mplcommunications.com/mccartney/faq/pr_stone.html
Music for Montserrat - Pay Per View
Showtime Event Television has picked up pay-per-view rights to the U.S. TV premiere of the all-star benefit concert ``Music for Montserrat'' next month. The deal for the concert - produced by former Beatles producer George Martin and featuring performances by Paul McCartney, Elton John, Eric Clapton, Sting and possibly a reunion of McCartney with his former Beatles mates George Harrison and Ringo Starr - also includes a repeat airing on the Showtime premium cable network, according to sources. The concert to raise money for the victims of the Soufriere volcano on the British-ruled island of Montserrat is set for Monday, Sept. 15, at London's Royal Albert Hall and will be televised live in the United Kingdom by BSkyB. The U.S. PPV telecast, priced at $19.95, will be at 5 p.m. PDT on Saturday, Sept. 20. Also scheduled to perform at the concert are Mark Knopfler, Mick Hucknall and Arrow. Other rumored performers are Carl Perkins and Jimmy Buffett, with Jim Carrey and Sean Connery rumored to be hosting the event. "
Aug 23, 1997: Standing Stone Tickets
Not everyone has managed to get tickets for Paul's symphonic poem "Standing Stone". Simon van der Peet of the Dutch magazine Maccazine has, and here are some scans of his ticket (and some improved ones by Christiano Orlandi):

Sir George Martin, who has a home and recording studio on the Carribean island of Montserrat, is organizing a benefit concert at London's Royal Albert Hall. It takes place on the 15th of September. Tickets will go on sale this Friday 1st August at 10a.m. at the R.A.H. ticket office in London. [tickets were sold out within two hours]
So far Paul McCartney, Eric Clapton, Elton John, Sting and Mark Knopfler have agreed to perform for free. Martin hopes to raise at least $800,000 for the benefit of the people of Montserrat which has been devastated by natural disasters over the past decade.
The artists are reported to perform solo, probably acoustically, and in duets. They will also assemble on stage for a finale.
Tickets will probably range from about £25-£75.
Paul's symphonic work "Standing Stone" will premiere at The Royal Albert Hall in London on Tuesday 14th October 1997. "Fun Club" members were given the chance to buy tickets in advance over a special phone line from 18 July. They went on sale officially on Friday 25th July. Prices range from £20-£125, however (according to German news reports) Paul himself took special care of the cheaper seats and halfed their price to £10.
Biography "Many Years From Now"
At last - the "official" Paul McCartney biography will be finally out this year. Here's a passage from a catalogue:
Based on hundreds of hours of exclusive interviews with Barry Miles and complete access to McCartney's own archives, this is Paul McCartney in his own words. It is history from the inside of one of the greatest songwriting partnerships of the century. It's the private life of a man made public property--a Beatle--by the age of 21. It's the trajectory of the most popular pop group in history, from beginnings to break-up. It's a chronicle of the sixties by the man at the center of the storm. It's music, drugs, women, money, madness, the Maharishi, art, love, peace, and bitterness. Beginning to end, it's the story as never told before. There have been countless words written--and not a few sung--about Paul McCartney. In Many Years From Now, he sets the record straight.
USA

Paul McCartney : Many Years from Now
by Barry Miles
Hardcover
List: $27.50 -- Off-Price: $27.50
Published by Henry Holt & Co
Publication date: September 1997
ISBN: 0805052488


Great Britain

Paul McCartney: Many Years from Now
by Barry Miles
Price: £20
Published by Secker and Warburg
Publication date: 6th October 1997
ISBN 0436280221
Three songs left from the Miller/McCartney sessions
Reuter quotes Miller in a recent article. "The sessions were completely easy. It was just like jamming with somebody you know really well. We have kind of a common musical ancestry or something. We just sort of dig into it, and it's there, and it's a lot of fun. It just was like an old habit, man. It just fit real easy."
Miller also revealed that there are three songs left from these sessions: "Country Girl", "Soul Boy and a 3rd untitled composition which he wants to finish and release in the end.
Flaming Pie for President
A special audio program about the making of Flaming Pie has been ordered for Air Force One. The President and First Lady reportedly have been thrilled by the music from Flaming Pie, which they got from McCartney during their visit in London, lately.
A spokesman said that they'd been asked to produce a two-hour audio show for United Airlines. Just as this was being finished, a request from the White house for a special one-hour version for the President was received.
The 2nd non-US single from Flaming Pie, "The World Tonight", was released on 7th July in the United Kingdom only, it seems. In the Netherlands, it was released on the 10th July. Please write if it has been released in your country!
Germany: Strange things going on here. This week, "Young Boy" is no longer in the Top 100 charts. However: BIG promotion has started - finally. Rumors say EMI Germany is holding back The World Tonight until the movie "Father's Day" starts - in October!
VIVA II (can be received throughout Europe on the Eutelsat Hotbird satellites) is currently airing the 2nd video of Young Boy several times every day! IMHO, this video is much better than the previously available "homemade" one (see Promo Videos for details).
Radio Update (Germany):
After the June radio special on "Welle Fidelitas" (small local station) in which Paul talked in German only (!), there is another radio special on German radio soon. This time it's on a nation-wide channel:
21. Juli 1997 - DLF Köln - 22.05-22.50: Paul McCartney im Gespräch
"In den letzten Monaten war Paul McCartney - er verdiente so viel Geld wie kein anderer Musiker vor ihm - mit der Fertigstellung seiner neuen Platte "Flaming Pie" beschäftigt. Dabei traf er im Studio seinen altern Mitstreiter Ringo Starr wieder, der bei den Aufnahmen ab und zu Schlagzeug gespielt hat. Als nächstes plant der rastlose Beatle eine Ausstellung in Deutschland mit seinen Gemälden und ein weiteres Oratorium."
(In the last few months, Paul McCartney - who has earned so much more money than any other musician before him - has been busy with the completion of his new album "Flaming Pie". In doing so, he met his old mate Ringo Starr again who plays the drums on some tracks. Next on the agenda, the restless Beatle is planning an exhibition of his paintings in Germany and another Oratorium.)
Buddy Holly Contest
Paul McCartney is inviting fellow Buddy Holly fans to submit poems in memory of the pioneer rock'n'roller, in a contest being run by McCartney's MPL Communications. The winner will receive £3,000 and an invitation to a celebrity lunch in London being thrown by McCartney in September as part of MPL's annual Buddy Holly Week. The top 50 entries will be published in a forthcoming Holly anthology. Poems, of no more than 40 lines, should be submitted to MPL at 1 Soho Square, London W1V 6BQ, England.
[this press release is from mid June!]
Paul & Continental Airlines
This is a report from Mr. Ashley Ryan Wooton:
"I leave Wednesday morning on a Continental Airlines flight to England, so I decided to see what kind of entertainment is available. Their showcase artist is you know who, Paul. Here is the write-up:
Flaming Pie is the first studio album from Paul McCartney in four years and fulfills his desire to get back to the fun and simplicity of recording. He plays most of the instruments himself, occasionally accompanied by a handful of family and friends, including his son James, Steve Miller and Ringo Starr. Tune in to hear highlights from the album as well as some of McCartney's past solo hits."
NBC Today (runs from 7-8am in the US, and from 8-9am in Europe) is showing pre-recorded interview portions of 5-10 minutes length each this Monday, Tuesday and Wednesday. Make sure you don't miss them!
NBC Europe is one day behind with the 'Today' show, so here it is Tuesday, Wednesday and Friday.
If you missed the Today Show, it can still be heard via Real Audio at: http://www.msnbc.com/onair/nbc/today/default.asp
Now don't forget Paul's appearance on NBC Late Night this Thursday (US) and Friday (Europe)!
2nd European single
The release date is Monday, 07 July 1997 (United Kingdom)

For the various different formats, please see "Jun 26, 1997: 2nd European single".
Here are the tracks of the two CD singles which will only be released in the United Kingdom:
#1

1
The World Tonight
2
Used To Be Bad
3
Oobu Joobu - Part 3
Intro Chat 0:09
Oobu Joobu Main Theme 0:48
Squid 6:25
Paul McCartney talks about 'The World Tonight' 1:23
Link 0:05
Oobu Joobu Main Theme 0:59


#2

1
The World Tonight
2
Really Love You
3
Oobu Joobu - Part 4
Intro Chat 0:06
Oobu Joobu Main Theme 0:37
Link 0:18
Don't Break The Promise (solo version) 3:39
Paul McCartney Talks About Reggae 1:25
Link 0:04
Oobu Joobu Main Theme 0:57
(Thanks to Matt Hurwitz, Publisher of Good Day Sunshine Magazine, and to Simon van der Peet for this info)
"Squid" is the music that Paul uses as musical background for his "Be a vegetarian" message on Oobu Joobu Part 14, track 13. (Thanks to Simon van der Peet from the Dutch Paul McCartney Fanclub for this information)
"Don't Break The Promise" is the demo version of this McCartney/Eric Stewart composition, a composite of this demo and the released 10CC version was aired during the 1995 US Oobu Joobu radio show. (This solo demo version by Paul is very good!)
TV update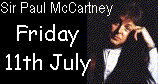 Paul will appear on the NBC Late Night show with Conan O'Brien of 10th July in the US.

ATTENTION EUROPEAN READERS: NBC Europe will broadcast this show on the 11th July, 23:00 CET.
NBC Europe also broadcasts "The Today Show" Mon-Fri from 8.00-9.00 (a.m.) CET. I have no idea if this European version is produced independently or not. Definitely worth keeping an eye on it this week, as Paul will appear on Monday, Tuesday and Wednesday on NBC (US).
[ 2001 IV | 2001 III | 2001 II | 2001 I | 2000 II | 2000 I | 1999 | 1998 | 1997 II | 1996 & 1997 I ]
---


Home
©1997 PLUGGED - the unofficial Paul McCartney Homepage. A tribute by Harald Gernhardt.