1998
[ 2001 IV | 2001 III | 2001 II | 2001 I | 2000 II | 2000 I | 1999 | 1998 | 1997 II | 1996 & 1997 I ]
[ 2001 IV | 2001 III | 2001 II | 2001 I | 2000 II | 2000 I | 1999 | 1998 | 1997 II | 1996 & 1997 I ]
---
©1998 PLUGGED - the unofficial Paul McCartney Homepage. Created by Harald Gernhardt. All Rights Reserved.
---
MACCA-L

(tm): Home of the Paul & Linda McCartney Internet Smartlists

Paul: www.macca-l.net Linda: www.macca-l.net/~cathy/lindamac.htm

PRESS CONTACT: Alexandra Burack, PR & Media Rep, beatbard@javanet.com

DECEMBER 22, 1998

LINDA MCCARTNEY MEMORIAL AUCTION RAISES OVER $2,500 FOR CHARITY

Macca-L and LindaMac-L, the Internet's leading subscription e-mail lists dedicated to Paul and Linda McCartney, along with members of HOT-L, raised over $2,500 in a two-day Trick or Treat charity auction dedicated to the memory of Linda McCartney. All proceeds from the November 1-2, 1998 auction, whose items were collected from list members' private collections, were donated to People for the Ethical Treatment of Animals (PETA), the animal-rights organization Linda McCartney supported avidly.

Macca-L held its first auction on June 18, 1997 to celebrate Paul McCartney's 55th birthday, raising $780 which was donated to the UK's Bristol Cancer Help Centre in his honour. Macca-L's inaugural annual charity auction was held in January, 1998, raising $315 for PETA. On April 27-29, 1998, a memorial charity auction was held by Macca-L, LindaMac-L, and members of Compuserve's Beatles Forum. This auction, which helped to channel member's shock and grief over the sudden death of Linda McCartney, raised $2,445 which was shared by Bristol Cancer Help Centre and PETA. To date in 1998, list members raised over $5,000, all of which has been donated to charities known to be supported by Paul and Linda McCartney.

Macca-L was established in 1996 by Melody Clark, and was moderated by her until January, 1998. The lists are presently owned and moderated by Cathy Munro and Lynn Harvey. The list dedicated to Paul, whose catch-phrase is 'Paul Without Guilt' (tm), was created in response to increasing negativity toward Paul and his music found elsewhere on the usenet forums. The purpose of Macca-L is to provide a moderated forum for the discussion and celebration of the music and life of Paul McCartney in a supportive and positive environment. A list created by fans for fans, Macca-L membership has grown steadily over the past three years, and presently serves an average of 500 subscribers. A companion list, LindaMac-L, was established in 1997 and is dedicated to the life and work of Linda McCartney. Membership in LindaMac-L now numbers between 150-200 averagely. Popular topics include Linda's Go Veggie campaigns, her photography, stained glass and film work, animal rights issues, her performance career in Wings, and her recently released posthumous CD Wide Prairie.

In the days following Linda's death on April 17, 1998, both Macca-L and LindaMac-L became central Internet sites for the world-wide outpouring of tributes and condolences for Paul and his family. CNN posted links to both lists on their website, and the Lindamac-L/Macca-L Tribute Book received e-mail sympathy messages from around the world. The 178-page Tribute Book, containing over 325 messages, was delivered to Paul's representatives in London as a gift from the two lists. In addition, since April of 1998, the Lindamac-L page has been ranked #1 in the Vegetarian Ring, a network of World Wide Web vegetarian sites, logging close to 2,000 hits in the past twelve weeks.

Recognized as the leading fan-created Paul McCartney sites on the Internet, Macca-L was awarded PC World Magazine/Tipworld's E-Mail List of the Day Award on April 15, 1998. The Macca-L homepage is a participating member of the Internet's Macca Web Ring and The Paul McCartney Ring, and is also linked on the Compuserve Beatles Forum. In addition to charity auctions, Macca-L sponsors other official annual activities, including a Birthday Message Page for Paul McCartney, and a Holiday Greeting Page for Paul and his family. The Macca-L homepage contains links to respected Beatles/Paul sites on the Internet, the itinerary of performances of Paul's classical work, Standing Stone, numerous links to Paul's current public events including his groundbreaking Wide Prairie webcast, a recommended reading list for resources on The Beatles and their solo careers, as well as a link providing translations of e-mails from English into eight different languages. Macca-L also operates the OPC Store, which offers numerous books, videos and other products associated with Paul and The Beatles, established in agreement with amazon.com. The LindaMac-L homepage includes a Go Veggie for Linda link, information on Linda's photography and art exhibits, and the Go Veggie Bookstore, where Linda's cookbooks and photography books can be purchased in association with Barnes & Noble.com.

Media Representatives from Macca-L and Lindamac-L have covered major events associated with Paul and Linda, including the Paul's VH1 Town Hall Meeting to promote Flaming Pie, the world and North American premieres of Standing Stone, Paul's historic autograph session at London's HMV record store, and UK and US exhibits of Linda's photographic works.

For information regarding subscriptions to Macca-L and/or Lindamac-L, please e-mail Cathy Munro at cathy@eskimo.com, or Lynn Harvey at harvette@mcs.net. Please direct all media inquiries to Alexandra Burack at beatbard@javanet.com.
Paul's "Wide Prairie" webcast will take place at 2pm ET, for one hour, on Thursday December 17, through the broadcast.com website. It will be viewable using RealPlayer's G2 Player, which you can download at the site. Visit:
Matt Hurwitz Publisher Good Day Sunshine Magazine
Matt Hurwitz of Good Day Sunshine Magazine reports:
Some important news regarding Paul's upcoming online event on December 17th, titled "The McCartney 'Wide Prairie' Show." As you may know, you can submit questions to Paul about Linda, Linda's album, whatever you wish, and he will try to answer them that day. Well, each person whose question gets answered will receive an autographed album from Paul himself. So if you haven't already, be sure and send in a Q - you might get lucky!
Send questions to:
World Exclusive Event
DO YOU WANT TO TALK TO PAUL MCCARTNEY?

Good - 'cos here's your chance

On Thursday, December 17th
Paul McCartney will go live online to the world
-->In his only performance of the year<--
Paul will present. . .
"The McCartney Wide Prairie Show"

Paul will be live & on the net:
--Telling how Linda & he made her solo album
--Revealing his favorite photography
--*Cooking* his own specialty! (yes, cooking)
--Presenting exclusive video previews
--And. . . . Answering *your* questions about Linda, "Wide Prairie," photos, cooking and the rest

Got a question? E-mail it *now* to:

lindaquestions@mplcommunications.com

"Groovy questions wanted"

December 17th - Macca on the net (With Live From He To You)

-->DETAIL TO BE ANNOUNCED (time, web address)

Matt Hurwitz Publisher Good Day Sunshine Magazine
Linda's "Wide Prairie" Yahoo! Club
Matt Hurwitz, Publisher of Good Day Sunshine Magazine reports:
MPL has set up a "Club" through Yahoo! which fans can visit and join. There's a chat room where you can talk with other fans about "Wide Prairie," a calendar section to look for upcoming events, a place to post messages - and it's all free.
If you'd like to join, go to:
http://edit.clubs.yahoo.com/config/sjg?.i=lindamccartneyswideprairie&.a=i&
If you just want to check out the Club and have a look around, visit at:
http://clubs.yahoo.com/clubs/lindamccartneyswideprairie
CLEVELAND: Paul McCartney, Bruce Springsteen and Billy Joel head up the list of 10 people who will be inducted into the Rock and Roll Hall of Fame next year.

Rhythm and blues singer Curtis Mayfield, early rocker Del Shannon, singer Dusty Springfield and gospel singers the Staple Singers also will be inducted March 15 at the Waldorf-Astoria Hotel in New York, the hall's New York-based foundation announced Tuesday.

Bob Wills and His Texas Playboys and Charles Brown will be inducted in the early influence category and Beatles' producer George Martin will be inducted in a category set aside for someone who is not a musical performer.

McCartney, already in the hall as a member of the Beatles, will be honored for his solo work.

Musicians are eligible for nomination to the hall 25 years after the release of their first recording.

London Beatles Fanclub Exclusive!

All Star Sgt Pepper Concert Planned for London!!

Promoters are working to bring together an all-star line up for concert version of Sgt Pepper in May next year (at a venue to be announced). Artists rumoured to be appearing include Elton John, Oasis, David Bowie, Bruce
Springsteen, Bob Dylan and Paul Simon, backed by the Royal Philharmonic Orchestra.

Such an event is this that George Martin and Paul McCartney are believed to be on board, along with Ringo Starr and George Harrison - so watch this space, or visit the London Beatles Fanclub Website http://members.xoom.com/londonbeatle for new details as they become available!

Fireman rebroadcast

There will be a 2nd Fireman rebroadcast on Friday November 20, aimed at the European and Australian viewers. The event will be available on-demand for the entire day. The link can be found on November 20 at http://www.fire-man.com.
Third Classical Recording
Paul's third classical album "Working Classical" is now scheduled for release in late 1999. Although its release was already announced at the time of the Standing Stone premiere last year, and the album was apparently long completed, EMI Classics shifted the release date.
There will be chamber music, including a string quartet called "Inebriation", a piece for four horns titled "Stately Horn", and two pieces for small orchestra, "A Leaf" (which was available as a piano piece on CD single) and "Spiral" (which was performed at the Standing Stone premieres).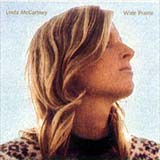 Here are the tracks of the upcoming album Wide Prairie by Linda McCartney (out on October 27):
| | |
| --- | --- |
| 1 | Wide Prairie |
| 2 | New Orleans |
| 3 | The White Coated Man |
| 4 | Love's Full Glory |
| 5 | I Got Up |
| 6 | The Light Comes From Within |
| 7 | Mister Sandman |
| 8 | Seaside Woman |
| 9 | Oriental Nightfish |
| 10 | Endless Days |
| 11 | Poison Ivy |
| 12 | Cow |
| 13 | B-Side To Seaside |
| 14 | Sugartime |
| 15 | Cook Of The House |
| 16 | Appaloosa |

---

Why not order the John Lennon
Anthology 4-CD box set? Gorgeous!

30% off
from amazon


order Linda's
award-winning cookbooks

Many thanks to everyone who shows his/her support
for this site by ordering over one of the above links!
This will be a very good album. With the exception of only a few tracks, I have heard early versions of all songs (aired on the 1995 "Oobu Joobu" series, or on bootleg discs), and most of them are just great. I can whole-heartedly recommend this album to all McCartney fans!
Press Release:
Wide Prairie, the solo album Linda McCartney, will be released by Capitol Records in the USA on Tuesday, October 27th. In Europe, it is released on Monday, October 26th.

The 16-track solo album, which she had planned to release this year, features 13 original songs written by Linda as well as three cover versions. It stands as the definitive collection of all the songs records by Linda over the past 25 years.

Linda sings lead vocal on all the songs and plays various keyboards, while Paul McCartney, who produced the album, sings backing vocals and plays a variety of instruments. The album also includes the couple's son James playing lead guitar.

Making her own solo album for the fun of it was an idea inspired in Linda by a fan who had liked her song Seaside Woman, the soundtrack to an animated short film that won a Golden Palm at the 1980 Cannes Film Festival. Paul explained: "A couple of years ago, a fan wrote to Linda saying she had enjoyed Seaside Woman and asked if there were any more tracks of hers available. That letter made us decide to gather all the music that she had recorded through the years and put it on one album."

Wide Prairie reveals a varied mix of Linda's musical tastes from the pop-reggae of Seaside Woman and Mister Sandman to the punk spirit of I Got Up and The Light Camera From Within. On Cow and White Coated Man (co-written with television screenwriter Carla Lane) Linda makes her stand for animal rights and her gentleness is heard in the ballads Endless Days, Love's Full Glory and Appaloosa. Linda's unpretentious sense of fun runs through the album - from her perky and tongue-in-cheek Wide Prairie, to the surreal Oriental Nightfish, the bouncy New Orleans and her poppy cover versions of Sugartime and Poison Ivy. Wide Prairie was recorded in England, the USA, France and Jamaica at varying times since November 1972 and the album was completed in March of this year.
Single to be released
According to some recent edition of Billboard, a single for the song Wide Prairie will be released by Parlophone on November 9th, with Cow and Love's Full Glory as extra tracks.
Message from Geoff Baker for Fun Club members
LINDA'S OWN ALBUM - OUT OCTOBER 26TH

Dear Funclubber,

As you may have read or heard, Linda's very own solo album will be released worldwide by EMI/Capitol on October 26th.

Titled WIDE PRAIRIE the album is the definitive collection of all the songs that Linda recorded over the past 25 years.

WIDE PRAIRIE contains 16 songs - 13 original songs written by Linda and three cover versions of Poison Ivy, Sugartime and Mister Sandman.

Linda sings lead vocal on all of the tracks and plays keyboards of most of them. Paul, who produced the album, sings backing vocals and plays a wide variety of instruments. He has also written the tracknotes. WIDE PRAIRIE also features James, playing lead guitar on a couple of tracks.

Linda always intended to put out this album, the recording of which she and Paul completed in March this year.

It's a fine album and a fun album and one that we are all proud of. It's "very Linda" and all of us at MPL thought you'd like to know that it's coming soon.

Geoff Baker The Press Office
Members of the Paul McCartney Fun Club have received this letter:
THE PAUL McCARTNEY FUN CLUB

PO BOX 110 WESTCLIFF ESSEX SSO 8NW UK

2 October 1998

Dear Fun Club Member, Many members have noticed that Club Sandwich No 86, our special tribute issue to Linda, was sent out without the regular Club Offer or Renewal Sheets. This was partly because it seemed unsuitable to send anything with this memorial, but also because Paul had decided that it was to be the final issue of the magazine.

Paul and Linda created Club Sandwich together almost 21 years ago now. It was their joint project, with Paul as executive editor and Linda as picture editor. Paul now feels that it is not appropriate to continue without her, and therefore we will stop publishing Club Sandwich and will wind up the Paul McCartney Fun Club as well.

All of us who have worked both on the magazine and at the club would like to thank you for your interest and support over the years. We will be doing a separate mailing to refund the outstanding portions of your subscriptions and any credits which are owed, and will have a final sale of club merchandise.

All the best,

Sue.
The Walrus was Paul? Yes! Paul was performing live on guitar, bass and keyboard, whistle and microphone ;-) , and this was mixed live to the Rushes basic tracks. Thank you very much Paul, the internet community feels honored, and we all had a lot of fun! -hg

All snapshots by Harald Gernhardt. Images must not be used on other sites (they are watermarked!).
Internet Chat details
The Fireman's chat will take place on Friday evening October 2, from 7pm to 8pm GMT - that's from 11 am to 12 noon Pacific time or 2pm to 3pm Eastern time.

The chat will be hosted on www.fire-man.com, the home of the fireman!
A mysterious fax from "a fireman's friend"
Matt Hurwitz, publisher of Good Day Sunshine magazine and long-term friend of this site, has just received a mysterious fax from England from "a fireman's friend." It says:
"As you probably know, there have been persistent rumors of late that an occasionally-erotic CD of ambient chill-out music, called "Rushes" by The Fireman, is not the work of The Fireman at all, but is rumored in fact to be the music of Paul McCartney - collaborating with that renowned producer of ambience, Youth.

This rumor is, of course, quite untrue. The documented fact that some years back (1993) Sir P. McC and Youth released another album ("strawberries, oceans ships forest") under the nom de guerre The Fireman has nothing whatsoever to do with it.

Of equal untruth is the claim that Rushes is being promoted by the inclusion of a totally naked woman on the inner sleeve of the CD, and that lifesized posters of said naked lady are going up around clubland soon.

Similarly, it would be massively incorrect to assert that Sir P. McC has anything whatsoever to do with the fact one track on the Rushes album (called "Fluid") features the quite obvious sounds of a woman engaged in what the late & great Derek Taylor called "charvering."

On the same (wildly speculative) fact, Sir P. McC's publicist could not, of course, possibly comment on documented affidavits form DJs all over Europe whom - when asked ot fill in the record company's DJ Reaction forms - voted The Fireman's "Rushes" to be great music to charver to.

ALSO the muted publicist is completely unable to confirm talk that The Fireman will be going on the internet this Friday from 7pm to 8pm GMT (2pm to 3pm ET) on:

to explain (a) himself and (b) his complete and utter lack of association with Sir P. McC."
We'll have to wait and see what The Fireman has to say for himself. In the meantime, check out the site, and, at the appropriate time, submit your questions to the man whose candle never goes out.
Matt Hurwitz Publisher Good Day Sunshine Magazine

Rushes album cover

Rushes, Paul's second album released under the pseudonym "the fireman", has been released throughout Europe last Monday, September 21st, 1998.
In the USA, it should be released by Capitol on October 20, 1998.

Internet Chat

Paul seems to have enjoyed his Flaming Pie internet chat last year! According to Good Day Sunshine magazine and The Fire Brigade, The Fireman will go online next week to take your questions and to chat about his new album. The chat will take place on either Wednesday 9/30 or Friday 10/2. No word yet through which site but you'll find the link on this site as soon as it becomes available!

(thanks Matt!)


Rushes - the CD
According to the Associated Press, Paul McCartney will take to the concert stage next year to keep alive his late wife Linda's crusade for animal rights.
He and Crissie Hynde (The Pretenders) are organising a series of concerts in 1999! Neither dates nor sites have been set for Paul's first return to the stage since Linda's passing.
Paul is quoted "Good animal activists around the world might thing, 'Oh, God, we have lost a very powerful voice when we lost Linda.' Well, we have. But my voice is there now and I'm going to try to use it. We are going to keep up her good work."
Paul has already talked with Elvis Costello, the B-52s, The Artist Formerly Known As Prince, Blur, Lenny Kravitz and Natalie Imbruglia about participating.
Rushes release
Simon van der Peet from the Fan Club Maccazine (The Netherlands) reports that Rushes will be released in The Netherlands (aka Holland) on September 21st! This date should also apply to most other European countries!
He also reports that there are Promotional 12 inch white label copies for Dance Music stores only, and 12 inches with a hologram of the promo artwork (see below).
| | |
| --- | --- |
| Simon van der Peet from the Fan Club Maccazine (The Netherlands) has provided us with the artwork of a promo CD of "Rushes", Paul's upcoming "techno" album, released under "The Fireman." You might want to look away, in case you're younger than 21. You have been warned ;-)! | |
If you're subscribed to Club Sandwich, you've read about it already in the Spring issue - Paul is to release another "trans-techno" album, produced by Youth and similar to the 1993 Strawberry Oceans Ships Forest. It will be released in the U.K. in late September (not in the U.S.!), and amongst its tracks there might be titles like "7am", "Appletree Cinnabar Amber" or "Palo Verde", "Fluid" and "Auraveda", the latter three at over 10 minutes each in length! This album will be titled RUSHES.
Most of you will know that when Linda died, it was accounced that Linda and Paul had been recording some new Linda songs early this year. Linda has been composing and recording quite a few titles since the early 1970s. Paul has produced a Linda album called "Wide Prairie" (after one song on the album), and it is out on November 3rd. It features 16 tracks - 13 originals and 3 cover versions, all sung by Linda. It will feature both Paul and James, as well as numerous other artists and members of Wings. This CD will be released worldwide.
Following the recent memorial service in London, a similar such service will be held at the Riverside Church in New York City on Monday June 22nd at 8:30pm. The church is located at 490 Riverside Dr., around 120th-122nd Sts. Paul is expected to attend, along with family members and close friends, though, like the British service, it will be closed to the public.
Thanks to Matt Hurwitz / Good Day Sunshine Magazine for this info.
| | | |
| --- | --- | --- |
| Paul & James arrive | Heather, James, Paul, Stella | James, Stella, Paul |
| Church entrance | Ringo and wife Barbara | George Harrison arrives |
| Gathering in Trafalger Square | One of the many banners | Candles everywhere |
| | Leaving church | |
A Memorial Service will be held at 8:30pm on Monday June 8, 1998, at St. Martin's In The Fields, a church in Trafalger Square in London. Only relatives and close friends will attend.
Animal welfare groups and others who wish to honor Linda are planning to gather in Trafalger Square itself at the same time for an informal candlelight tribute.
Paul and the children have been placing newspaper ads to thank all who have expressed their condolences and for their kind thoughts.
Yesterday's "The Sunday Mirror", www.sundaymirror.co.uk, has reported that Paul and James were seen in Paris. They also had a photo. This was the first time Paul was seen in public since Linda's passing.
It's incredibly sad news. After over two years of fighting against cancer, Linda McCartney died at 5:04 a.m. PDT last Friday, with her husband and children at her side, in Santa Barbara, California, at age 56.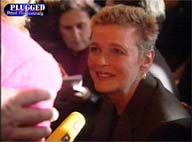 "The blessing was that the end came quickly and she didn't suffer," says a statement from publicist Geoff Baker. Two days before her death, Linda and Paul had been horseback riding, one of her main passions, Baker said.
In December 1995, a malign tumor was found in her breast and she was immediately undergoing treatment that seemed to be working well. Only in March the cancer was found to have spread to her liver.
Paul will be issuing a statement late this week and is currently with his children, Baker said. "The coming days are going to be very difficult for Paul. People may not realize that with the exception of one occasion, Paul and Linda never spent a night apart in the 30 years that they have loved one another."
"Especially because of this, I am making a personal and professional appeal to the press and media to please respect how Paul and the family are feeling and to give them time and space alone," he said.
Paul asked that instead of sending flowers, people could make a donation to cancer research or animal welfare charities, or best of all, the tribute that Linda herself would like best: "Go veggie."
Matt Hurwitz, publisher of GDS, spoke with MPL in London, and they asked that anyone wishing to send a card or good wishes to Paul and the family should please send them to the Fun Club address, not to MPL's offices or to Paul's home. That address is:
The Paul McCartney Fun Club
P.O. Box 110
Westcliff, Essex SS0 8NW
UNITED KINGDOM
Paul McCartney's long awaited paintings exhibition has been postponed but a final date is set. It is now to be held in the media and culture house "Lyz" in Siegen-Wittgenstein in Germany and it will open on 16 April 1999, and it will last until the end of June. Watch this space for more details.
Jan. 22: Carl Perkins dead; Paul on tour in 1998?
Carl Perkins, rock'n'roll and "rockabilly" pioneer, has died this Monday 19th at age 65 because of complications from three recent strokes. His song "Blue Suede Shoes" influenced Elvis Presley and the Beatles. The Beatles had recorded cover version of his songs "Matchbox", "Everybody's Trying To Be My Baby" and "Honey Don't."
In the very early Beatles days, George Harrison even changed his name to "Carl Harrison" in honor to Perkins.
Michael Jackson and Paul McCartney have renewed their friendship - said UK paper "News of the World" last Sunday. Paul is reported to have sent Jacko a copy of "Flaming Pie" including a personal note, and Jacko shall have invited Paul to his concerts in return. My comment: I don't know if there is any truth in this but it does not seem too likely. Paul's album was out in May last year, and in the meantime Paul was interviewed several times, and asked about Jackson (e.g in the David Frost interview, aired in January this year). There, Paul said that he had been trying to get into touch with Jacko several times but Jacko wouldn't speak to him. Besides, Paul will probably not forgive Jacko for what he has done (rights to Beatles songs). A prove that Paul will not forget people treating him badly took place late last year, when Paul left an awards show early because another award was given to Phil Spector, who remixed the infamous Let It Be album, adding women's choirs and heavy orchestration to Paul's Long And Winding Road, for example. Paul had vetoed that Spector release these remixes but in the end that's what happened, without any prior notification of Paul. Paul has been very angry about this.
1998 Flaming Pie Tour?
You might have heard it, there will be a Diana Tribute concert in June (in England). Paul was invited to perform but turned it down. According to a spokesman "regretfully he can't appear because he has other plans and commitments at the time."
According to Richard Porter of the London Beatles Fan Club, UK news channel Sky News have said the reason is because Paul will be touring! However, there is no confirmation from Paul's spokesman, yet.
So, don't get too excited yet. This may very likely turn out to be pure speculation. However, I'd advise on keeping and eye on what's happening on the news wires.
Jan. 14: A Summary of recent and upcoming events
Oh Yoko!
[hg] In a recent interview Yoko Ono has again shown that she still hasn't learned it. She's still pretending to know everything Beatles better (you should hear her during the infamous Get Back sessions, the audio of which (at least to a great extent) is available on many bootleg albums. There she's acting as if she was part of the Beatles which she clearly wasn't. During the making of the Anthology, there was some dispute between her and Paul. Remember John telling his story about the man on the Flaming Pie "who said unto them: from now on you are Beetles with an A."? She insisted that John dreamed that. Paul and the others however knew that John has just made it up. Paul certainly knew John longer than Yoko did. Yoko vetoed that Paul told the real story during the Anthology (she holds 25% of Apple). So Paul made his song "Flaming Pie." This must have hurt Yoko, and so came her revenge. In this interview she compares John and Paul with Mozart and another composer who was one of Mozart's enemies. She said John was the spiritual leader of the group and the Mozart of the two. Oh! Yoko, starting over yet again?
Flaming Pie nominated for Grammy
Yes! Paul's album "Flaming Pie" has been nominated for "Album of the Year". Congratulations! I hope it'll win! The annual show will take place in late February. Citizens of North America may take part in a couple of contests - check www.flamingpie.com.
Music for Montserrat on VH1 (US)
At last! The George Martin-produced "Music for Montserrat" benefit concert, which took place last September in London and featured Paul McCartney, will be re- broadcast on VH1 on Saturday January 17th at 9pm (ET/PT). It will be repeated again the following day, on Sunday January 18th at 4pm (ET/PT). The program was originally broadcast on Showtime Pay-per-view, the week after the concert took place.
(This information according to Good Day Sunshine magazine)
Oprah on UK TV
Sky One will broadcast the Oprah show (with Paul McCartney) this Thursday 15 January between 4pm and 5pm. It will probably be the "Little Willow" version (which was the repeat in the U.S.; the first version contained Beautiful Night instead).
Paul to sing on Coward album
Pet Shop Boy, Neil Tennant, has talked Sir Paul McCartney into performing on a charity album to celebrate the centenary of Sir Noel Coward's birth. There will be a gala show in London this week with Sir Elton John, Shola Ama, Robbie Williams, Marianne Faithfull and the Pet Shop Boys. The show will be recorded for use on an album. Sir Paul isn't appearing at the gala, but he has recorded his own version of a Coward song for the album.
Possible upcoming releases and events in 1998
You thought 1997 was a busy Beatle year? No way! Looks like there will be loads of things to look forward to this year!
The new Abbey Road Studios - the Documentary has already premiered on UK ITV in January. It includes interviews with Paul McCartney and former Beatle drummer Pete Best, amongst several other goodies. It will later be released on video.
February might see releases of a debut CD from Sean Lennon (without Yoko nor IMA). There will also be George Martin's CD In My Life including Beatles cover versions by Sean Connery and Goldie Hawn.
In April the new album by Ringo Starr will be released. Expectations are high, as Paul and George (amongst several other highly acclaimed musicians) contributed to the album. There should also be a new tour of Ringo in Europe, Australia, Canada, South America and Japan.
According to Club Sandwich, Paul's animated film Tropical Island Hum will be released around Easter!
There'll also be a new CD around that time: Working Classical which contains short classical pieces that were composed by Paul during the making of Standing Stone. Apparently recordings for this CD are not finished yet, though.
In July we'll be celebrating the 30th anniversary of the movie Yellow Submarine. Maybe it will finally be re-released on video since it has been deleted for many many years.
In autumn the long awaited Anthology Book should finally see the light of day. The special collector's edition by Genesis Publications might also include autographs and even previously unreleased Beatles tracks on a special CD. There will also be a trade edition.
Other things that are still waiting for a release are Let It Be on video (it has obviously been remastered and prepared a couple of years ago), the Hollywood Bowl on CD (according to Ringo), and finally a new George album, should he ever get around to recording it! Then there's the official box set of "Lost Lennon Tapes" still waiting for its release.
Wings Anthology
And let's not forget what Paul had mentioned during the Townhall Meeting at the Bishopsgate: A Wings Anthology is being compiled by his daughter Mary and her boyfriend Alistair.
Painting's exhibition
There still appears to be no final date set for the very first exhibition of Paul's paintings in Siegen, Germany, later this year. As the author of this site lives in Germany, he hopes to be able to provide lots of first-hand information about the exhibition.
And finally, Linda is probably still preparing a photo film of the Beatles, and its soundtrack was said to contain the so far unheard Beatles track Carnival of Light.
[ 2001 IV | 2001 III | 2001 II | 2001 I | 2000 II | 2000 I | 1999 | 1998 | 1997 II | 1996 & 1997 I ]
---


Home
---
©1998 PLUGGED - the unofficial Paul McCartney Homepage, by Harald Gernhardt. Republication prohibited.