Paul Over Germany
If you didn't know yet, the webmaster of this site is German - enough reason to set up this special section.
Of course everyone know's that the Beatles developed their style in Hamburg - but when was Paul in Germany as a solo artist?
Hopefully this section will develop over time - including a timeline, newspaper articles, photos, audio and video.
---
Paintings Exhibition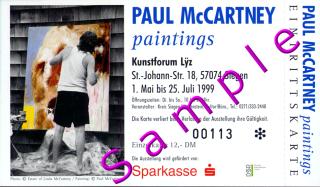 Paul's Paintings Exhibition
Exclusive report from the opening!
Siegen, Germany. May 1 - July 25, 1999
This subject had already turned up in summer 1997 and it was mentioned in the latest news section on this site. However, no definite schedule was available, and with the sad event early last year, things went a little uncertain. But now there is a final schedule and more information which I received from Ralf Gerecht (Kultur!Büro Siegen, organizers of the event):
Paul's Paintings Exhibition
Location:
Siegen, Germany
Site:
"Kulturhaus L˙z," Siegen
Date:
May 1st - July 25th, 1999
Open daily from 10am - 8pm
closed on Mondays!
Other important facts (tentative):

Paul will attend opening on April 30, 1999 - for invited guests only!
On display are 71 Paintings by Paul McCartney
There's also a visual introduction into the artistic works of Paul McCartney (includes unpublished photos by Linda McCartney)
a special video presentation
Definite information will become available in early March 1999, when a press-conference is held (Paul will probably not attend). Then, the internet site of the Kultur!Büro (organizer of the event) will be updated and include a selection of paintings

Brochure, catalogue

a small informational brochure with exact dates and admissions might become available and possibly sent for free within Europe
a catalogue with 75 colour reproductions of Paul's paintings, unpublished black/white photos by Linda and articles by Brian Clarke (London), Wolfgang Suttner (Siegen), Cristoph Tannert (Berlin) and interviews with Paul McCartney will become available for purchase on site or can be ordered by post (not via book shops). Pricing information available NOW!
There are four different posters available.
Official website for the exhibition - fully activated now!
What Paintings? ...
... you're wondering? You might wonder to examine the Standing Stone booklet a little closer, and play your In The World Tonight video tape!
Or just enter http://www.siegen-wittgenstein.de/kultur/pmc/indexb.htm and have a look at the galery of a dozen paintings!
---


HOME
İ1998,99 PLUGGED - the unofficial Paul McCartney homepage by Harald Gernhardt. All rights reserved.