Chaos and Creation in the Backyard
Paul McCartney
Disclaimer
Images used, herein, are owned by the individual copyright holders and are presented for review and promotional purposes only.
Ausschlussklausel
Hier dargestellte Bilder sind Eigentum der jeweiligen Rechteinhaber. Sie sind ausschlie▀lich zum Zwecke der Rezension und der Promotion dargestellt.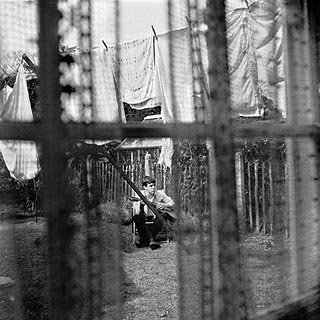 CD cover
Europe:
Capitol 3379592 Compact Disc
Capitol 3379581 LP-Vinyl
Capitol 3383252 2 CD + DVD-Video (Special Edition)
Release Date: September 12, 2005

USA:
Capitol
Release Date: September 13, 2005
Total Time: 46:54
| | | |
| --- | --- | --- |
| Tr | Title | Time |
| 1 | Fine Line | 3:05 |
| 2 | How Kind Of You | 4:47 |
| 3 | Jenny Wren | 3:47 |
| 4 | At The Mercy | 2:38 |
| 5 | Friends To Go | 2:43 |
| 6 | English Tea | 2:12 |
| 7 | Too Much Rain | 3:24 |
| 8 | A Certain Softness | 2:42 |
| 9 | Riding To Vanity Fair | 5:07 |
| 10 | Follow Me | 2:31 |
| 11 | Promise To You Girl | 3:10 |
| 12 | This Never Happened Before | 3:26 |
| 13 | Anyway | 3:50 |
Press Release
"Chaos And Creation In The Back Yard," Paul McCartney's 20th studio recording since The Beatles, marks an end to a nearly four-year hiatus since his last studio recording, 2001's platinum certified "Driving Rain." The new 13-track album is co-produced by Nigel Godrich (Radiohead, Travis and Beck) and McCartney, and was recorded in London and Los Angeles over the course of the past two years. Its release coincides with the September 16th launch of McCartney's all new 37-city "US" Tour, his fastest selling concert tour ever.

"Chaos And Creation In The Back Yard" is a return to the basics for McCartney. The album successfully fuses his undeniable song writing talents with his unparalleled musicianship. In fact, McCartney is credited with playing the majority of the instruments on the album, which is somewhat reminiscent of "McCartney" (1970) when he was credited with playing all of the instruments. They include the drums, guitar, bass, keyboards, as well as many of the less traditional instruments such as block flute, harmonium and flugelhorn.

"Chaos And Creation In The Back Yard" is a mix of up-tempo piano driven McCartney instant classics such as 'Fine Line' and 'Promise To You Girl' and more introspective darker tracks such as 'At The Mercy,' 'Too Much Rain' and 'Riding To Vanity Fair.' One of the many highlights is a track entitled, 'Jenny Wren,' which Paul describes as "daughter of Blackbird," as well as 'Follow Me,' which McCartney debuted at The Glastonbury Festival, while on his '04 Summer European Tour.

But "Chaos And Creation In The Back Yard" would not have been either if not for the suggestion of now legendary Beatles producer Sir George Martin. Familiar with Nigel's credentials and with his published desire to work with an established artist, Paul made the call that finally put the two together in the studio. The collaboration seemed an unlikely one and thus the rumors began. What type of album was McCartney making?

"I did not want to rush this album," said McCartney, who despite repeated inquiries, touring commitments and pressure from his record label, managed to maintain his focus. "I think it was worth the wait though. The music became more interesting over time and I'm really proud of what we did."

The results are evident throughout. The songs are sonically robust, the instrumentation and orchestration first rate and the chemistry between Paul and Nigel apparent. The album has an organic feel reminiscent of Paul's first solo release, "McCartney," (1970) and some of The Beatles later recordings.

"We really made a lot of it up as we went along," added McCartney. "I'd try something and if it didn't work I'd try something else until it did. It was like making a go-cart in the backyard."

"When Paul and I got together we had a common goal," said Godrich. "We wanted to make a great album that was true to Paul. I think that's exactly what we did."
Order this album
| | |
| --- | --- |
| USA | |
| United Kingdom | |
| Germany | |
Special Edition with Bonus DVD
DVD details (thanks to Simon van der Peet from the Dutch Paul McCartney fanclub)
Disc format:
DVD-5
PAL and NTSC
Regions Free/All Regions
Video - 50 minutes total, comprising:
'Between Chaos and Creation' - 30 minute documentary
'Fine Line' (Studio Performance video) - 5 mins
'Line Art' - animated piece - approx 10 minutes
accompanied by 3 instrumental tracks: Anyway, At the Mercy and Vanity Fair
'How Kind of You' - menu piece - 5 minutes
Compressed to MPEG-2 variable bit-rate
Aspect Ratio - 16:9 anamorphic
Audio - 60 minutes total, comprising:
LPCM Stereo - 50 minutes, as above
DTS 5.1 Surround Sound - 5 minutes - 'Fine Line' only
Dolby Digital 5.1 Surround Sound - 5 minutes - 'Fine Line' only
Menus:
Main menu - 5 minute animation of 'How Kind of You'
Audio option menu for 'Fine Line' only - static
No Subtitles
| | |
| --- | --- |
| USA | |
| United Kingdom | |
| Germany | |
More Chaos and Creation in the Backyard on this site
External Links
The webmaster is not responsible for the content of any of the following external sites:
---
---
2005 PLUGGED - the unofficial Paul McCartney homepage