The World Tonight (UK+international)
Disclaimer
Images used, herein, are owned by the individual copyright holders and are presented for review and promotional purposes only.
Ausschlussklausel
Hier dargestellte Bilder sind Eigentum der jeweiligen Rechteinhaber. Sie sind ausschließlich zum Zwecke der Rezension und der Promotion dargestellt.
" The lyrics were just gathering thoughts. Like 'I go back so far, I'm in front of me' - I don't know where that came from, but if I'd been writing with John he would have gone 'OK, leave that one in; we don't know what it means but we do know what it means'. "
UK, Release date 07 July 1997, Parlophone CDRS 6472 (has extra tray+inlay card to hold the 2nd single as well)
[Note: This is a UK-only release. Not available in Europe]
1
The World Tonight
4:03
2
Used To Be Bad
4:08
3
Oobu Joobu - Part 3
1. Intro Chat
2. Oobu Joobu Main Theme
3. Squid
4. Paul McCartney Talks About "The World Tonight"
5. Link
6. Oobu Joobu Main Theme
9:48
0:09
0:48
6:25
1:23
0:05
0:59
Credits:
1
Writer Paul McCartney

Paul McCartney lead vocal, harmony vocal, drums, bass guitar, and electric guitar, acoustic guitar, piano, percussion
Jeff Lynne harmony vocal, electric guitar, acoustic guitar, keyboard

Producers Jeff Lynne/Paul McCartney
Engineers Geoff Emerick/Jon Jabocs, assisted by Keith Smith
Studio location Sussex, England
Recording began 13 November 1995
Publishers MPL Communications/Inc

From the album "Flaming Pie"

2
Writers Steve Miller/Paul McCartney

Paul McCartney lead vocal, drums, bass guitar
Steve Miller lead vocal, electric guitar

Producer Paul McCartney
Engineers Geoff Emerick/Jon Jacobs, assisted by Keith Smith
Studio location Sussex, England
Recorded 5 May 1995
Publishers MPL Communications/Inc

From the album "Flaming Pie"

3
Writer Paul McCartney

Producers Paul McCartney/Eddy Pumer except * Paul McCartney
Publishers MPL Communications/Inc
UK, Release date 07 July 1997, Parlophone CDR 6472
[Note: This is a UK-only release. Not available in Europe]
1
The World Tonight
4:03
2
Really Love You
5:14
3
Oobu Joobu - Part 4
1.Intro Chat
2.Oobu Joobu Main Theme
3.Link
4.Don't Break The Promise (Solo Version)*
5.Paul McCartney Talks About Reggae
6.Link
7.Oobu Joobu Main Theme
7:06
0:06
0:37
0:18
3:39
1:25
0:04
0:57
Credits:
1
Writer Paul McCartney

Paul McCartney lead vocal, harmony vocal, drums, bass guitar, and electric guitar, acoustic guitar, piano, percussion
Jeff Lynne harmony vocal, electric guitar, acoustic guitar, keyboard

Producers Jeff Lynne/Paul McCartney
Engineers Geoff Emerick/Jon Jabocs, assisted by Keith Smith
Studio location Sussex, England
Recording began 13 November 1995
Publishers MPL Communications/Inc

From the album "Flaming Pie"

2
Writers Paul McCartney/Richard Starkey

Paul McCartney lead vocal, backing vocal, bass guitar, electric guitar, Wurlitzer piano
Jeff Lynne backing vocal, electric guitar
Ringo Starr drums

Producers Paul McCartney/Jeff Lynne
Engineers Geoff Emerick/Jon Jacobs, assisted by Keith Smith
Studio location Sussex, England
Recording began 14 May 1996
Publishers MPL Communications/Inc and Startling Music Ltd

From the album "Flaming Pie"

3
Writer Paul McCartney

Producers Paul McCartney/Eddy Pumer except * Paul McCartney
Publishers MPL Communications/Inc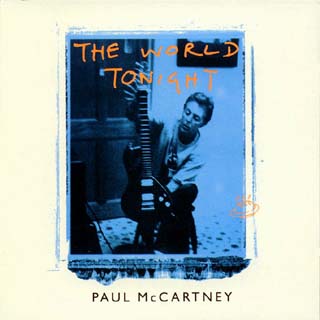 Europe, July 1997, Parlophone 7243 8 84259 2 6
Germany, late August 1997, Parlophone 7243 8 84259 2 6
1
The World Tonight
4:03
2
Used To Be Bad
4:08
3
Oobu Joobu - Part 2
1. Wide Screen Radio
2. Oobu Joobu We Love You
3. Oobu Joobu Main Theme
4. Brilliant, What's Next?
5. Atlantic Ocean
6. Paul McCartney Reminisces
7. Bouree
8. Oobu Joobu We Love You
9. Oobu Joobu Main Theme
10:19
0:12
0:06
0:32
0:03
6:25
1:24
0:23
0:12
1:03
International Version (2 track)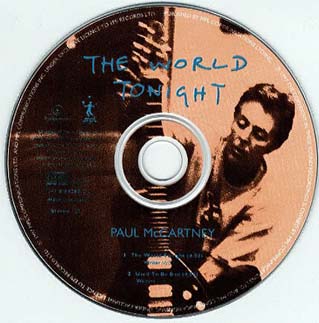 | | | |
| --- | --- | --- |
| 1 | The World Tonight | 4:03 |
| 2 | Used To Be Bad | 4:08 |
---
---
©1997 PLUGGED - the unofficial Paul McCartney homepage