Off The Ground
Disclaimer
Images used, herein, are owned by the individual copyright holders and are presented for review and promotional purposes only.
Ausschlussklausel
Hier dargestellte Bilder sind Eigentum der jeweiligen Rechteinhaber. Sie sind ausschließlich zum Zwecke der Rezension und der Promotion dargestellt.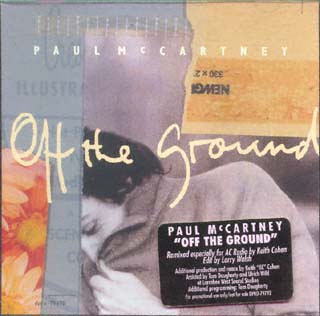 U.S. Release: 10 May 1993, Capitol, DPRO-79792-2 MO
| | | |
| --- | --- | --- |
| 1 | Off The Ground (AC Edit; Keith Cohen Remix) | 3:35 |
Last of four U.S. promo-only CD5s (all of which were issued with the same CD paper insert with the number 79670, but each included a unique number on the CD inner hub).
The info on this sticker says: "Remixed especially for AC Radio by Keith Cohen Edit by Larry Walsh
Additional production and remix by Keith "KC" Cohen Assisted by Tom Daugherty and Ulrich Wild at Larrabee West Sound Studios Additional programming: Tom Daugherty
For promotional use only/not for sale DPRO-79792"
Thanks to Gary Bell for the scan and info!
---
---
©2000 PLUGGED - the unofficial Paul McCartney homepage