Give My Regards To Broad Street - Audio Press Kit
Disclaimer
Images used, herein, are owned by the individual copyright holders and are presented for review and promotional purposes only.
Ausschlussklausel
Hier dargestellte Bilder sind Eigentum der jeweiligen Rechteinhaber. Sie sind ausschließlich zum Zwecke der Rezension und der Promotion dargestellt.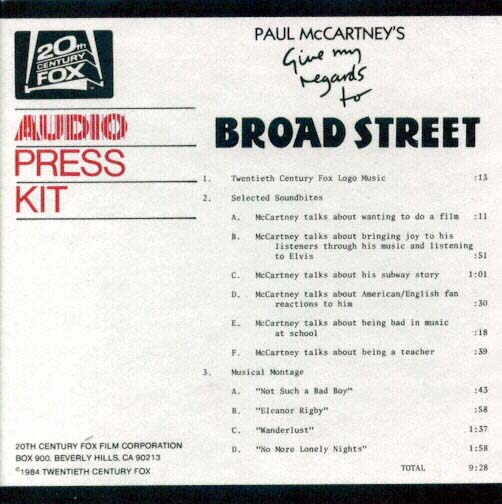 Release Date: 1984
Issued by: 20th Century Fox Film Corporation
Contents of the 5 inch reel to reel tape:
1.
Twentieth Century Fox Logo Music
:13
2.
Selected Soundbites
A.
McCartney talks about wanting to do a film
:11
B.
McCartney talks about bringing joy to his
listeners through his music and listening
to Elvis
:51
C.
McCartney talks about his subway story
1:01
D.
McCartney talks about American/English fan
reactions to him
:30
E.
McCartney talks about being bad in music
at school
:18
F.
McCartney talks about being a teacher
:39
3.
Musical Montage
A.
"Not Such a Bad Boy"
:43
B.
"Eleanor Rigby"
:58
C.
"Wanderlust"
1:37
D.
"No More Lonely Nights"
1:58

TOTAL

9:28
Many thanks to The Crippled Lion for the scan and information!
---
---
©1999 PLUGGED - the unofficial Paul McCartney homepage. All Rights Reserved.