Unplugged (the official bootleg)
Disclaimer
Images used, herein, are owned by the individual copyright holders and are presented for review and promotional purposes only.
Ausschlussklausel
Hier dargestellte Bilder sind Eigentum der jeweiligen Rechteinhaber. Sie sind ausschließlich zum Zwecke der Rezension und der Promotion dargestellt.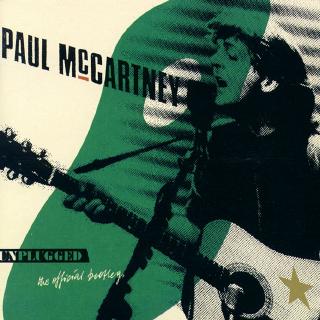 Release date:

20 May 1991

Recorded:

25 January 1991, London, for MTV Unplugged

Musicians:

Paul McCartney, Linda McCartney, Paul "Wix" Wickens, Blair Cunningham, Hamish Stuart, Robbie McIntosh

Engineer:

Geoff Emerick assisted by Peter Craigie, Gary Stewart, Eddie Klein

Mixed by:

Geoff Emerick

Producer:

(Geoff Emerick)

GB chart ratings:

n/a

US chart ratings:

n/a
U.K. 20 May 1991, Parlophone CDP 7 96413 2, CDPCSD 116
U.S. 04 June 1991, Capitol CDP 7 96413 2
Japan: 1991, Odeon TOCP-6713 (still in print)
Re-release: Germany, May 1997. Still in print.
Total Playing Time 58:34
| | | |
| --- | --- | --- |
| 1 | Be-Bop-A-Lula | 3:37 |
| 2 | I Lost My Little Girl | 1:13 |
| 3 | Here There And Everywhere | 2:30 |
| 4 | Blue Moon Of Kentucky | 3:13 |
| 5 | We Can Work It Out | 2:18 |
| 6 | San Francisco Bay Blues | 2:48 |
| 7 | I've Just Seen A Face | 2:02 |
| 8 | Every Night | 3:19 |
| 9 | She's A Woman | 3:26 |
| 10 | Hi-Heel Sneakers | 3:25 |
| 11 | And I Love Her | 3:33 |
| 12 | That Would Be Something | 2:38 |
| 13 | Blackbird | 1:46 |
| 14 | Ain't No Sunshine | 3:28 |
| 15 | Good Rockin' Tonight | 3:04 |
| 16 | Singing the Blues | 2:48 |
| 17 | Junk | 2:08 |
| | |
| --- | --- |
| $18.97 | |
---
---
©1994-98 PLUGGED - the unofficial Paul McCartney homepage. All Rights Reserved