The Rutles - A Phenomenon That Changed The World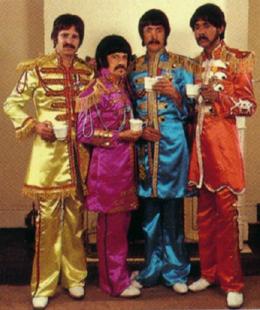 The world first became aware of The Rutles in 1978 - when NBC aired a TV special called "All You Need Is Cash" - a spoof documentary of a mythical '60's band called The Rutles. The project was created by two veterans of comedy and music - Eric Idle and Neil Innes.
Eric Idle was one of the founding members of Monty Python. Neil Innes was one of the founding members of cult comedy-rock group The Bonzo Dog Band (picked by The Beatles to appear in their 1967 film "Magical Mystery Tour"). Innes subsequently became the "seventh Python" - providing and performing comedic music for the troupe.
Together they created the mythical Rutles as device to parody the Beatles story. Innes wrote, recorded and produced all the music - witty pastiches of many Beatles songs. Idle wrote and co-directed the spoof documentary film which lampooned the Beatles legend. Innes and Idle also acted in the special, becoming, respectively, Ron Nasty (the John Lennon character) and Dirk McQuickly (the Paul McCartney role). Two musician friends were recruited to play the other two Rutles. Rikki Fataar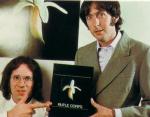 (a top session musician and '70's-era Beach Boy) played Stig O'Hara (the George Harrison character) and British drummer John Halsey became The Rutles version of Ringo Starr - Barry Wom.
All of The Rutles music seen in the film and heard on the soundtrack album was sung and played by just three musicians - Neil Innes, Rikki Fataar and John Halsey (Eric Idle did not sing or play on the album, but was seen lip-syncing in the film.)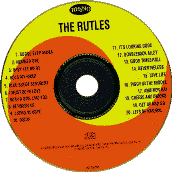 The TV special - which was executive-produced by Lorne Michaels - was a worldwide success.
The soundtrack album - also called "All You Need Is Cash" - was released by Warner Bros. Records, and originally contained 14 of the 20 songs featured in the film (Rhino Records' 1991 CD release included as bonus tracks the 6 songs omitted from the original album).
The album was nominated for a Grammy for Best Comedy Recording
[Get Up And Go][Dave Haber's Rutles Homepage]
---
Scans and page layout ©1996 Harald Gernhardt