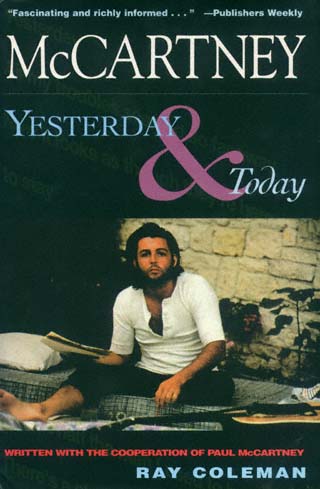 Ray Coleman traveled the world with the Beatles as a writer with Melody Maker. He has written authorized biographies of John Lennon, Eric Clapton, and the Carpenters, and co-wrote with Bill Wyman Stone Alone, the definitive story of the Rolling Stones. Formerly editor-in-chief of Meiody Maker, he was a contributor to the Sunday Times and Billboard magazine. He won both Editor of the Year and Writer of the Year awards in British contests, and reported on popular music both for Britain and the United States. He passed away in the Fall of 1996.


Written with the cooperation of Paul McCartney, this is a dramatic story of one of the most popular songs in history and a unique close-up of the man who
composed it.
"Yesterday," recorded thirty years ago at the peak of the Beatles' triumphs, is the most recorded song of all time. An astonishing 2,500 different versions of McCartney's prized signature song have been made. Focusing on "Yesterday" and the era in which it was created, author Ray Coleman - who was close to the Beaties'story from the very beginning - draws a fresh new portrait of McCartney, then and now.
As a Beatle, McCartney was a brilliant songwriter and performer, ambitiously steering the group to the top. Today he is still fiercely proud of what he and the Beatles achieved. He remains a composer and musician, as well as a shrewd businessman, philanthropist, and militant vegetarian.
In candid interviews, McCartney discusses his rich, often mercurial relationship with John Lennon, as well as a range of other subjects, including his life before and during the Beatles' heyday, and the powerful events that shaped his life.
The evolution of this extraordinary song provides a unique insight into one of the world's most accomplished artists. Yesterday and Today will take you on a colorful, fascinating ride inside the mind and heart of not only a talented musician, but a man who has tasted many of the different tragedies and triumphs that life has to offer.