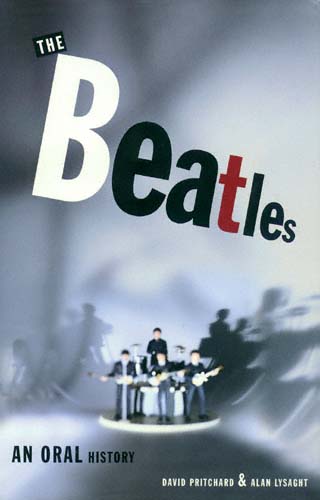 DAVID PRITCHARD & ALAN LYSAGHT
are award-winning producers whose fascination with The Beatles began with the band's first success in England. Pritchard, a legendary deejay from Toronto's underground
in the late 1960s, now runs his own audio recording studio in Toronto. Lysaght is currently at work on several TV documentaries and programs.

Together, Pritchard and Lysaght have created many international programs, including The Complete History of The Rolling Stones and The Beatles: The Days in Their Lives, the classic 24-hour-long radio documentary syndicated in more than 30 countries.

THIS IS THE REAL history of The Beatles, told by the people who really knew them-their childhood playmates, friends, families, rivals, lovers, teachers, fellow musicians-and by John, Paul, George, and Ringo themselves.

The Beatles: An Oral History casts new light on the band's history, with revealing accounts of the sexy, rocking early days in Liverpool and Hamburg; the pivotal recording of "Please Please Me," their first hit; the touring triumphs and burnouts; the secrets behind the album Sgt. Pepper's Lonely Hearts Club Band. A chorus of distinctive voices tells us how The Beatles helped get The
Rolling Stones rolling, why The Beatles stopped touring in 1966 at the height of their fame, and what really led to their breakup in 1970.

In their prime, The Beatles were more than a great musical act. They were a force of nature, a whirlwind of magnetic energy sweeping everything along with them-fashion, film, sex, satire, rock, revolution.

Their story is the story of an entire generation. Yet through it all they remained what they were at the start: four blokes, wise-cracking, often in love and trouble, sometimes angry, usually funny, and yet always what they will forever be -- the greatest rock 'n' roll geniuses the world has ever produced. This is their story.