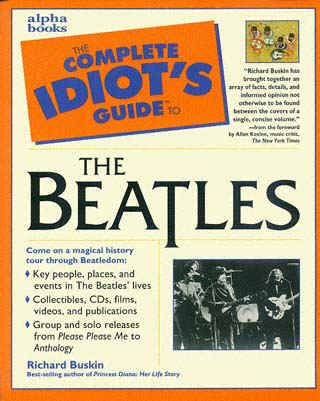 We want to tell you about...
Beatles disciples, impersonators, and soundalikes.
The Beatles' individual voices, musicianship, and personalities.
Beatles' friends, lovers, colleagues, and acquaintances.
Rare recordings, performances, and videos-including aborted and unreleased projects.
The "Paul is dead" hoax, so-called hidden messages in songs, and worldwide controversies.
Books, fan clubs, memorabilia, disco- graphy, and more!
RICHARD BUSKIN is the author of The Complete ldiot's Guide to British Royalty, as well as books on John Lennon, The Beatles, and Elvis Presley. He also penned the sleeve
notes for The Beatles' Live in Hamburg album, as well as the
brochure notes for the boxed set of Magical MysteryTour. A
resident of Los Angeles, his articles have appeared in The
Observer, the New York Post, and in fan magazines such as The Beatles Monthly, Beatles Now, and Beatles Unlimited.
You're no idiot, of course. You know Rubber Soul, Revolver, Sgt. Pepper's Lonely Hearts Club Bond, and Abbey Road are considered among the best
rock albums of all time; you've seen the classic films A Hard Day's Night and Help!; and you've witnessed the #1 successes of all three Anthology CDs and their TV/video counterparts.
But now you're wondering ... why all this fuss about the Fab Four more than a quarter century after their breakup?
Don't pass us by yet! The Complete ldiot's Guide to The Beatles takes you on a yellow submarine ride through The
Beatles' phenomenon, from their early skiffle days in Liverpool to Anthology and solo projects. In this Complete
ldiot's Guide you get:
The completely accurate and up-to-date story of John, Paul, George, and Ringo.
Fascinating insights into The Beatles' musical roots.
Tips on appreciating their songs and recordings.
Fun quotes and anecdotes about the group and insiders.
Valuable advice on visiting Beatle-related sites in Liverpool, London, and New York City.