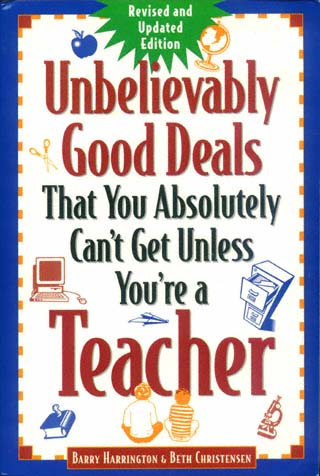 New Editiont
Even More Terrific
Deals and Great ldeasl

Thousands of teachers rushed to buy the first edition of Unbelievably Good Deals That You Absolutely Can't Get Unless You're a Teacher because they recognized its immeasurable value as a source of unique ideas, affordable classroom materials, and inspiration. From having your students examine real volcanic ash and correspond with foreign dignitaries to bringing professional athletes to your school, this book will show you how to make your classroom come alive.
This completely revised, updated, and expanded new edition is packed full of hundreds of great ideas and unbeatable bargains. You'll learn where to find:
FREE arts and crafts supplies
FREE decorative and educational posters
FREE audiotapes on timely issues
FREE seed samples and other science supplies
PLUS hundreds of inexpensive items and innovative ideas for activities in and out of the classroom
Arranged by subject matter, this user-friendly guide is for teachers from kindergarten through high school. The authors provide specific information on how to go about getting hundreds of irresistible bargains - and many ideas for how to use them once they arrive. This book remains the best educational bargain around: a value-packed encyclopedia of resources that no teacher should be without.