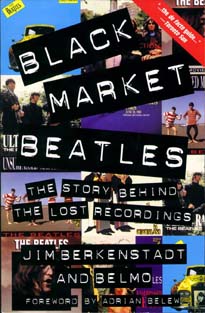 Notes from the back of the book:
"Internationally-recognized Beatles recording experts Jim Berkenstadt and Belmo (a.k.a. Scott Belmer) have joined forces to conceive Black Market Beatles, the most comprehensive guide ever written about the bootleg recordings of the Fab Four. Black Market Beatles is an essential guide to understanding the history of the Beatles' Anthology CD series. Besides containing the world's largest Beatles underground discography, which stands at a staggering 1,600 entries, the book also features interviews with several Beatle bootleggers, a photo survey of bootleg trademarks and logos, a bootlegger's family tree, and much more, all highlighted by over 225 photos and illustrations. And to start it all off, the book begins with a nostalgic foreword written by King Crimson/Bears guitarist and solo artist Adrian Belew. All in all, this is truly one of the most significant and unique books about the Beatles ever published."

This book is actually very interesting to read, and something to learn from! It gives great insight into Beatles bootlegs - from their historical origins, important releases, methods of distribution, interviews with bootleggers themselves (!). Extensive bootleg discography with many photos, however without track listings.