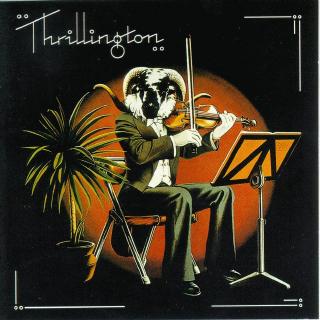 Thrillington
In 1977, EMI released what has become Paul McCartney's most obscure and least known album of his career - Thrillington. The album, an instrumental, orchestrated version of his Ram LP, was hardly noticed by the press or the rest of the music world. Hardly surprising, considering the almost complete absence of Paul's name anywhere on the album. Even the artist was listed as someone else - somebody named Percy "Thrills" Thrillington.
Time has revealed that the man behind Percy was none other than Paul McCartney. As chronicled in the Spring 1995 issue of Club Sandwich, McCartney's official fan club newsletter, Paul & Linda dreamed up the idea of the fictional socialite, going as far as placing ads in British newspapers detailing his whereabouts and announcing his upcoming activities (there were, of course, none). But as much as Paul was behind the Thrillington persona, as well as being the source of the songs appearing on the album (which he also produced), there was another man who was as much responsible for what became Thrillington, arranger Richard Hewson.
The story of Thrillington begins nearly a decade before with the beginning of Apple Records. In the mid-60's, Richard Hewson was attending college at the Guild Hall in London. Though studying classical music, he had a strong interest in jazz. "We had a little band; there was only three of us," recalls Hewson. "I played guitar in those days. We had a drummer called Nigel Anthony, who's now an actor." The bass player was another friend of Hewson's, former Peter & Gordon member Peter Asher, who played upright bass in the combo. "We used to go around to his basement in Wimpole Street and practice. At the time, Paul was going out with Peter's sister, Jane, so I got to know him then."
Shortly thereafter, Asher, through his connection with McCartney, was hired as the head of A & R for Apple Records. During the early summer of 1968, Apple was preparing its first batch of singles, which was to include a disc by a new discovery of Paul's named Mary Hopkin. Paul recorded Hopkin in June of that year performing a lovely tune he'd heard a few years back in a club by Gene Raskin, "Those Were the Days." Paul decided it was to be scored with some strings, and henceforth turned to his new A & R man, Peter Asher, to come up with an arranger.
"Apple was a funny old place," says Hewson. "It was very haphazard. Nobody really knew what anybody else was doing! Peter didn't know anything about arrangers. All he knew was he knew me, and that I'd been to the Guild Hall and studied classical music. And he thought, 'Okay, so Paul wants some orchestra on this. Richard probably knows how to write classical orchestra arrangements, let's try him.' That's how I got the job, cause they didn't know anybody else. That was lucky for me. If they'd looked around, they could probably have found a real arranger."
It was Hewson's first working job out of college, and would turn into a multi-million selling hit around the world. Hewson actually began working a few years earlier, "moonlighting" as a session player at EMI to make "pocket money" while still a student. "I used to get pulled out occasionally to do sessions, because I had a few connections." [One of his employers at that time, oddly enough, was George Martin!]
To give "Those Were the Days" that "old country" feel, Hewson concoted a simple arrangement consisting of an acoustic guitar, upright bass, tuba, banjo, drums, a clarinet section, violins & violas, trumpets and an Hungarian instrument called a "cembalon". "It was an unusual instrument played with hammers, like a dulcimer. There was only one guy in England who could play one - one of my professors, Gilbert Webster. That's who's on that recording." The song was topped off by the addition of a boys choir.
Hewson began working regularly for Apple through 1969, scoring Hopkin's album, Post Card, as well as her next single, "Goodbye," written and produced by Paul. The latter featured "all violas, 12 of them in fact, with no other classical instruments. That was a first!" Asher also commissioned him to assemble string arrangements for his own new discovery, James Taylor, who was recording his first (and only) album for Apple. Hewson recalls, "He was very nice. He was an easygoing guy, but he was really out of it at the time. Quite weird, actually. He went to a mental home shortly after that."
It wasn't until the Spring of 1970 that Hewson did his most important arranging job for the Beatles: the lush orchestrations for the Let It Be album. "I got the call about 7:00 p.m. It was to be recorded the following day. I hate working at night; I'm not very good at it." Hewson went to Apple and picked up the demo for "The Long and Winding Road" and George's "I Me Mine" (the scoring for "Across the Universe" was assigned to another arranger, Brian Rogers). The former featured just piano, drums and McCartney's vocal.
Hewson quickly began work for the session the following day, at 7 in the evening on April 1st at Abbey Road. "They said they wanted the whole thing orchestrated. I didn't meet Phil Spector until the actual session." But the two had plenty of contact, via the telephone. "He said, 'I want it orchestrated with a massive orchestra.' So I lined up an orchestra with what I thought was a massive orchestra. All through the night, he kept ringing up saying, 'Let's have some more violins. Let's have three harps instead of one,' and all that. There were so many musicians in the end that we couldn't get them all in! We actually, literally, had to shut the door and say there's enough."
The session the following day was, as has been documented numerous times, no picnic either. Spector's unusual behavior didn't help matters. "He was surrounded by these bodyguards, all wearing these fedoras, you know, those gangster-type hats. He looked like a gangster." Spector didn't do much to improve his relationship with the musicians. "They turned the lights out in the control room. He was in there sitting in the dark with all these weird guys. I was actually a little frightened to go in there."
Spector had the orchestra play the parts repeatedly, which quickly wore on the musicians. "He kept going, 'Let's have another take.' He didn't ever want to listen to a playback, he just wanted to play it over and over again. The guys were saying, 'We played it. We can't play it any better.' It wasn't that difficult music for those guys. They're brilliant musicians. The first reading through is pretty well perfect, and the second one is right on. Eventually, after the tenth time, they got fed up and left."
The only Beatle present was Ringo who, true to form, kept drumming faithfully along. "He was very cheery, and he didn't seem to mind. He kept drumming every time we took a take."
The results have always gotten mixed reviews from fans, but decidedly negative reviews from the group. "I know McCartney wasn't too happy with the idea. I heard about it later. I know both he and George Martin didn't like all that stuff, though Paul's never said anything about it. I've worked with George Martin several times since. One time, I actually pulled his leg and said, 'What about that, then?' He sort of changed the subject!" How does the arranger himself feel about it? "It was just a job for me. I know they weren't really keen on this big orchestra treatment. But history shows that it did well."
A little more than a year later, during the second week in May 1971, Hewson once again received a call from Paul McCartney. "He called and said, 'How'd you fancy orchestrating the Ram album for an orchestra, you know, without any vocals?'" Even though he was unfamiliar with the album at the time of the call, Hewson was not one to turn down a job from Paul McCartney.
In fact, at the time of that call, no one had heard Ram yet; it hadn't been released. It was the second week in May 1971, and the album wasn't due for release in the UK until May 28. It is interesting to note, at this point, that McCartney had begun the orchestral version of his new album before his own version was even released. Just what Paul had in mind is to this day a mystery. "He just wanted to do it," remembers Hewson. "Just make an orchestral album of it. We didn't really discuss how it was going to be presented at the time. Nobody sort of thought of it." In fact, if you think about it, had the album been released at the time it was recorded, it would likely have appeared on the Apple label (though at the time, Paul's business was handled separately from Apple's, by his father-in-law's firm, Eastman & Eastman, with Paul only releasing records through the label).
Hewson was sent an advance copy of the new album, on which his arrangement would be based. He set about immediately writing the various arrangements for the entire album, which would take him nearly a month, working on barely anything else in between.
[In fact, Hewson was called in to meet with producer Tony Visconti at Apple on May 19 at 11:30 a.m. to discuss scoring the A-side of Mary Hopkin's next single, "Let My Name Be Sorrow," Visconti's first project with Hopkin (they had just met less than two weeks before, though within a few months, Visconti and Hopkin would be husband and wife). The producer was an admirer of Hewson's work on "Those Were the Days." Recalling her earlier experiences with the arranger, it was felt that Mary would feel most comfortable working with Hewson. Though his hands were full with the new McCartney project, Hewson took the job anyway, conducting the session himself shortly thereafter at George Martin's then-new AIR (London) Studios. The piano player on the session, by the way, was a rising star named Rick Wakeman, then a London session player.
Visconti himself would continue an association with Paul, sporadically providing orchestral arrangements for various projects, including all of the arrangements on Band On the Run and for "Only Love Remains" on Press to Play in 1986. "I remember I got the call for Band On the Run on a Sunday and was told the session was on Wednesday!" he recalls.]
Meanwhile, Abbey Road engineer Tony Clark was asked to work with McCartney on the project. Clark had worked on his first Beatle record, as a tape operator on a Beatles For Sale mixing session, at the age of 18, a month after starting to at Abbey Road in September 1964. Back then, it was much easier to acquire such a position than it is today. "I loved music, and I was a big Cliff Richard and Shadows freak in my teens. So when I left college, I thought, 'What shall I do?'" Clark had an album of Cliff Richard's with a picture of Abbey Road Studio Two on it; that gave him the idea he was looking for. "So I wrote off, and within three days after the interview, they gave me a job!"
Clark would work only occasionally with the Beatles during the 60's, as he worked his way up to full balance engineer. By 1966, at the age of 20, he had become a skilled mastering engineer, and was assigned to cut the difficult "Paperback Writer" single, with its powerful bass line (see Mark Lewisohn's The Beatles: Recording Sessions for more details). "My whole role with the Beatles was very much on the outside, these odd sort of satellite pieces," he recalls.
He began working more closely with the group in 1969. On August 2, he recorded Badfinger's "Come and Get It," with Paul producing. During the same week, he began working with the group as they put finishing touches on the Abbey Road album. "It was during the last two or three weeks that they were working on it. The had the three of us in, which was Geoff [Emerick] and Phil McDonald, and I sat in Studio Three waiting for any bits and pieces to do." A month later, Clark was working with John and Yoko, recording the basic tracks for the Lennons' "Cold Turkey" single at Abbey Road (recording was concluded a few days later at Trident), as well as remixing Side 2 (the "Yoko" side) of Live Peace in Toronto 1969.
Clark didn't work on the recording of either of Paul McCartney's first two solo albums, McCartney and the then-soon-to-be-released Ram, but Paul nonetheless asked for him for his instrumental project. "I'd always got on well with Paul," says Clark. "Paul's obviously such a great talent and his music means an awful lot to him. When he's working with with somebody, the respect has got to go both ways. He doesn't just pick 'an engineer.' I'm very honored he's chosen to work with me a few times."
The sessions for the instrumental album were set up for June 15, 16 and 17 at Abbey Road, barely two weeks after the release of Ram. Richard Hewson had Laurie Gold of the studio's booking department arrange for "some of London's best musicians," as it says on the back of the LP's liner notes, to be booked for the three days of sessions.
Tony Clark, meanwhile, began planning his engineering setup for the recordings, with his second engineer Alan Parsons (another Beatles veteran who, like Clark, would continue working with McCartney). "I thought it was going to be a 'McCartney album,'" says Clark. "I remember asking Richard, 'Where's Paul going to sing? What're we doing?' He told me, 'No, don't you know? We're doing an instrumental version of Ram!'" Again, by this time, the album had been out only two weeks, and not everyone, including Tony Clark, had heard it. "During the first sessions, in the back of my mind, I thought I'd better get the album and brush up on it. But after the first day, I made a conscious decision not to get it, because I realized we were doing something different. Whatever I had to offer the session should be new, not simply a copy of Paul's album."
Indeed, by the way, to settle a matter of long speculation, Paul McCartney not only didn't sing on Thrillington, he didn't play a single note. Paul acted solely as producer of the album. "He was there the entire time," says Tony Clark, "fine tuning it, speaking with the musicians, just being on top of it and making sure the feel is right. He was definitely in charge. Everyone was secure that if there were any decisions to be made, he would make them."
Richard Hewson planned out a neat breakup of the arrangements in order to economically record all of the material in the three days allotted. Unlike a rock recording (a Beatles one, for example), where musical ideas are often worked out in the studio, orchestrated arrangements already have the ideas planned out - on paper, no less. All titles featuring strings, for instance, can have the strings recorded in one morning session, and those requiring horns can have them added in a later evening session.
The first session took place on Tuesday, June 15th at 10 a.m. in Studio Two ("the downstairs one, where all the Beatle recordings took place," says Hewson). The "basic tracks" for all tunes on the album consisted of a "pop combo," onto whose recordings the other instruments would be added as overdubs. The pop combo was recorded in this morning session. The group included veteran session guitarist Vic Flick and popular session drummer Clem Cattini, whose group the Telstars had had a big hit in the UK in 1962 with "The Tornados."
The bassist in the group was Herbie Flowers, who, besides recording with Lou Reed and numerous others, would, nearly ten years later, record with George Harrison and Ringo Starr. The piano was played by Steve Grey, who later would join Herbie Flowers's own group, Sky (those later albums, by the way, would be co-produced and engineered by Tony Clark). The organ was played by Roger Coulan, and percussionist Jim Lawless rounded out the group.
Flowers recalls, "We were all favorite musicians of Paul's." Flowers, in fact, later appeared on McCartney's Give My Regards to Broad Street, as well as on recordings by his brother Mike and his group, Scaffold. The musician's skill is evident throughout the record, particularly in the wide variety of basses heard throughout the album. "We read from sheet music. There was no improvising; we just played what was there." Had he heard the Ram album before the session? "We were all working 12 or 14 hour days. We rarely had time to listen to any albums. If I did," notes Flowers, a jazz fan, "I listened to Charlie Parker!" [Flowers currently can be heard in the South of England with his new jazz trio, Thompson's Directory.]
As mentioned, the morning session featured the pop instruments, with Vic Flick providing acoustic, Spanish (nylon string) and electric guitars. Flowers stuck mainly to his electric bass (played through his old Wallace speaker cabinet, which Tony Clark was particularly fond of), playing his fretless in places, and an upright bass on two titles, adding to the jazzy feel of the record. Drummer Cattini alternated between his normal, flawless playing with sticks, and playing with brushes on three of the titles.
The pop combo played until an unknown time, until all 11 songs had been tracked. The evening session, from 7 until 10 at night, featured the recording of 10 violins, 4 cellos, 2 clarinets and 2 alto saxes. A harpsichord with a special "harp stop", booked just the day before, was also recorded this evening, appearing in the second half of "Uncle Albert/Admiral Halsey". The harp stop adds a unique sound to the harpsichord, giving the tones an abrupt end to the resonance of the strings, allowing them to be plucked again rapidly from a non-vibrating state.
Sometime during the day, perhaps in the late afternoon, recording stopped for a period while Richard Hewson attended a buffet party hosted by Decca Records A & R chief, Dick Rowe, at the studios of Audio International. Rowe, you'll remember, was the A & R executive at Decca who became famous for turning down the Beatles after their January 1, 1962 audition. Rowe, however, remained with the company, more than occasionally employing Richard Hewson for string arrangements. "Good old Dick!" Hewson remembers, not necessarily fondly. "He was a real blagger, that guy. We used to go to Decca, and he'd book a 'half session.' A full session was 3 hours. He was so mean, he'd book a whole orchestra and five singers, and try to do five tunes in two hours, in the hope of getting one hit single out of that!"
Upon returning the next morning, on Wednesday the 16th, for another 10 a.m. session in Studio Two, McCartney, Hewson and Clark recorded a group of 4 flutes, 1 piccollo and a boys choir, the latter appearing on only one song, "Ram On." The afternoon session, which began at 2:30, featured a fairly well-known group of singers from France, The Swingle Singers. "They were an extremely talented group, very large," says Hewson. "They were really terrific. They were known in Europe for doing sort of jazzy, scat renditions of Bach." The Swingles, in all, appeared on five of the album's eleven tracks.
That evening, beginning at 7:30, 9 more violins were taped, as were a set of 4 recorders. "We actually got Carl Dolmetsch and members of his family to come do the session," says Hewson. Dolmetsch was known not only for his recorder playing, but for his family's well-known recorders themselves, sold throughout the world.
The next day, on Thursday, June 17, recording took place, all day, in cavernous Studio One, the same one used on numerous occasions by the Beatles to record large orchestras, such as the one producing the climax at the end of "A Day in the Life". From Hewson's personal records, it is not known what was recorded this day, though the horn section (comprised of trumpets, trombones and a tuba) are thusfar unaccounted for. They were either recorded this day or in the afternoon on June 15. [Hewson's diary also indicates, by the way, another meeting with Dick Rowe on this date at 6 p.m. - delayed from 2:30 by the McCartney session.]
The sessions ran quite smoothly over the three days of recording, with rare exception. [Richard Hewson does remember one session player who became so inebriated that he got in his car at lunchtime and went down Abbey Road and smashed into nine cars! "I don't know whether it was my arranging and conducting that drove him to it!"] Both Hewson and Clark remember the recordings not only fondly, but, for both, as a highlight of their careers. "The excitement of performance for me was just totally there," remembers Tony Clark. "When music is like that, everybody works at the same level. Most of my career I spend trying to find ways to make magic moments like that." Clark and Hewson weren't the only ones enjoying the recording. Tony adds, "What I do remember is that Paul was extremely happy through the whole of the experience."
The album opens with a collage of orchestra and Swingle chatter and tuning up, taken from the various sessions. "That bit ends with someone saying 'In the back office with a bottle of scotch,'" recalls Tony Clark. "That's Jim Lawless, the percussionist." "Too Many People" then begins with an acoustic guitar, bass, drums and Lawless's vibraphone, accompanied by some cellos, saxophones and trombones.
In addition, one hears both trumpets and the Swingle Singers in what, today, sounds like a rather dated effect, but which in 1971 was a pioneering sound. "It's sort of a watery effect; in fact, we just called it 'the watery box'," says Clark, referring to the flanged, phase-shifted sound produced by the device heard throughout the record. ["They got this the day we did the session and used it on everything!," notes Richard Hewson. "You know engineers."]
While Abbey Road engineers were known in the 60's for their creative application of engineering practices to come up with new sounds for those who demanded it (like the Beatles), this device, according to Clark, was among the first "black boxes," or self-contained electronic devices which was used to produce an effect. "It was made by a chap called Bernie Speights, who was quite brilliant in his time," says Tony Clark. "He went on to build Pink Floyd's first quad pan pot," used to mix multi-track recordings into 4-track quadrophonic sound.
McCartney's original rapid-fire guitar lead towards the end of the song is replicated almost note-for-note by a fairly accurate alto saxophone, and the Swingles add some little light-hearted bits (like "Piece of pie, you and I"), culminating in a "Walrus"-like bit of mayhem at the end.
The next song, "3 Legs," has a sexy, jazz arrangement, which sounds very nearly like music to strip by! Hewson later used this arrangement as the basis for another years later while working on the soundtrack to Xanadu, with Olivia Newton-John. "We had members of the original Count Basie Orchestra, with Gene Kelly singing."
"Ram On" features Spanish guitar, bass, drums played with brushes (and processed with the "watery" effect) and percussion. Onto this was added, clarinets, saxes, flutes & piccollo, a harp and the afore-mentioned boys choir, their only appearance. The following song, "Dear Boy" ended up as a simple, light, jazzy arrangement, with upright bass, congas, flanged drums played with brushes, accompanied only by 3 parts of the Swingle Singers (including some "boppety-boppety-boppety"'s).
"Uncle Albert/Admiral Halsey" represents what is probably the most complex arrangement on the album. It begins with a little piano intro, which was to appear two other times on the album, most notably as the basic riff in "Back Seat of My Car". "One of my heroes," says Richard Hewson, "was Nelson Riddle. This bit is sort of a tribute to him. It's kind of like one of Sinatra's "Quarter to Three"-type songs. The addition of the intro in different places, like in this one, was, once again, a decision of Paul's, and is not unlike his "Can you take me back where I came from" bit on The Beatles before "Revolution 9".
"Uncle Albert" was done in two parts, edited together later, not unlike its rock counterpart. The first half features the pop combo with acoustic guitar, with two trumpet parts, trombones, strings & flutes, and Carl Dolmetsch's recorders. The second half features, most prominently, the "harpsichord with harp stop," ordered on June 14th and recorded the following evening.
The last track on Side 1 is "Smile Away". Again, ready-made for a jazz arrangement, the song features a great saxophone section, recorded twice, with one of them flanged. The other notable sound was made by a South American instrument called a "guica," which ended up, though unintentionally, producing something like the sound of a pig. Hewson recalls, "We got this guy named Chris Karen, who was the drummer with Dudley Moore when he was a pianist." The guica has a rod below a drum head; the natives play the instrument by running their fingers up and down the rod to produce different musical tones. "The trouble is, this guy couldn't really play it!" The sound was interesting, so it remained, however porcine.
Side 2 opens with "Heart of the Country," again turned into a light pop arrangement with Herbie Flowers on his upright bass, and Clem Cattini drumming with brushes. The Swingles have four recorded parts, full of some unexpected "Wah-wah-wee"'s and so forth. Things are rounded out with some nice duets between Flowers and the flutist during the breaks formerly "scatted" by Paul (on the Ram version).
"Monkberry Moon Delight" is another rock-turned-jazz number, with muted trombones producing a 1920's feel. Flowers has taken up his fretless bass for some gliding bass lines, and besides the trombones and trumpets, there is a tuba thrown in for added bass effect. Some swirling clarinets and alto saxophones, in addition to the string section add to the song's twirly image.
The song begins, similar to the beginning of the album, with the sounds of the musicians warming up, followed by Richard Hewson's own voice counting in the orchestra.
Organist Roger Coulan makes his only appearance on the next number, "Eat at Home". Interestingly, Hewson has turned this rock/pop track into a reggae song, particularly accentuated by Jim Lawless's timbales (the metal-sounding drums heard periodically, characteristic of reggae music).
The Swingle Singers are heard with the "watery sound" effect, and, also found in reggae recordings, the saxophone has a stereo delay applied to it. In other words, a tape delay is applied to a single sax track, so that, in stereo, one hears the original track in the left, and a slightly delayed version on the right. This is similar to the Beatles old "ADT" or Automatic Double-tracking developed five years before at Abbey Road.
"Long Haired Lady" also contains a heavily flanged acoustic guitar, producing the harpsichordy sound. This is accompanied by the usual bass/drums backing, as well as some pizzicatto strings, trombones, trumpets and other strings (as well as the venerable Swingles).
The closing number, "Back Seat of My Car" both begins and ends with the "Quarter to Three" piano break, which is heard throughout the track. It is followed by the usual electric combo accompanied by horns & strings, as well as Carl Dolmetsch's recorder section, with the sax providing the melody line.
Following the coda of piano break, there is a curious sound - that of some water dripping. Believe it or not, the final signature on Paul McCartney's first instrumental album was provided by none other than one of Abbey Road's archaic, leaking toilets. Tony Clark remembers, "I remember coming out from the toilet saying to Paul, 'It's amazing - it sounds in tune!' So, of course, Paul goes in himself, and he has a listen." It was a very late night, in fact during the lengthy mix session which would follow, and, as late nights tend to affect those under their spell, "You just start to get a bit giggly," says Clark. He listened, Paul listened and Alan Parsons listened, and before anyone knew it, the fellows from the amp room had a microphone set up and four recordings were made, providing a, well, unique ending to the album - in stereo, no less. "And it's in tune," adds Clark.
The following day, on Friday June 18, the album was mixed by Clark and tape operator Parsons in a marathon session that didn't end until 11:00 a.m. the following day. "Paul was there for the mix," notes Tony Clark. "He allowed me the freedom to set up the mixes and get the basic feel of it." Like the recording sessions, the mix session had a certain inspired energy to it that kept everybody moving. "There was actually a spirit of energy that lasted through the whole night. Paul used to live in St. John's Wood then, and he'd pop home with Linda and then come back again. Which was great, because if I was flagging a bit in the night, he'd help put a bit of energy back into it."
The album was then completed and put on the shelf awaiting release. "I always felt so involved with the album that I always wanted to master it myself," says Tony Clark. "There's something special that happens in the mastering process when bringing the tape to disc, like what happened with 'Paperback Writer.' Unfortunately, I never got the chance with this album."
Soon, thereafter, however, Paul was on to other things. His recovery period from the breakup of the Beatles had ended, and it was time to get back out and play rock and roll with a new band. In the beginning of August, just a month and a half after recording the instrumental album, he formed Wings, and shortly thereafter he was back at Abbey Road with Tony Clark and Alan Parsons recording the group's first album, Wings Wild Life (note the opening of "Mumbo" and Paul's "Take it, Tony" order to Clark to begin rolling tape). The release of the instrumental album would be put off indefinitely, until an appropriate time for its release arose.
Tony Clark continued working with McCartney into 1972, with the recording of "Give Ireland Back to the Irish" in February of that year. Upon returning from a vacation with his family, Clark was hurried inside by his wife. "Paul's in the studio. They've just phoned up; you've got to go in!" he remembers her telling him. "I actually remember walking down from the Tube station and crossing the zebra crossing and hearing the immense sound coming out of Abbey Road. It was that loud." The sound level gave Clark an indication of the energy of the session with which he was about to become involved.
It was an angry time, and the band was furiously recording what was to be a fairly significant record for Englanders. Clark began the initial tracking for the single, and it was completed shortly thereafter at another facility. But it was an intense experience for both the engineer and the band. "I'd just given up smoking as well! But I didn't succumb."
[By the way, Tony Clark also dispelled another McCartney myth - that Paul's "Mary Had a Little Lamb" single was not recorded at the Wild Life sessions. "That single was done after "Give Ireland Back to the Irish". It was engineered by Glyn Johns," perhaps placing it among the first batch of Red Rose Speedway recordings in March 1972.]
Tony wouldn't work with Paul again until four years later in 1976, with the recording of several songs for Wings at the Speed of Sound, and again a decade later with some work on Press to Play.
Richard Hewson, in the meantime, went on to continue arranging for a variety of top-selling pop artists, including doing some additional work for Paul, notably the string arrangement for "My Love", also recorded in 1972. ["I remember going with my wife to his house in St. John's Wood to talk about it. Linda was there, preparing dinner, peeling some beans. She promptly handed my wife the knife and put her to work!"] His list of credits includes Supertramp's first two big albums, Crises? What Crisis? and Crime of the Century, work with Diana Ross, and the string arrangements for Carly Simon's James Bond hit, "Nobody Does It Better".
His biggest success, however, came in the mid-70's, with the formation of his own recording "group." "In 1974 or 1975, the German group, Kraftwerk, started doing something no one else had done - recording at home. I had also begun doing the same thing around that time, doing electronic music on a little 4-track recorder at my front desk. I became the first 'bedroom band.'" Hewson's "group" become known as The RAH Band (RAH for Richard Anthony Hewson), which would by 1977, spawn a big hit in Britain with "The Crunch". "It's basically a very simple dance record. Dance music is very big over here, Techno by now. America is way behind when it comes to dance music." Hewson's last charting hit was in 1994, called "Looks Like I'm In Love Again," another dance track by another of his "bedroom bands," Key West.
But back in October of 1976, Hewson received a letter from MPL, with a contract, talking about the unreleased instrumental Ram album. The letter explained that "Paul has always been very keen on this project, and we might be able to arrange for it to be released in due course." The letter and contract were dated October 18, 1976, one day before Wings ended its world tour at Wembley Arena.
At the end of that year, Wings Over America was released, and by February of 1977, Paul was back at Abbey Road with the band beginning work on their next studio album, which would come out a year later as London Town. Within a few months, the instrumental album was released. Just why, suddenly, Paul decided it was time to release the record is anyone's guess. Perhaps it was "housecleaning" time - time to dig up some precious old recordings which hadn't yet been given their chance to see the light of day.
Two such records were released by May 1977, both under pseudonyms. Linda's unreleased 1972 Red Rose Speedway recording, "Seaside Woman", was released in the U.S. under the name Suzy and the Red Stripes. And the instrumental Ram album was finally issued as Thrillington by an unknown socialite named Percy "Thrills" Thrillington.
According to an article published in London's Evening Standard in March 1977 (and reprinted in a recent Club Sandwich), when Paul started his new company in 1971, McCartney Productions, Ltd. (later to become MPL), the first artist signed to the organization was an Irish bandleader named Percy Thrillington. So as far back as the days of the album's recording, the Thrillington name, apparently, has been kicked around.
As the release of the album approached, during that month of February that Wings were in town recording, Paul & Linda began dropping ads in the Evening Standard and The Times, announcing the various and sundry activities of this Thrillington fellow. "The British press got really fed up," recalls Richard Hewson, "because everyone knew it was made up." Regardless, the ads kept coming, and eventually, on April 29 (May 16 in the U.S.), the album was released.
Not surprisingly, without any "official" push from Paul, Thrillington drew very little attention, even with the release of a single in England ("Eat at Home"). "Because of the ficticiousness of the Thrillington bit, there was nobody, eventually, to perform it," says Hewson. "They didn't want me to go on the road with it as 'Percy Thrillington' or anything like that. It would have been wonderful if it had been presented with a proper orchestra and good musicians, playing live." That never happened, though Hewson was, in a way, represented on the back cover art, as Percy Thrillington. "I did used to conduct in a three-piece suit and bow tie, so I suppose that's me." Today, the LP is among McCartney's rarest, on both sides of the ocean, with a "near mint" copy going for over $100 in the U.S.
By the way, to answer our original question of who the real Percy Thrillington is, one only has to go back to studio records. As Tony Clark recalls, "It wasn't an EMI job, per se, as I recall. It was booked as an independent job." The "tin," the square metal can in which the master tapes are kept, he recalls, had the artist listed as "Richard Hewson" on the inside label. "I went back to look at it some time later, though, and someone had crossed off Richard's name and written in 'Percy Thrillington.' I guess that answers your question."
In all the days since the time it was recorded and the time of its release, Tony Clark had only a 1/4" reel-to-reel tape he'd made of the album, one which he had made to check the mixes at home to assure himself that the excitement he felt in the studio had made it onto the final tape. He kept that tape through all of those years, playing it occasionally to remind himself of the occasion. "It was such a special session that it still just sticks out in my mind as one of the best pieces of magic in my career," he says. "My view is if you're a McCartney fan, if you appreciate McCartney music, there is no doubt in my mind that Ram is pure McCartney. And Thrillington captures the spirit of those songs amazingly."
[Special thanks to the following people for their help in preparing this article: Richard Hewson, Tony Clark, Tony Visconti, May Pang, Herbie Flowers, Eddie Klein and Paul Mac.]
---
This article is taken from Good Day Sunshine #78. Thanks to Matt Hurwitz for his kind permission to publish it on this WWW page. © 1995 Good Day Sunshine.
---
[Good Day Sunshine subscription info][Thrillington CD][Solo Album discography]