The Rutles - Archaeology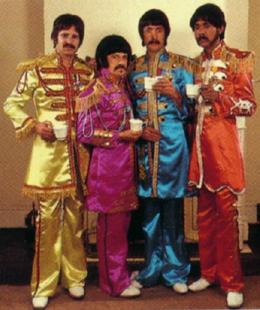 The most legendary band in music history - The Rutles - are to release an album of vintage, previously unreleased material. The album, title Archaeology, will be issued worldwide on October 29 by Virgin Records. It will be the first album of new material from the group in a very, very, very long time.
Unlike many albums of historic recordings, which contain only outtakes and alternative versions of familiar songs, The Rutles album will consist of entirely fresh material.
The recordings are drawn from the album the band was working on when they broke up amid squabbles and lawsuits. The project was abandoned and the master tapes were buried. Literally.
As was widely reported at the time, all of the tapes were placed in a time capsule and buried in a secret location. Announcing that action, a spokesman for The Rutles stated that this was "to thwart bootleggers. And tax authorities." Furthermore, the capsule would "stay buried for a thousand years." He added that the album wouldn't be released unless it was "...discovered by archaeologists or whoever digs these things up." This led to Rutles fans dubbing the interred recordings the "Archaeology" tapes.
Asked why the legendary tapes have been dug up by The Rutles themselves, a mere 26 years later, Rutles member Ron Nasty stated simply, "Things change." All further queries have been referred to the band's accountants.
The Archaeology album will be the first release of any Rutles material since their greatest hits compilation All You Need Is Cash, released in 1978 by Warner Brothers Records. That album and its CD reissue in 1991 by Rhino Records, has been an outstanding seller.
The new Archaeology album comes at a time when interest in The Rutles is at an all-time high. Many of today's hottest bands, including Oasis, Pulp, Blur, Smashing Pumpkins, Gin Blossoms, and Soul Asylum, cite The Rutles as a major influence.
Not addressed in The Rutles announcement is whether the band will reunite to record any new tracks or perform live. Apart from their famous rooftop concert, seen in the All You Need Is Cash documentary, the band has not given a public performance since 1966.
The album will contain at least 12 songs. Titles announced so far include: "Major Happy's Up & Coming Once Upon A Good Time Band," "We've Arrived! (And To Prove It We're Here)" and "Knicker Elastic King." The full track listing will be announced shortly.
---
This is a press release from Virgin Records, sent to me by Laura Cohen
---
[Get Up And Go][More info on the Rutles][Dave Haber's Rutles Homepage]
---
Scans and page layout ©1996 Harald Gernhardt