Live Im Star-Club, Hamburg 1962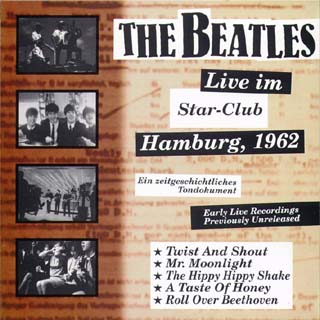 Euro-Trend CD 152.179, 1995 Austria
Total Playing Time: 65:41
| | | |
| --- | --- | --- |
| 1 | I Saw Her Standing There | 2:33 |
| 2 | I'm Going To Sit Right Down And Cry (Over You) | 2:42 |
| 3 | Roll Over Beethoven | 2:11 |
| 4 | The Hippy Hippy Shake | 1:42 |
| 5 | Sweet Litlle Sixteen | 2:40 |
| 6 | Lend Me Your Comb | 1:44 |
| 7 | Your Feets Too Big | 2:17 |
| 8 | Where Have You Been All My Life | 1:40 |
| 9 | Twist And Shout | 2:04 |
| 10 | Mr. Moonlight | 2:06 |
| 11 | A Taste Of Honey | 1:42 |
| 12 | Besame Mucho | 2:00 |
| 13 | Everybody's Trying To Be My Baby | 2:23 |
| 14 | Kansas City (Hey Hey Hey Hey) | 2:08 |
| 15 | Nothin' Shakin (But The Leaves on The Tree) | 1:32 |
| 16 | To Know Her Is To Love Her | 3:04 |
| 17 | Little Queenie | 3:54 |
| 18 | Falling In Love Again (Can't Help It / Ich bin von Kopf bis Fuß auf Liebe eingestellt) | 2:20 |
| 19 | Sheila | 1:58 |
| 20 | Be-Bop-A-Lula | 2:27 |
| 21 | Hallelujah, I Love Her So | 2:06 |
| 22 | Ask Me Why | 2:49 |
| 23 | Red Sails In The Sunset | 2:31 |
| 24 | Matchbox | 2:37 |
| 25 | I'm Talking About You | 2:04 |
| 26 | I Wish I Could Shimmy Like My Sister Kate | 2:13 |
| 27 | Long Tall Sally | 1:46 |
| 28 | I Remember You | 1:52 |
Now this is the famous "King Size Taylor" Star Club recording of 31 December 1962.
This has been issued many times on vinyl since 1976 but not so often on CD.
This CD still doesn't contain the complete show, very few tracks are missing, but it's more complete than most other releases.
It is Stereo here, which is a kind of "mock" stereo as the original recording was mono. From what I know, in 1976 everything possible has been done to polish the tapes which was done by intensive filtering using 16 bandpass filters and transferring the recording onto 16 track tape to be able to remix it.
This CD obviously was mixed into stereo using this multi track, and the result is very good IMHO (well, the sound still is a bit muddy but this CD is way better than my vinyls).
The Stereo image is quite good, carefully separating the "hi-hat", voices, bass, and guitars accross the stereo image.Listening to the CD is not distracting at all, unlike most other "mock stereo" mixes.
Regarding that this CD is not a "full-prize" CD, I highly recommend getting it if you want to replace your worn vinyls!
Considering the "Anthology" won't contain a single track of this concert, it's even more recommended!
©1995-97 Harald Gernhardt's Beatles Pages