Xmas! The Beatmas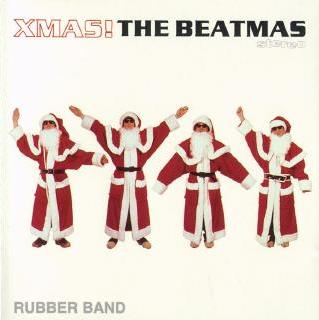 | | |
| --- | --- |
| Label | ISBA Music Entertainment Inc., Canada |
| Order Number | K 5008 |
| Released in | 1996 |
| Track | Title | Time | Arrangement/Instrumentation |
| --- | --- | --- | --- |
| 1 | Jinglebell Rock | 2:14 | Please Please Me |
| 2 | Santa Claus Is Coming To Town | 2:32 | Eight Days A Week |
| 3 | Rockin' Around The Christmas Tree | 2:33 | I Saw Her Standing There |
| 4 | Last Christmas | 3:05 | Please Mr. Postman |
| 5 | Feliz Navidad | 3:14 | No Reply |
| 6 | I Saw Mommy Kissing Santa Claus | 2:10 | All My Loving |
| 7 | Jinglebells | 2:33 | Love Me Do |
| 8 | Rudolph The Rednosed Reindeer | 2:28 | Taxman |
| 9 | Mary's Boy Child | 2:50 | Nowhere Man |
| 10 | White Christmas | 3:28 | Ticket To Ride |
| 11 | Silent Night | 2:58 | Lucy In The Sky With Diamonds |
| 12 | A Bairn Is Born In Beatlehome | 1:22 | Intro: A Day In The Life, Outro: All You Need Is Love |
Comments
I want more!
The only bad thing about this CD is that it only has 12 tracks ;-)
This CD is a MUST for every Beatles fan. Tired of hearing the old Christmas tunes the same way every year? Get this CD. The "Rubber Band" managed to arrange and play Christmas songs using the real "Beatles sound" and instrumentation. The casual listener will immediately think that's the real Beatles.
This record kicks! Everyone will be dancing to it :-) Finally we can listen to Beatles music over Christmas without feeling guilty ;-)
My personal favourite:
Last Christmas - The Wham/George Michael composition is just so beatleful!
Rudolph ... - in Taxman arrangement! Great fun! Even the guitar solo is pure Paul ;-)
Comments by Paul Knoblauch
If you don't know Rubber band is a Danish Beatles cover band, who has existed for many years, it's doing a lot of concerts every year mostly in DK.
Every year on the 23 of June tey're playing on ¨fem›ren¨in Copenhagen, it's a tradition that every year when we send the wix to Blocksberg they're playing on fem›ren.
Al Paschall remarks
I was able to order this CD directly from the manufacturer:
ISBA Music Entertainment
2860 Boule de la Concorde Est.
Suite 201
Laval
Quebec, Canada
H7E 2B4
The price is $22.50 U.S currency and they were happy to mail order it to me.
Anyone who is a Beatles fan should have this CD.
---
---
ę1996 Harald Gernhardt's Beatles Pages