The Complete BBC Sessions on one CD-ROM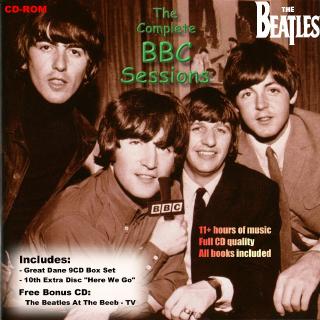 CD-ROM cover
Release Date
January 1997
Platform
Windows 95, Windows 3.1x, OS/2, Linux
Size
675,000 KBytes
Manufacturer
LQE Productions Inc.
Website
defunct ?!?
Pricing
US$ 39.00

---

Contents
Contains the complete audio of the Great Dane "Complete BBC Sessions" boxed set (9CDs), of the extra CD "Here We Go" and of "The Beatles At The Beeb-TV". Full CD quality. Complete "offline" HTML documentation with all photos of the book of the Great Dane box, and complete liner notes/photos of the other two CDs. Contains players and Netscape for all the above platforms.

---

Comments
Fantastic! I still cannot believe it but it's more than 11 hours of music in the same quality as on the audio CDs (I cannot tell any audible degradation). The format used is MPEG Audio Layer 2 with moderate compression. The documentation is made in HTML and can be viewed directly from the CD-ROM with any web browser. The layout of the nice Great Dane book has been kept to the same 4 column layout - so it might be be necessary to scroll a lot when using low screen resolutions. The music files are organized on a per-show basis. Plays from within the book under Netscape (but needs lots of MBs on the harddisk for temporary files) as well as directly from CD-ROM when just launching a player. Various players are included. What else can I say? Well, LQE have really done a nice job. The many errors (spelling, grammer and factual) of the Great Dane book have been corrected. The product is based on totally open standards (HTML and MPEG audio) so I'm sure I'll still be enjoying it in 10 years on whatever fancy system. A definitive must-have.
©1997 Harald Gernhardt's Beatles Pages. All Rights Reserved