Anthology 2 Multimedia CD-ROM Press Kit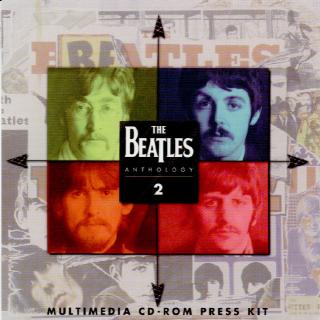 CD-ROM cover
Release Date
Spring 1996
Platform
Windows PC, Macintosh (hybrid CD-ROM)
Size
325,079 KBytes
Manufacturer
Apple
Pricing
not for sale. Promotional use only

---

Contents
Promo CD-ROM, issued by Apple to promote the single "Real Love" and "Anthology 2". Contains the complete Anthology 2 EPK video (=Electronic Press Kit), annotated track listings for Anthology 2 including sound samples of each song. Info on Real Love including sound sample and excerpt of the video clip. 37 Photos of the Beatles (1960s and 1990s) in large resolution for publishing purposes.

---

Comments
Unfortunately, this CD-ROM was only given to the press. Only very limited quantities are available via collectors shops. Expect to pay several hundred dollars. This CD-ROM expires after June 30, 1996, but simply set back the date of the PC's clock and you're done (BUT you must not do this. Apple included very strict license terms). I love this CD-ROM. It really is one of the best "multimedia CD-ROMs" I've ever seen. Highly recommended.
©1997 Harald Gernhardt's Beatles Pages. All Rights Reserved